A Closer Look at How Mescal Wasilewski Became Jodie Sweetin's Perfect Match
Jodie Sweetin is well known American actress and TV personality. She is popular for her role as Stephanie Tanner in Full House and Fuller House. Born on January 19, 1982, in Los Angeles, California, Sweetin began her acting career at a young age.
After gaining fame through her role in "Full House," she faced personal challenges in her teenage and adult years but eventually made a successful comeback. Sweetin has since appeared in various television shows and films, showcasing her talent and versatility as an actress. She continues to be a beloved figure in the entertainment industry and has garnered a loyal fan base.
Jodie Sweeting and Her Husband, Mescal Wasilewski Got Engaged in Love Month
Jodie Sweetin, the beloved actress known for her role in "Full House," recently announced her engagement to her boyfriend Mescal Wasilewski. Taking to Instagram, Sweetin shared a photo flaunting her engagement ring and expressed her joy with a heartfelt quote by Maya Angelou.
The news garnered congratulatory messages from fellow celebrities, including Danica McKellar, Christy Carlson Romano, and Eboni K. Williams. Mescal also shared the news on his Instagram page, excitedly acknowledging the special moment.
The couple has been together since February 2018, and their engagement marks another milestone in their relationship. Fans and well-wishers have been delighted by the news and are eagerly awaiting updates on their wedding plans.
Starting a Beautiful Romance
Jodie Sweetin's relationship with Mescal Wasilewski first caught public attention when they were seen together at a performance of Dear Evan Hansen in New York City on September 19, 2017. However, at that time, the identity of the man was not known.
In January 2018, Sweetin shared a photo collage on Instagram to celebrate her 36th birthday with friends. In one of the pictures, she was seen leaning on a mystery man, whose identity remained undisclosed at the time.
The following month, on Valentine's Day, Sweetin finally confirmed the man's identity in an Instagram post, revealing that he was Mescal Wasilewski. With this announcement, Sweetin made their relationship public, giving her fans and followers a glimpse into her romantic life.
Loyal Despite Having A Long Distance Relationship
During a November 2021 interview on the Allison Interviews podcast, Jodie Sweetin opened up about her relationship with Mescal Wasilewski, revealing that they had a long-distance relationship for the first three and a half years they were dating. Sweetin shared that the physical distance between them actually helped her daughters gradually become more comfortable with the relationship.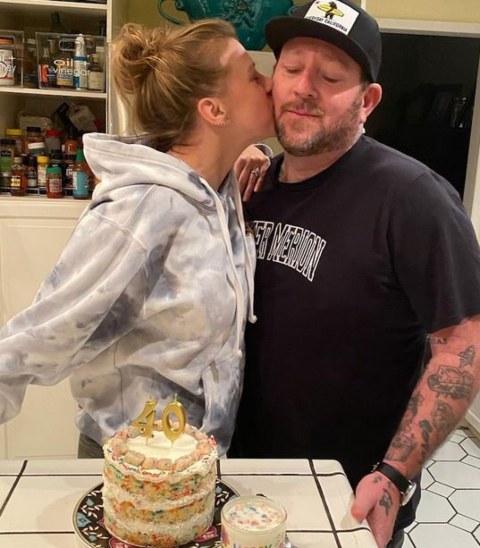 With Mescal residing in Brooklyn and Sweetin in Los Angeles, their relationship progressed slowly and organically. According to Sweetin, Mescal was patient and understanding, allowing her daughters to warm up to him naturally instead of rushing the process.
"He was very good at letting them warm up to him and not having to force a relationship," Sweetin explained, emphasizing the importance of giving her daughters the space and time to build a connection with Mescal at their own pace.
Exchanged Wedding Vows After Five Years of Dating
In a beautiful and intimate ceremony, actress Jodie Sweetin tied the knot with her partner of five years, clinical social worker Mescal Wasilewski. The wedding took place at a private home in Malibu, and the guest list included Sweetin's two daughters, her Full House castmates, including John Stamos and Candace Cameron Bure.
The bride looked stunning in a gown from Lili Bridals as she walked down the aisle with her father, Sam. Her daughters, Zoie and Beatrix, stood beside her as she and Wasilewski exchanged heartfelt vows and rings from Kay Jewelers. Sweetin expressed her gratitude for finding the perfect partner and embracing the future together.
Wedding Dresses/Venue/Guests
As part of their wedding celebration, Jodie Sweetin and Mescal Wasilewski chose special wedding bands to symbolize their commitment. Sweetin opted for a beautiful Neil Lane 1/3ct diamond contour wedding band, while Wasilewski selected a classic white gold band.
In addition, the couple wanted to commemorate the blending of their families, so they gifted Jodie's daughters with matching yellow gold and diamond Circle of Gratitude necklaces from Kay Jewelers. After the backyard ceremony, the intimate gathering of 50 guests, which included Full House castmates John Stamos, Candace Cameron Bure, and Andrea Barber, enjoyed a delicious dinner catered by Border Grill.
The menu featured tacos and a guacamole bar, creating a relaxed and festive atmosphere. For dessert, they indulged in small cakes and dessert bites from Big Sugar Bakeshop. The reception exuded a natural and organic ambiance, with twinkling lights adding a touch of magic to the celebration.
Husband, Mescal Wasilewski is a Therapist
Mescal Wasielki is a therapist who is currently living in Los Angeles. He works at Catalyst Recovery. He has been working at the facility since 2020, as indicated on his LinkedIn profile. With over 16 years of experience in the field of addiction and mental health, Mescal has provided valuable support and treatment to clients with various diagnoses and challenges.
Mescal obtained his bachelor's degree from California State University, Northridge, and further pursued a master's degree in social work from Hunter College. While his professional achievements are well-documented, specific details about his family and personal life have not been publicly disclosed.
However, Mescal gained significant public recognition and attention following his engagement to actress Jodie Sweetin, capturing the interest of fans and media alike. His dedication to his profession and contribution to the field of addiction and mental health makes him a respected figure in his area of expertise.
Jodie Sweetin is Divorced Three Times and is a Mother of Two Children
As a child, Jodie Sweetin took dance lessons, studying ballet and tap dancing from the age of three. At the age of 20, in 2002, she married her first husband, Shaun Holguin, who was a Los Angeles Police officer.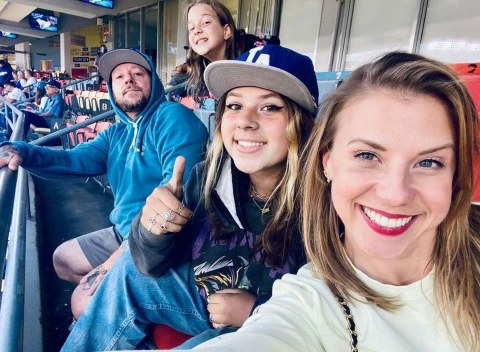 They divorced in 2006. She then married Cody Herpin, a film transportation coordinator, in 2007. They had a daughter named Zoie in 2008 but filed for legal separation in 2008 and divorced in 2010. In 2010, Sweetin began dating Morty Coyle, and they had a daughter named Beatrix that same year.
They got engaged in 2011 and married in 2012 but filed for legal separation in 2013 and finalized their divorce in 2016. Sweetin was briefly engaged to Justin Hodak in 2016, but they separated in 2017 after he violated a restraining order against her.
Visit Glamour Fame
-->