A Lovely Tribute! Riverdale Gives Heartbreaking Look At Luke Perry Tribute Episode!
Published Thu Jul 18 2019 By David
'Riverdale' creator shares the first look at Season 4 premiere, including a Luke Perry tribute.
CW's 'Riverdale' creator, Robert Aguirre-Sacasa, opened up about a behind-the-scenes picture from the first episode of season 4, which is set to bid farewell to Luke Perry's character.
Perry portrayed a fan-favorite character in the form of Fred, also the father of one of the shows leading figures, 'Archie Andrews' (KJ Appa).
Aguirre-Sacasa posted the picture, which depicts Archie, differentiated from the other main casts including 'Betty' (Lilli Reinhart), 'Jughead' (Cole Sprouse), 'Veronica' (Camila Mendes) and 'Cheryl' (Madeline Petsch) viewing on as they discuss among themselves.
The tweet's rubric said it had been "an intense week," for the entire Riverdale members.
You May Also Like: Luke Perry's Final Moments On 'Riverdale' Is Too Much To Handle For The Fans
The beautifully framed shot is one of the first insinuations of what the fourth season will delve about and pursues Aguirre-Sacasa's responses that every upcoming episode of the show will be a tribute to the late actor.
The first episode of the impending season is set to be titled Chapter Fifty-Eight: IN MEMORIAM. Roberto Aguirre Sacasa wrote in June that this was the "most important episode of Riverdale we'll do this year, if not ever."
Recommended: Brian Austin Green Hoped For Luke Perry Cameo in 90210 Reboot
Sacasa termed the recent episode a "tribute to our fallen friend" and said he was grateful for this moment which he got as the chance to convey his respect to Luke & Fred.
Luke Perry was also prominent for his credit in the original Beverly Hills, 90210 from the 90s and the forthcoming series reboot is proclaimed to be looking out for a way to honor him.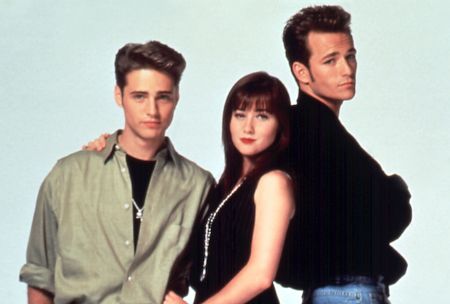 Perry also had his credits in various feature films including 'the Buffy The Vampire Slayer' film version, 'The Fifth Element' and the yet to be released 'Once Upon A Time In Hollywood,' helmed by 'Quintin Tarantino,' which is consequently set to be his final appearance.
Also Read: Shannen Doherty Joins The Cast of Fox's 'Beverly Hills, 90210' Reboot
Riverdale returns to The CW on October the 9th.
Perry suffered a significant ischemic stroke at his home in Sherman Oaks, Los Angeles on February 27, 2019. After a second episode, his family considered the medical team's suggestions to remove him from life support, and he died on March 4 at age 52. Perry's death certificate claimed he was buried near his home in Vanleer, Tennessee, where he had a farm and lived since 1995 when out of Hollywood, and was a supporter for flood control and volunteered for other local issues.
However, it was later reported that his body was cremated and his ashes were scattered on his farm. On May 4, 2019, it was announced that his daughter Sophie had an Instagram post about how her father was not burnt to ashes, rather buried on the grounds of his Tennessee farm in an Infinity Burial Suit fabricated from mushrooms.
-->