Actress Ellie Kemper; Five Facts to Know about the Actress
Published Sun Aug 04 2019 By Sea
It's hard to ignore a talented personality, especially an all-rounder like Ellie Kemper. She's been in almost five dozens movies as an actress and appeared in another five dozen on-screen shows as a celebrity. There's no way we can overlook the multi-talented sensation in comedy, acting, and writing. Yeah, she went there - writing.
The high-spirited 'Kimmy Schmidt' or the adorable 'Erin Hannon'. No matter how we know Ellie from, she almost always portrays a cheerful and an exuberant person. Well, she's a comedian after all. She has to herself remain lively in order to bring a personality like her into life on camera. And she does it ever so gracefully.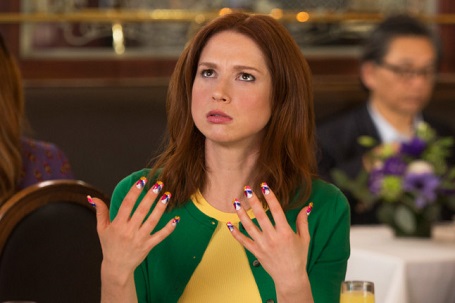 With a reputation like Ellie, there are many things the public already knows about her, and many of it comes as not-so-shocking to people. Here are some little known facts about the versatile actress.
5. Ellie's impacts on acting — things you may not know
Elizabeth Claire Kemper began her acting career from 1999 with roles in comedy series 'Neutrino' after she became 'Veiled Prophet Queen of Love and Beauty' on 'Veiled Prophet Ball, 1999'. Her breakthrough came with a role as a receptionist named 'Erin Hannon' on NBC's famous comedy 'The Office' in 2009 after performing in a dozen short movies and series. You might recall the 2007 hit humor video 'Blowjob Girl' that went viral all over the web. The effect of her charm perhaps. But she regrets doing it, she said. She doesn't want that to be the epitome of her work.
Watch: Ellie Kemper In Blowjob Girl
Erin Hannon's recurrent appearance on The Office also has quite the story. The receptionist was supposed to appear only for a few episodes. Producers became so impressed and charmed by Ellie's personality that they asked her to be a regular in June 2009, and since then she portrayed the character until the end of the series in 2013. She was asked to audition for the role by Greg Daniels after she was actually auditioned for a role on 'Parks and Recreation', also produced by Daniels. The creator asked her for it while rejecting her for 'Parks and Recreation'.
Critics noticed her first appearances on The Office and responded quite positively. Variety named her one of its '10 comics to watch' in 2009. Some called her her fresh, adorable and "appealingly goofy".
Here's Another: 10 Interesting Facts About Rick And Morty
Ellie also voiced in Cartoon Network's hit 'We Bare Bears'. She was 'Lucy', a produce saleswoman who Panda has a crush on and is trying to impress her. Lovable in Cartoon as well. Katie in 'The Secret Life of Pets' - another lovable person. 'Kimmy Schmidt' in 'Unbreakable Kimmy Schmidt' - the merry star (more on it at the end). She was also absolutely impressive as a guest host when Ellen DeGeneres was unwell in 2018.
All in all, we can say Ellie is one of the most beloved actress of our time. She won't stop giving fans all that she can and will keep on making us crave more from her.
4. The writing thing — There's a whole book about Ellie
Ellie's younger sister Carrie Kemper is a television writer who wrote for The Office before moving on to write for 'Silicon Valley' and produce its second season. Now about Ellie herself. Well, before you knew her as a comedic actor from The Office, she contributed for 'The Onion', the satire website making readers crack up since 1988. There were newspapers before the internet for the satirical site, if you're confused.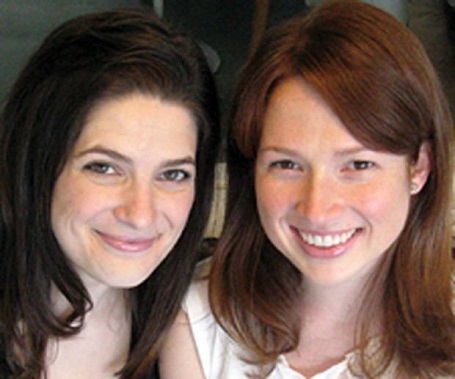 During her press for her comedy, 'Sex Tape', She told Yahoo Movies,
I got in because I kept sending my headlines to this editor named Joe Garden, and he kept saying 'All right, thanks but no thanks. But I kept sending them to him for two years, so finally he was like, 'Just stop. Fine! You can do it'.
'Grapes 'Big Hit' At Area Picnic' and 'Dog in Purse Stares Longingly at Dog in Yard' were some of her distinguished contributions.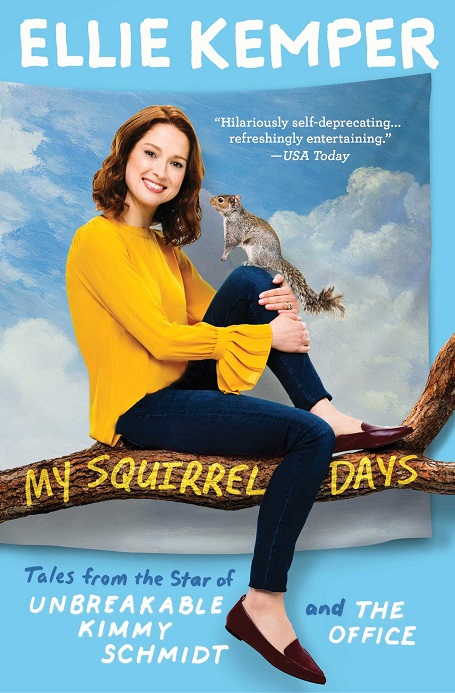 In June 2010, Ellie announced she and Carrie were co-authoring a comedic novel 'Monday Sessions' due to publish in 2012 but later said it would be on hold. She possibly never had the time to write a book after that, but it may be due to her preparations for her new biography book. She published 'My Squirrel Days' in October 2018, which became her first book. It is a series of essays about Ellie's life — from her childhood to her acting career. It received mostly positive reviews.
3. We all know Ellie is married. Her Hubby is also a writer!
Ellie married her husband Michael Koman on July 7, 2012, after being engaged earlier that year. She shared her engagement story with Ellen DeGeneres, and Dolly Parton seems to be a part of it. The couple met backstage at 'Late Night with Conan O'Brien' and even appeared together in at least one sketch.
Michael is also a television writer whose writing credit includes 'Saturday Night Live' and Late Night with Conan O'Brien. He wrote for Conan O'Brien for seven years [2001-2008]. After leaving Late Night, he was the head writer for 'Important Things with Demetri Martin'. He then worked for the three seasons of 'Eagleheart'.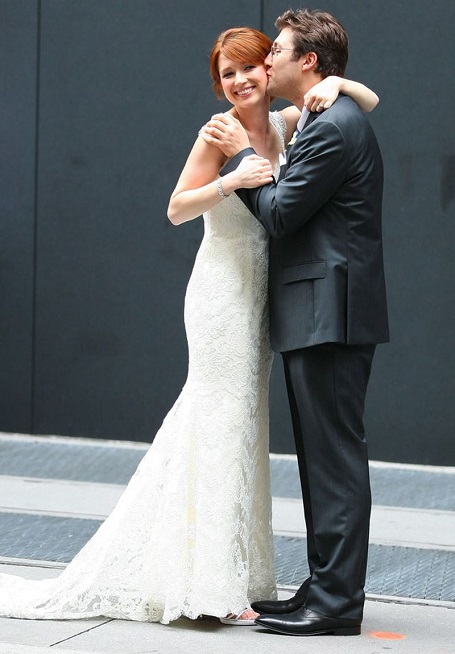 After the conclusion of Eagletheart, he began writing for 'Nathan For You' and served as the co-creator, writer, and executive producer for four years after 2014. He began writing for Saturday Night Live during the summer of 2017 for which he earned his ninth Emmy Award nomination for his contributions to variety show writing ensembles.
Don't Miss: Angela Kinsley's Husban And Her Past Affairs
The pair were proud parents to a 3-year-old son, James, who is being raised a Roman Catholic despite his father being a Jewish. Michael actually agreed to it. Ellie made another announcement earlier this year that she is pregnant with another of Michael's child.
2. Social Media is an additional level of responsibility for Ellie
Good luck finding dear Ellie on popular social media platforms. She is one of the few popular celebrities not to have a Twitter or an Instagram account. There's a simple reason for it - "Social Media is a lot of work!" She told Self in 2016 that it would be "just such another level of responsibility" that she doesn't feel up to.
Also Read: Top 5 Facts About Taylor Selfridge's Boyfriend Cory Wharton
At the 'Kate Spade x Man Repeller Leopard Leopard Leopard' pop-up shop in N.Y.C. in October 2017, the actress told InStyle, "I'm not taking a stand against it. I just know that I would get caught up in it. I tend to get obsessed with things, so I worry that I would worry about it."
Watch: Ellie Kemper Talks About Her Son
This means we won't get to see more pictures of her son James at all, nor any of her newborn's as well. There's only ONE public picture of James!
1. Ellie lives next to Tina Fey
Ellie and Tina Fey are great friends. Tina even admitted that she wrote 'Unbreakable Kimmy Schmidt' specifically for Ellie. And... They are neighbors. According to Observer, Ellie and her husband bought an apartment on New York's Upper West Side, one block over from Fey's place.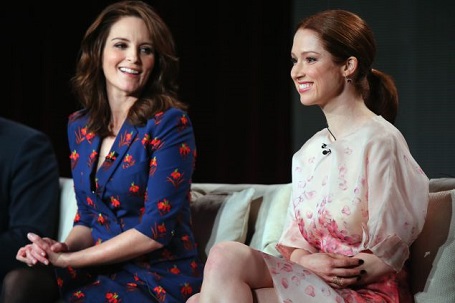 Tina told E! Online that NBC asked her if she and Robert Carlock would be interested in writing a show for Ellie. She immediately accepted it and thus 'Unbreakable Kimmy Schmidt' was born. That means the show is based on Ellie's cheerfulness, and also her strength in facing life's problems.
-->