The Best and the Worst Dressed Stars at the Grammy Awards 2019
Published Mon Feb 11 2019 By Jessica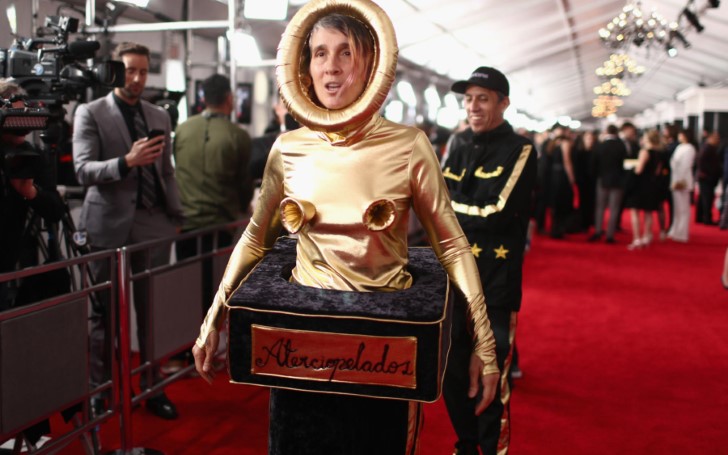 Cardi B and Kylie Jenner named as the worst dressed celebrities at the Grammys 2019. Do you agree?
The 61st Grammys ceremony kicked off last night with the biggest artists in the music industry from last year attending the event and respectively taking home some of the prestigious awards they won.
And it's no secret that most of the Hollywood celebrities manifest their creativity not just through music but through fashion as well. And the 2019 Grammy Awards held last night can be referenced as one.
In case, you missed the interesting dresses (from fanciful dresses to some weird looking dresses) these celebrities wore at the show last night, scroll below to see them here.
Top 5 Best Dressed Celebrities
5. Bebe Rexha
Bebe Rexha in a red fluffy gown by Monsoori at 2019 Grammy
SOURCE: Ashley Spencer Twitter
This red fluffy gown Pop star Bebe Rexha, who also scored the 'Best New Artist' nomination wore for her Grammy night definitely gave her a Cinderella moment she wished for.
The dramatic layered crimson tulle dress Rexha opted to wear comes from Monsoori after certain fashion designers refused to dress her because she is a size 6/7.
You may also like: Ben Affleck and His Ex-girlfriend Lindsay Shookus are Reportedly "Back in Contact" After 5 Months Split
4. Heidi Klum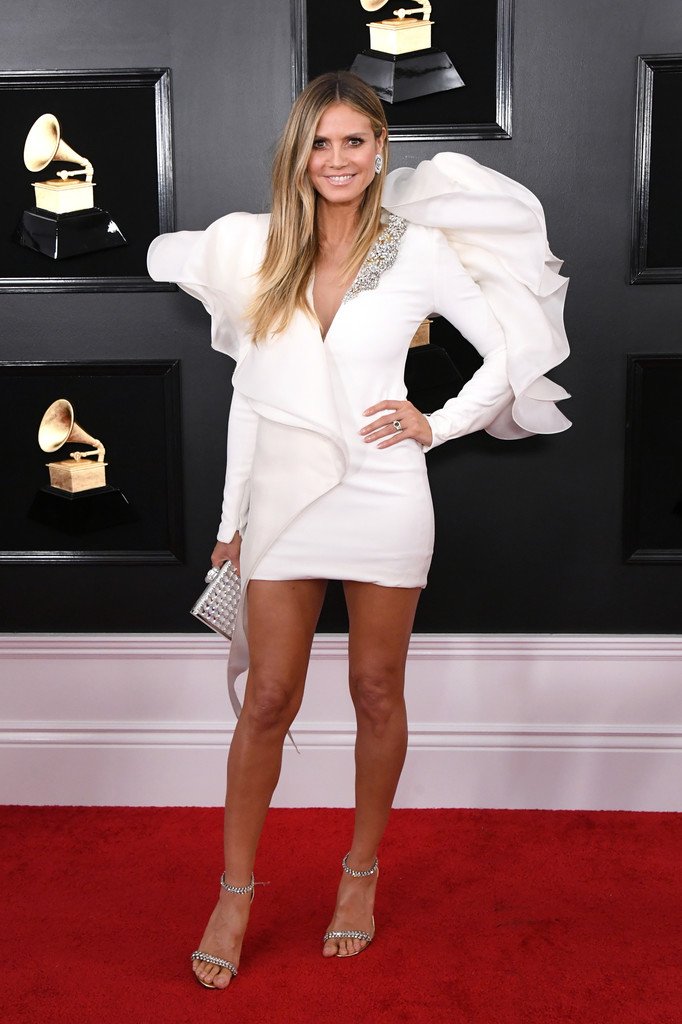 Model Heidi Klum at the Grammy 2019
SOURCE: The Fashion Court
One can surely make fun of Heidi Klum for her dress representing football shoulder pads, but we love how her White and sparkly mini dress by Stephane Rolland from her Spring 2018 Couture gives us an angelic vibe.
The 'America's Got Talent' judge wore Lorraine Schwartz jewelry to accessorize her outfit.
3. Lady Gaga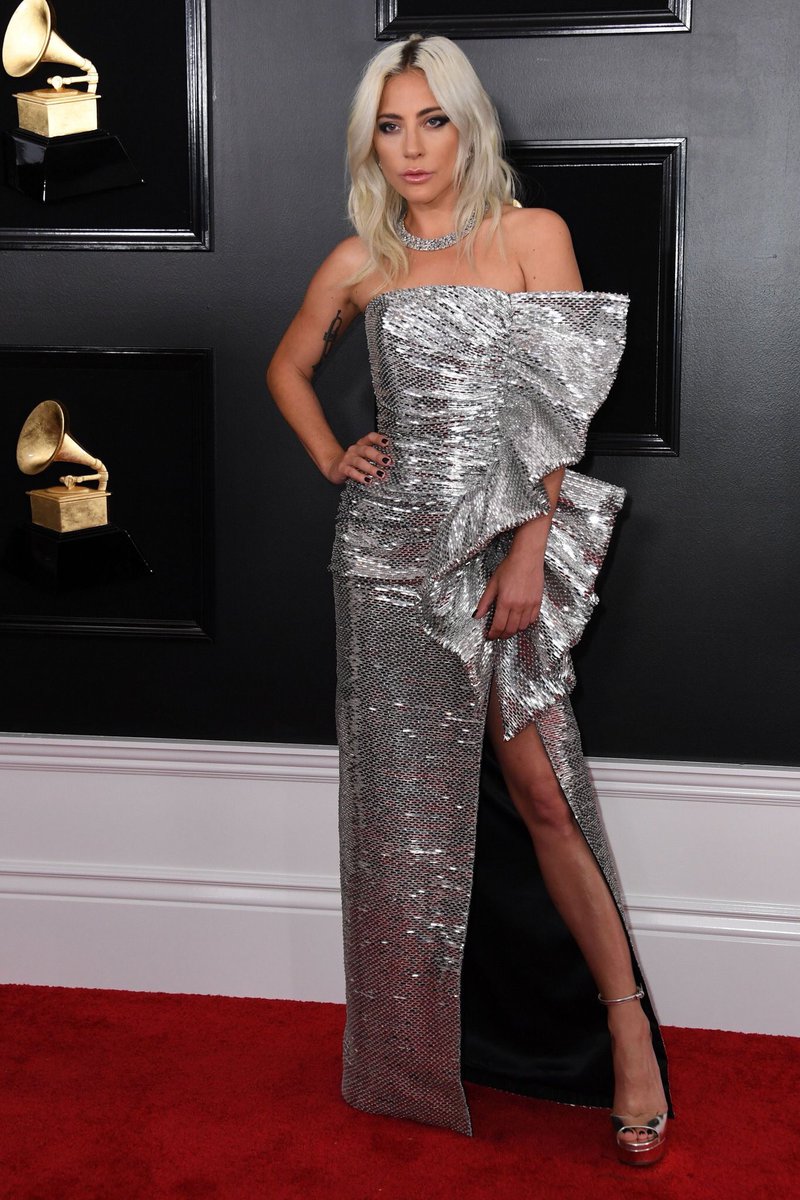 Lady Gaga in a silver Celine dress by Hedi Slimane at the Grammy 2019
SOURCE: Francesca Twitter
First of all Congratulation to Lady Gaga on winning her three Grammys last night. The sequin silver Celine dress designed by Hedi Slimane and the 100 carats of Tiffany & Co. diamonds on her neck truly makes us believe that 'A Star is Born' indeed.
Don't miss: Lady Gaga wins Three Grammys; Surprise Appearance by Michelle Obama
2. Katy Perry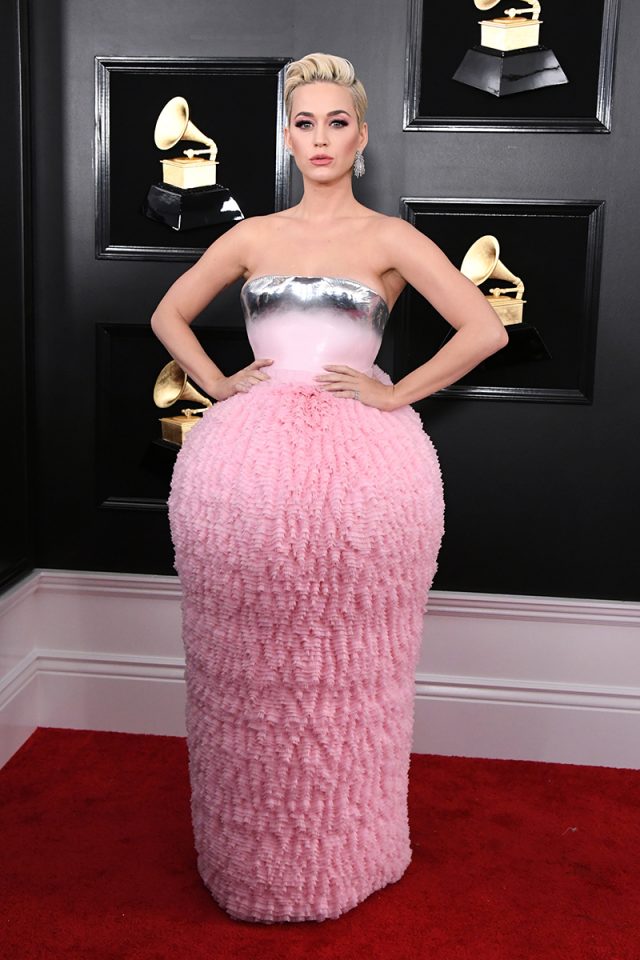 Katy Perry in a pink and silver Balmain dress

SOURCE: Mulher Maravilha
The 34 years old singer Katy Perry rocked a pink gown that sparked a Barbie vibe. Perry rocked the pink and silver Balmain dress that gave her a bold yet a sweet look.
1. Dua Lipa
Singer Dua Lipa in a silver gown at the 2019 Grammy event
SOURCE: Getty
Congrats Dua Lipa for winning not only one but two Awards last night.
We don't think anyone stunned the Grammys night as much as the 'Best New Artist' Award recipient did. The singer walked the red carpet in a body-hugging silver gown that featured a sweetheart neckline and a draped bodice and Bvlgari jewels.
Related news: Miley Cyrus Talks Married Life With Liam Hemsworth, Details To Their 'Amazing' Wedding
However, not all the stars arrived with a pleasant look.
Check out the list of the worst dressed celebrities.
5. Kylie Jenner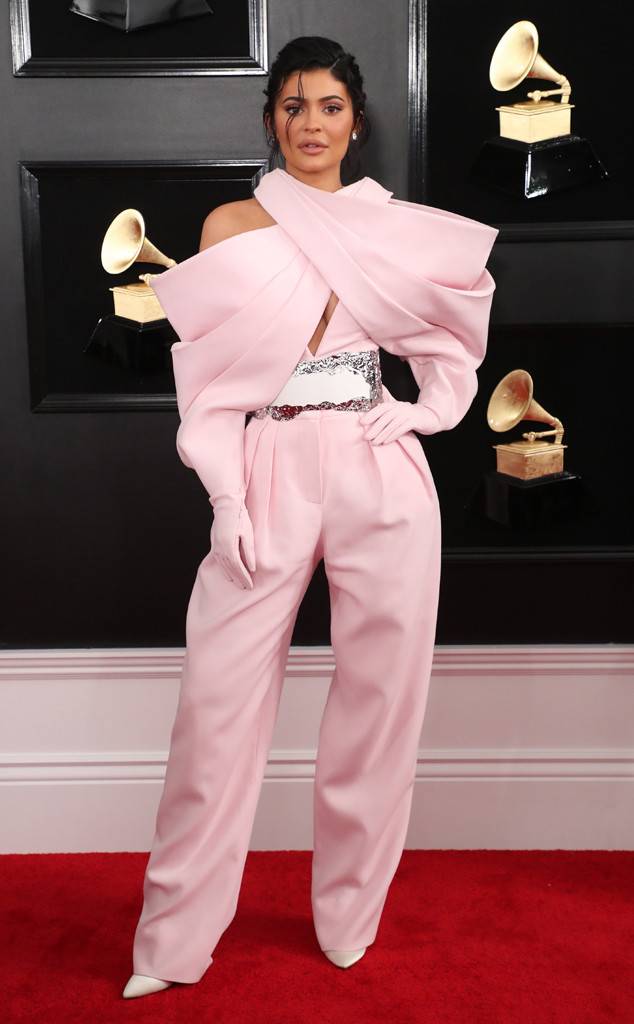 Kylie Jenner at the 2019 Grammy event in pink Balmain pantsuit
SOURCE: E! News
Probably the most disappointing outfit Kylie Jenner wore so far in any event. The pastel pink dress is cute and all, but Kylie could have done better with her Grammy debut.
Sorry, Kylie, we ain't feeling your pink jumpsuit.
4. Cardi B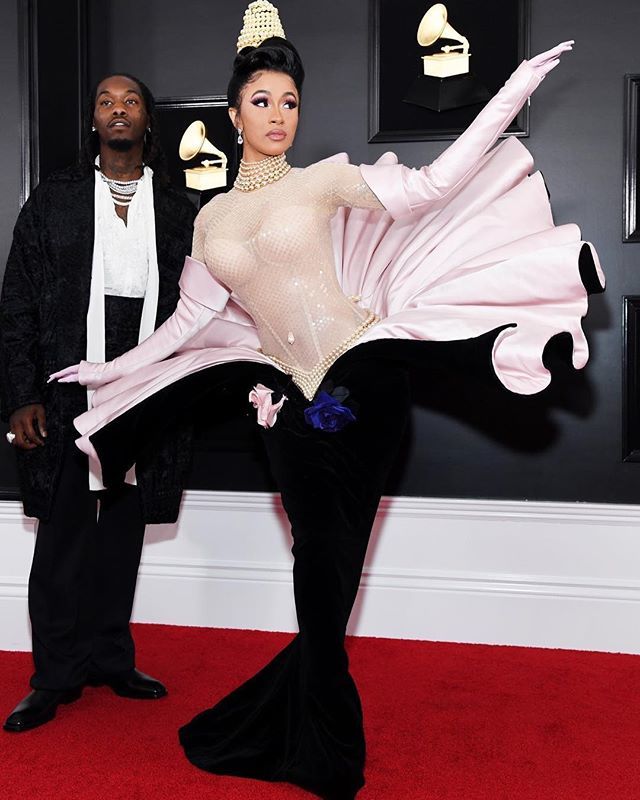 Rapper Cardi B at the 2019 Grammy Awards alongside partner Offset
SOURCE: Black Snobiety
Rapper Cardi B among one of the winners last night stepped into the red carpet looking like a human version of an oyster or more like Ursula from 'The Little Mermaid' in the pink vintage couture dress.
See too: Fox News Correspondent and "Final Exam" Contestant Lauren Blanchard are on a Roll Lately
3. Hennessy Carolina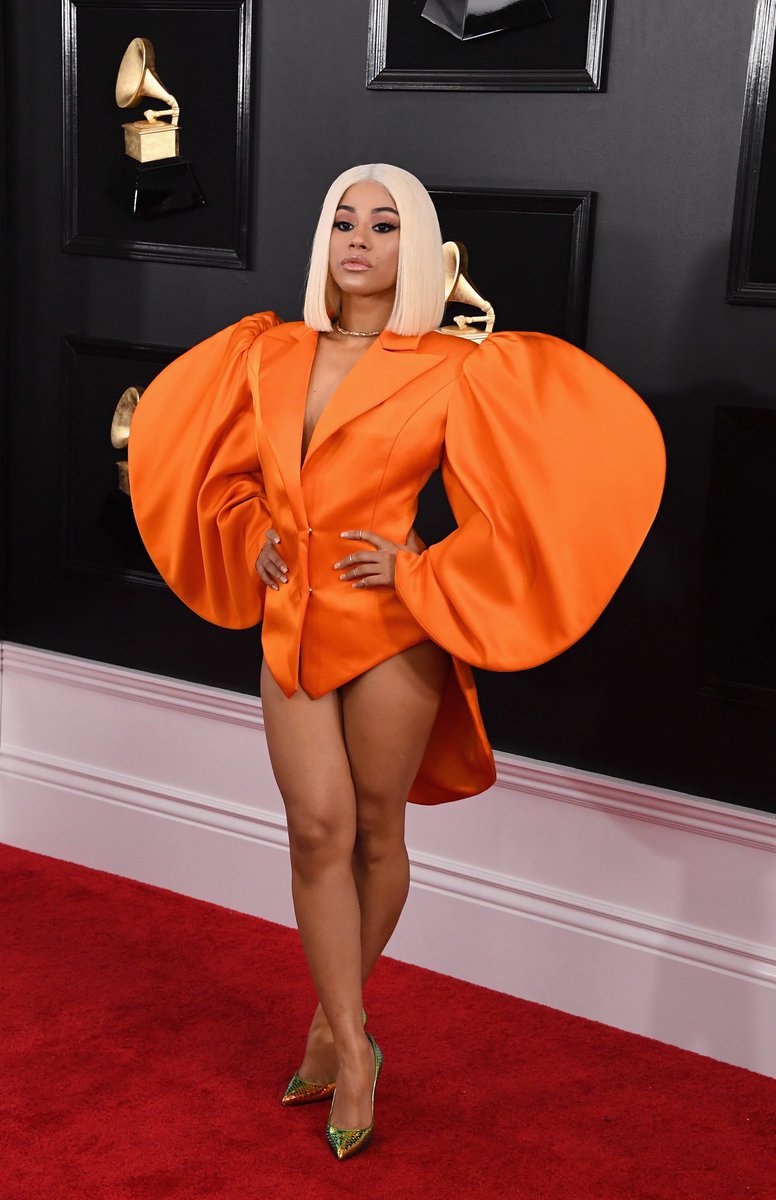 Hennessy Carolina wearing an orange neon dress at the Grammy 2019
SOURCE: Madame Noire
The young sister of Cardi B and TV personality Hennessy Carolina arrived at the Grammys carpet to support her sissy by presenting herself in a mini pantless dress. The bold and dramatical orange blazer-style dress featured puffy sleeves that made Hennessy look like a butterfly.
2. Andra Day
Andra Day at the Grammy 2019
SOURCE: Pinterest
We loved the tribute performance by Andra Day to honor the Queen of Soul, Aretha Franklin. But, with a tutu resembling dress?
It appears that her stylist tricked her into thinking the singer needed to leave for a ballet class instead of the Grammys.
In other news: Catfish's Nev Schulman Wants To Help Dina Lohan With Boyfriend She's Never Met After 5 Years of Dating
1. Joy Villa
Singer Joy Villa wearing Trump supporting gown at the Grammy 2019
SOURCE: Pinterest
Well, not the first time Joy Villa presented herself in a Trump supporting dress. Like we get the point of her dress, but we believe the singer could have hired a better designer for her 'Build The Wall' pro-Trump gown that could have avoided the hurtful looking barbed wire attached on her shoulder.
-->