Chris Pratt Responds to Ellen Page's Claim About His Church
Published Tue Feb 12 2019 By Jessica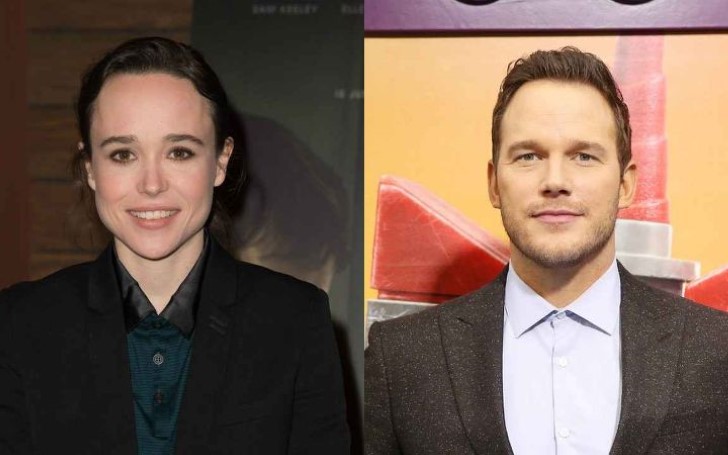 'We need less hate in this world' Chris Pratt defends himself after actress Ellen Page called out the actor for attending an anti-LGBTQ church.
Hollywood actor Chris Pratt responds after 'Juno' Oscar-nominated actress Ellen Page called him out for attending 'an infamously anti-LGBTQ Hillsong church.'
Page criticized the Avengers' actor on Thursday after the episode of him addressing his religious side and views appeared on 'The Late Show With Stephen Colbert'.
The X-MEN star where she plays 'Kitty Pryde' herself is gay as she reportedly came out as one in 2014 and even works as an outspoken activist for LGBTQ rights.
Chris Pratt on 'The Late Show With Stephen Colbert'
SOURCE: Global TV
During the promotion of Chris' new movie; 'The Lego Movie 2: The Second Part' on the show, the 39 years old actor also further revealed to host Colbert that he took part in a 21 days Daniel Fast and had just finished it.
You may also like: Chris Pratt Reveals The Reason His Movie Characters Never Find Love
He also mentioned his church (Hillsong) and their pastor encouraged him by sharing words of wisdom on the ways to balance his inner self and fame.
The 31 years old Canadian actress delivered her opinions in reference to the anti-LGBTQ Hillsong Church and their regular Hollywood stars attendees like Pratt himself, Kendall and her sister Kylie Jenner, pop singer Justin Bieber and his wife Hailey Baldwin.
Actress Ellen Page and her wife Emma Portner showing PDA at an event
SOURCE: Metro
Actress Page took to her social media and poured her aggression:
"If you are a famous actor and you belong to an organization that hates a certain group of people, don't be surprised if someone simply wonders why it's not addressed"
She continued:
"Being anti LGBTQ is wrong, there aren't two sides. The damage it causes it severe. Full stop. Sending love to all."
The actress didn't stop there and further continued to tweet her support for the LGBTQ community.
Ellen added:
"If lgbtq+ people are expressing their pain, their trauma, their experiences...maybe just try and listen? Open your heart, stop being defensive and have compassion. It's a beautiful and life changing feeling, empathy. Much love truly to all."
And soon after hearing the claims from Page on him and his church, the 'Guardians of the Galaxy' actor took to his Instagram and shared his thoughts.
Related news: Chris Pratt and Katherine Schwarzenegger Planning Traditional Wedding For The Summer
Chris claims the church never embraced such philosophy to hate a certain group of people and can only be judged on personal experience.
"It has recently been suggested that I belong to a church which 'hates a certain group of people' and is 'infamously anti –LGBTQ.' Nothing could be further from the truth"

"I go to a church that opens their doors to absolutely everyone."
The father of one also referenced his divorce to former wife Anna Faris on why he decided to attend the church in his dense statement.
He continues:
"Despite what the Bible says about divorce my church community was there for me every step of the way, never judging, just gracefully accompanying me on my walk"

"They helped me tremendously offering love and support. It is what I have seen them do for others on countless occasions regardless of sexual orientation, race or gender."

"My faith is important to me but no church defines me or my life and I am not spokesman for any church or any group of people."
Pratt who is engaged to Katherine Schwarzenegger further wrote:
"My values define who I am. We need less hate in this world, not more. I am a man who believes that everyone is entitled to love who they want free from the judgment of their fellow man."

"This is what guides me in my life. He is a God of Love, Acceptance and Forgiveness. Hate has no place in my or this world"
Pratt concluded the Instagram story post by adding, "Jesus said, 'I give you a new command, love one another."
Chris Pratt Responds to Ellen Page's Claim About His Church

SOURCE: Chris Pratt Instagram
The mega-famous church founded in Australia now owns its branch church locations in Los Angeles and New York City.
Also see: Chris Pratt Promises Fans Guardians of the Galaxy Vol. 3 Will Happen
Previously, the Hillsong global pastor Brian Houston described the church as a gay-welcoming and friendly church but also stated the church does not declare any gay lifestyle.
Likewise in 2015, another pastor Carl Lentz, who leads the New York church faced a big criticism after affirming that homosexuality is considered as a sin and that the LGBTQ group could never secure a leadership position.
-->