Colton Underwood Girlfriend - Find Out Who The Bachelor Star is Dating
For real "The Bachelor" fans, the season 23 finale of the show was one of the most anticipated in the history of ABC. Well, the end of the show becomes suspenseful after Colton Underwood was dumped by the fellow contestant, Cassie Randolph.
Colton, who was football tight at Illinois State, got heartbroken by Cassie as she was not ready to get engaged to anyone and was left to choose between the two finalists, Hannah Godwin and Tayshia Adams. To everyones' surprise, Underwood challenged the rule and dumped both the girls and proved his love for Randolph.
Underwood finally persuaded the pathology graduate student Cassie that their relationship can even work out without her saying yes to a ring, a fantasy suite, or really anything outside of a commitment. While many fans showed their support towards the reality star's decision, others were disappointed that The Bachelor season 23 did not end in an engagement.
Well, not only this, the former football player became the talk of the town after he revealed about his virginity on the show. So, today we will give an update about Colton Underwood's love life. Stick with us to know whether they are still together or have already broken up just like other's predictions.
Is Colton Underwood Single Now? Why Did He Breakup With Cassie Randolph?
Well, this will break the heart of many girls as our ABC's leadman, Colton Underwood, is not available. He is still dating his fellow contestant Cassie Randolph and together for more than a year now.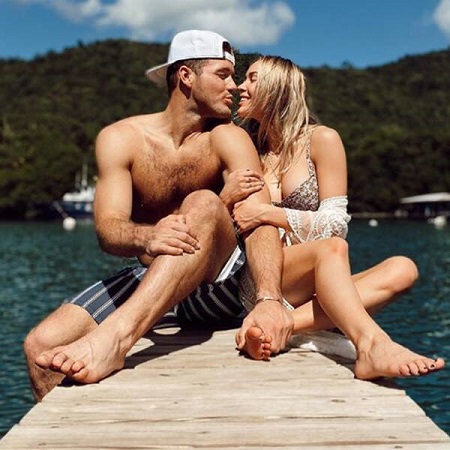 Calton Underwood and his girlfriend, Cassie Randolph celebrated their one year anniversary on Marigot Bay Resort and Marina in St. Lucia.
Source: E! News
Just like others, Colton and Cassie have many ups and downs in their relationship, which even led them to break up once. In People's snippet from his memoir The First Time, he admitted they struggled a lot in their relationship and took a break due to communication issues.
Also See: Hugh Grosvenor Girlfriend - Is the Duke of Westminster Dating Someone?
However, the breakup did not last long as the pair realized their love for one another and got back together within a couple of days. Underwood, who is suffering from mental health from past 14 years, even shared the small break made their relationship stronger than ever.
Moreover, the couple is enjoying the quarantine period together to the fullest amidst the outbreak of COVID-19. Recently Colton shared a post on his Instagram where he is seen rocking a new bald haircut given by his girlfriend...
To The Bachelor Notion fans' rejoice, Underwood revealed during an interview with Entertainment Tonight that he is planning to propose his beloved girlfriend within this year. Likewise, the former NFL player previously dated the US Olympian Aly Raisman.
Colton Underwood Recently Recovered From Coronavirus.
The Bachelor Nation Colton Underwood tested positive for the disastrous virus COVID-19. The 28 years old announced through an Instagram post that he contracted the deadly Coronavirus and opened up the symptoms as "shortness of breath" and "exhaustion."
Though Underwood had no idea how he contracted the potentially fatal illness, he encouraged everyone to keep social distancing during this pandemic. Furthermore, he warned those people who consider themselves as young with high immunity power could also get infected with the virus and asked to take this virus seriously.
After suffering from Coronavirus for a few weeks, the reality star shared on Instagram on April 7 that he fully recovered from the deadly virus. In the post, he also showed gratitude and thanked his beloved girlfriend, Cassie Randolph, and her family for physically and mentally supporting him.
Watch: Colton Underwood shared about his recovery from Coronavirus
Meanwhile, Underwood, along with Cassie, has helped the world to fight the pandemic through donations of money, product, and plasma/blood. Besides, they are even giving $1,000 every week (for the next seven weeks) to the stranger who is in need of money. Well, we provide the best wishes to Calton for this kind gesture!
You May Also Like: Mikala Walker Boyfriend - Find Out If She is Dating Someone or Single
Don't forget to head to our Entertainment section for more exciting news and gossips. And stay updated with Glamour Fame to keep track of the entertainment world.
-->