David Eason Had Opened A GoFundMe Campaign For His Son Whom He Lost Custody Of
Published Tue Sep 03 2019 By Sea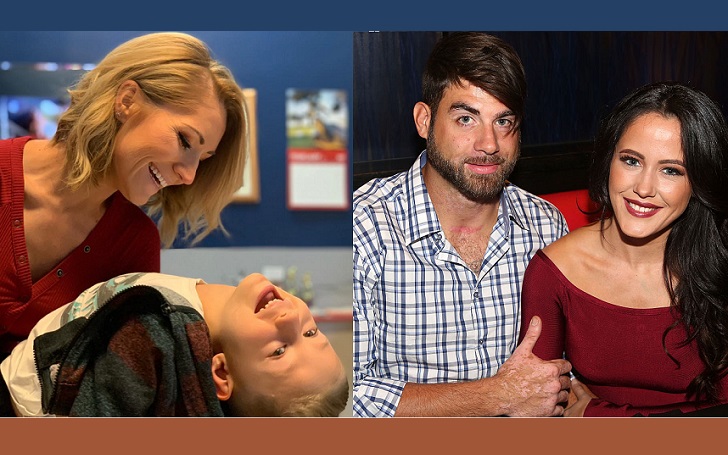 Feel pitiful or just outright satisfied; it's your choice.
David Eason lost sole legal and physical custody of his five-year-old son, Kaden, to ex-girlfriend Olivia Leedham this June. Some horrible details were finally revealed this week. Mistakes were made, but he never seems to learn out of them. If you know about the situation, even currently with wife, Jenelle Evans, you know he is not a good person.
Eason had visitation rights until November 2018. That's when Leedham called the cops on him, stating that he assaulted her in October in the presence of children. He had been battling for the custody since before he was married to Evans. But he got nothing out of it. And nothing stops Eason and his partner in crime, Evans from fighting for getting back Kaden though.
The married duo started a GoFundMe campaign directly against Leedham, in an effort to get enough money to pay for legal fees, that horribly failed. They recently got back the custody of their other children; Jace, Kaiser, David and Maryssa; from Evans' mother after the alleged dog shooting scandal — thought they could get more. Campaign title was "#JusticeForKaden - Father Torn Away From Son". He's not fooling anyone.
The GoFundMe campaign that failed miserably.
Source: GoFundMe
If you wanted to follow up on the web of all scandals the 'Teen Mom 2' pair are tangled in, don't try to. It is quite extensive and convoluted, to say the least. Your brain may melt while attempting to understand their life. All you need to know is that Eason is not a good person, and Evans may not be a competent mother either.
Relating to the topic being discussed, the proof of accusations against Easons are clear. Olivia Leedham started a GoFundMe page of own prior to the court hearing in order to keep Kaden out of reach of the incoming pair. She wrote,
"I am a single mom of two. I do my best to work as much as I can. I have put Kaden and Lailah, my daughter, through daycare. I take care of all their needs as any parent does but I am on a one parent income. I don't have the means to keep going alone financially within the court system. I am finally reaching out for help. I am completely concerned for my son's safety, physically and mentally. He is persistent on not going to his Dads and doesn't even want to speak to him. I am beyond worried."
Olivia's Fundraising campaign on GoFundMe was a success.
Source: GoFundMe
The Eason spontaneously responded and lashed out at Leedham's claims via Facebook, which is now removed.
"I am super scared for my son Kaden's safety. His mother is on drugs and has kept him from me for a long time trying to hide her bad habits. This woman has kept Kaden from me since before he was born, when she asked me to sign a paper saying I didn't have to be the dad. Olivia was always very abuse [sic] towards me and even put my son's life in danger several time [sic] while she was pregnant."
Say what you will, but despite Leedham going through her own problems, these are just allegations. Add to that the fact of Leedham signing the petition to have the pair's other animals taken away after the dog-shooting scandal.
While Leedham's campaign was relatively successful in comparison what Eason scraped. Within one day of the launch of her page, she raised $5,745, exceeding her $5,200 goal. It is now closed and records $6,415 being raised. Along with that, words of support were pouring out for her. Many empathized with the mother of two as well.
Eason and Evans' campaign, on the other hand, raised a mere $135 before being shut down. Despite the touching line he put up, many bashed it. They remember who the deal was with. Guess he won't be getting Kaden back anytime soon.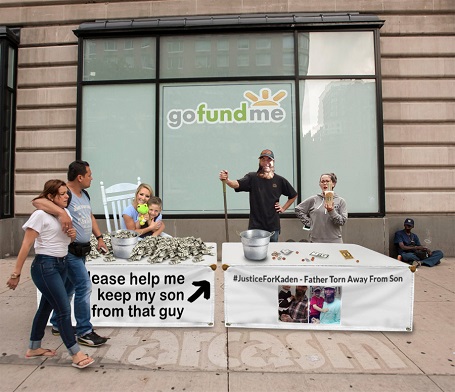 The custody war ends with Leedham winning for now.
Source: Starcasm
Feel pity if you like. But one thing that is so despicable about him is his most recent lashes against Kailyn Lowry. It should give you the general idea of how horrendous this guy is. He straight out called her by names after she was getting closer with Leah Messer. Making fun of a colleague with fat and sexist jokes is completely unacceptable. Even the Teen Mom crew is afraid of the monster rising.
-->