Getting to Know Apollo Bowie Flynn Rossdale: Gwen Stefani's Youngest Son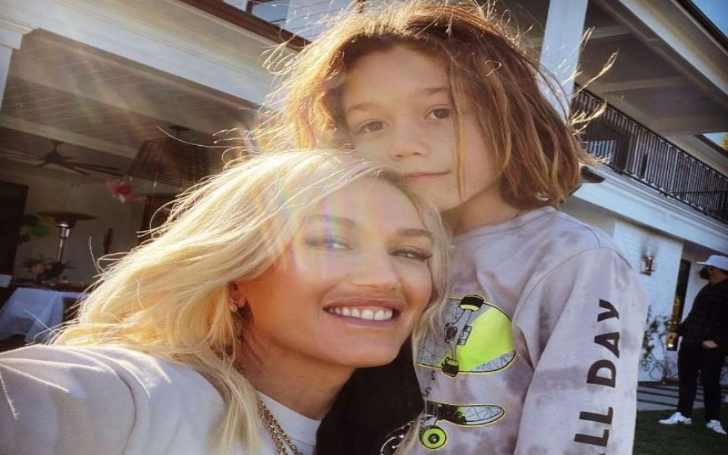 In the realm of public attention, notoriety often extends beyond celebrities and public figures to encompass individuals who gain media recognition solely due to their familial connections. Such individuals essentially become subjects of public scrutiny, with their every move and action scrutinized by the ever-present media lens.
One such figure is Apollo Bowie Flynn Rossdale, who is notably the youngest offspring of the former celebrity couple Gwen Stefani and Gavin Rossdale. Just like his siblings Kingston Rossdale and Hazel Krasinski, Apollo is a well-known personality in the entertainment industry.
Parents Love Life
Apollo Bowie Flynn Rossdale, the youngest of the Rossdale clan, was born to renowned musicians Gwen Stefani and Gavin Rossdale. The couple's love story began in 1995 during a holiday concert, culminating in a 2002 marriage celebrated twice, first in Covent Garden and then in Fullerton, California.
While their 13-year union eventually ended in a 2015 divorce, their musical legacies and children remain enduring reminders of their shared journey, blending harmonious melodies with moments of dissonance.
Why did Apollo Bowie Flynn Rossdale's Parents get divorced?
The once-strong bond between Gavin Rossdale and Gwen Stefani unraveled in 2015 due to Gavin's infidelity with the children's nanny, Mindy Mann.
Gwen's world was shattered when she discovered incriminating text messages that exposed a pattern of explicit communication and physical involvement between Gavin and Mindy.
This heartbreaking revelation led to their divorce. Following the divorce, Mindy distanced herself from her role as the children's caregiver and found happiness in a new relationship, eventually leading to her marriage with her long-time boyfriend.
Mother, Gwen Stefani's Dating History
Gwen Stefani's romantic journey has seen its share of ups and downs. She initially dated her bandmate Tony Kanal and was deeply invested in that relationship, even wishing for a child with him. When they broke up, it inspired several songs, including "Don't Speak" and "Cool."
Later, she announced her relationship with country music artist Blake Shelton in 2015. They collaborated on music, with their duet "Go Ahead and Break My Heart" featured on Shelton's 2016 album.
Their relationship blossomed, and they scored chart-topping hits like "Nobody But You" and "Happy Anywhere." They got engaged in 2020 and married in July 2021 at Shelton's Oklahoma ranch.
Father, Gavin Rossdale Relationship Status
Gavin Rossdale's romantic history reveals a complex web of relationships. In the late 1980s, he dated Suze DeMarchi, with Bush's song "Comedown" inspired by their relationship. He also had a relationship with German model Sophia Thomalla from 2017 to 2018.
Boy George claimed in his autobiography that Rossdale had a relationship with Peter Robinson (Marilyn) in the 1980s, a statement Rossdale and Robinson initially denied but later confirmed.
Rossdale's paternity test in 2004 revealed he was the father of Daisy Lowe, Pearl Lowe's daughter, despite initially cutting off contact. In later years, they reconciled, maintaining a respectful relationship.
Get To Know Apollo Bowie Flynn Rossdale's Parents
Gavin Rossdale, a British musician and actor, has made his mark on the music industry as the lead vocalist and guitarist of the rock band Bush. Born on October 30, 1965, in London, England, he gained fame with hits like "Comedown" and "Glycerine." Rossdale's career spans decades and includes solo projects, acting roles, and collaborations with fellow artists.
Gwen Stefani, born on October 3, 1969, in Fullerton, California, is a multi-talented American artist celebrated for her contributions to music, fashion, and television. She rose to prominence as the lead vocalist of the band No Doubt, known for hits like "Don't Speak" and "Just a Girl."
Stefani's distinctive style and solo music career, marked by tracks like "Hollaback Girl," have made her an iconic pop figure. Additionally, her role as a coach on "The Voice" and her fashion ventures have solidified her status as a versatile entertainer.
Apollo Rossdale's Wonderful Relationship Status With Stepfather, Blake Shelton
Gwen Stefani, along with her former husband Gavin Rossdale, parents three sons aside from Apollo Bowie Flynn Rossdale. While Gwen and Gavin co-parent their children for their betterment, Gwen has also highlighted the significant role played by her current partner, Blake Shelton, as a father figure.
Blake, who has no children of his own, bonded with Apollo when the young boy was just three years old. He frequently visits their expensive ranch in Oklahoma, where the boys have learned to embrace adventure.
Net Worth of Apollo Rossdale in 2023
Apollo Rossdale, born into substantial wealth as the child of Gwen Stefani and Gavin Rossdale, enjoys a privileged upbringing. Gwen Stefani, with a net worth exceeding $160 million.
She has earned her fame as a member of No Doubt and as a solo artist with multiple studio albums and a Grammy award. Gavin Rossdale, also a musician, boasts a net worth estimated at over $45 million.
His Age and Silbings
Apollo Bowie Flynn Rossdale, born in 2014, is an integral part of the Rossdale-Stefani family, hailing from a diverse ethnic background. Growing up in Fullerton, California, alongside his older brothers Kingston and Zuma, he shares strong bonds despite their age differences.
Apollo also has a half-sibling, Daisy Lowe, from his father's previous marriage. Raised in a creative environment by musician parents Gwen Stefani and Gavin Rossdale, Apollo's life was altered by his parents' 2016 divorce.
His unique middle name, Flynn, and first name, Bowie, pay tribute to his heritage, while his presence brings immense joy to Gwen Stefani, with his older siblings actively involved in his upbringing.
Birthday Celebration
Apollo Rossdale, born into a world of opulence due to his parents' immense wealth and luxurious lifestyles, enjoys extravagant birthday celebrations.
His fifth birthday was marked by a safari-themed party, and the year before, he celebrated his fourth birthday with a Scooby-Doo theme.
These lavish birthday bashes are a testament to the Rossdale-Stefani family's commitment to creating unforgettable memories for their youngest member.
Is Apollo Rossdale Active on Instagram?
Apollo Bowie Flynn Rossdale leads a low-key online presence, refraining from social media platforms like Facebook, Instagram, and Twitter. Instead, he opts to relish life away from the digital spotlight.
However, his mother, Gwen Stefani, with her substantial 17 million Instagram followers, occasionally shares adorable videos and photos of Apollo, providing glimpses into their family life for her fans and followers to enjoy.
Visit Glamour Fame For More Related Contents
-->