Gwyneth Paltrow Pokes Fun At Herself in Surprise 'SNL' Cameo
Published Tue Mar 12 2019 By Tess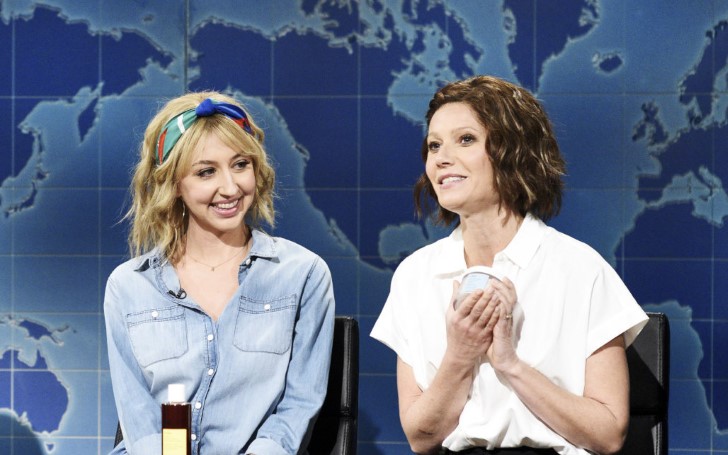 Gwyneth Paltrow makes fun of herself in Surprise 'SNL' Cameo.
Gwyneth Paltrow made a surprise appearance on Saturday Night Live's new "Weekend Update" where she poked fun at herself and her lifestyle company, Goop.
At the very beginning of the segment, Heidi Gardner's recurring character, Baskin Johns, a Goop staffer who cannot overcome her nerves when it comes to selling the company's famously extravagant products was brought back.
In a fit of fear over failing, Heidi brought on her own boss, Fifer James, played by Paltrow, and the pair nervously tried to sell Goop products whilst being traumatized by the thought of the wrath of their main boss (who in real life is Paltrow herself).
Also see: Gwyneth Paltrow and Husband Brad Falchuk Honor Their Friend Ryan Murphy At His Hollywood Walk of Fame
Baskin stammers:
"I need your help, because I'm really afraid that Gwyneth's gonna fire me."
To which Fifer replies:
"No, she doesn't believe in firing, remember? It's called conscious unemploying."
Together the pair nervously tried to sell Himalayan Salt Rub, with Fifer unhelpfully describing salt as "angry sugar," before Michael Che finally asked, "What does Goop even stand for?"
Read more: Gwyneth Paltrow Open to Cameo Despite Plan To Retire After 'Avengers: Endgame'
The pair together explained in unison, "Gwyneth Opens Our Paychecks."
Gwyenth's appearance on the SNL also surprised the first time Saturday Night Live host Idris Elba. The actor confessed on Sunday that Paltrow's appearance "was a surprise" even to him
"It was great. It was a really great experience. The whole night was great."
Saturday Night Live airs Saturdays at 11:30 p.m. ET, 8:30 p.m. PT on NBC.
-->