Halsey Flaunts Her New Multicolored Hair on Her Social Media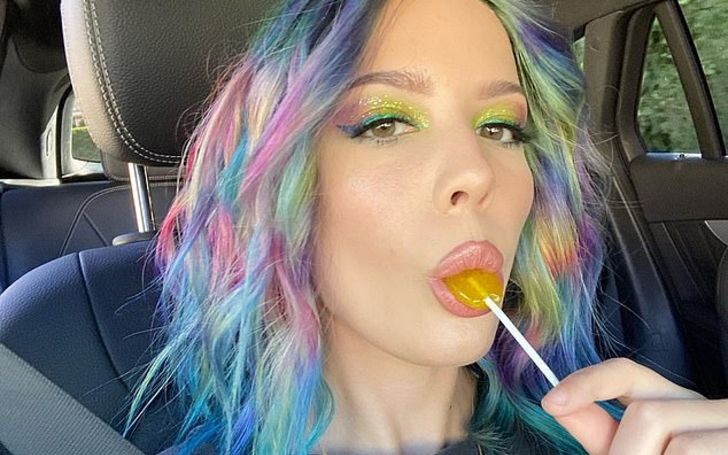 Find out how the famous American singer Halsey's new multicolored hair's got everyone on the Internet talking.
Not all of the music artists are happy with this year's Grammy Awards, and Halsey's one of them. She took a dig at the Grammys, claiming that the nominations were bribed and the right person did not get considered for the prestigious awards. Halsey is a two-time Grammy Awards nominee, but this time she did not make the list. And she's expressing her discontent with some striking selfies lately.
In an Instagram picture, Halsey shared on her account, she revealed her new rainbow ombre hair color, providing a glimpse into her exotic look to over 22.3 million of her Instagram followers. In the selfie, she also revealed some cleavage in sizzling hot pink lingerie.
Halsey Displayed Her New Multicolored Hair on Her Social Media
The 'Closer' singer also shared another selfie, in which she was seen wearing a black Tupac Shakur t-shirt from his 1996 album 'All Eyez on Me,' as she was sitting in her car and was sucking on a yellow lollipop. On the Instagram picture, she wrote a caption: 'nothing will ever be the same.'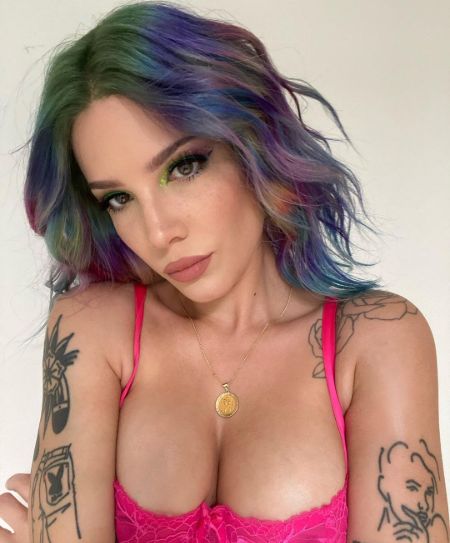 Halsey was seen with her new multicolored hair, whilst wearing bright pink lingerie.
Source: Halsey Instagram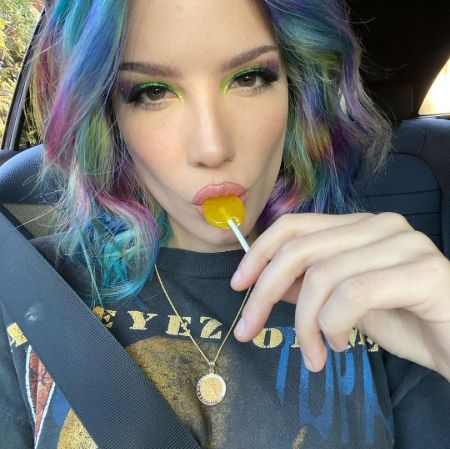 Halsey also shared another selfie showing that she was wearing a black Tupac Shakur t-shirt from his 1996 album 'All Eyez on Me,' while sucking on a lollipop.
Source: Halsey Instagram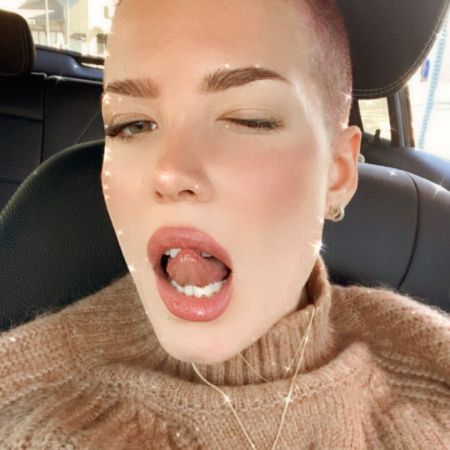 Halsey was wearing a wig this whole time, as her buzzcut was actually dyed pink.
Source: Halsey Instagram
Halsey's glittery yellow, green, and purple smokey on her eye seemed to suit her multicolored wavy hair. This look, along with her beautiful eyes, will make any heart skip a beat. She also wore a gold Saint Christopher necklace.
Also See: Derek Hough Could Replace Len Goodman Permanently on "Dancing With the Stars"
But in those selfies, Halsey was actually wearing a wig the whole time, as the next picture she posted showed her buzzcut was dyed pink.
Looks like Halsey's experimenting with new styles and looks, trying to get her mind off the Grammy Awards. Also, this was also a way of a unique way of expressing her dissatisfaction with the Recording Academy, which is responsible for handing out the awards, that is most prestigious in the music industry.
Halsey Was Not Happy With This Year's Grammy Award Nominations
Halsey was critical of the Grammy Awards last weekend when she and the fellow artists The Weeknd and Selena Gomez got excluded from the upcoming 63rd Annual Grammy Awards. All of them were topping the Billboard Hot 100 in the past year. And Halsey took it to Instagram to vent her frustration.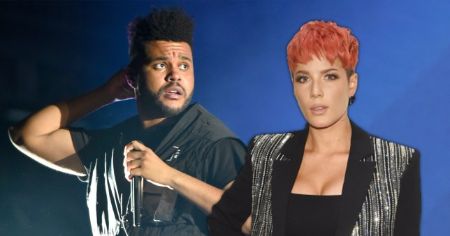 Halsey, The Weeknd, and Selena did not get nominated for the Grammy Awards despite having a successful year.
Source: Metro
'I've been thinking and wanted to choose my words carefully because a lot of people have extended sympathy and apology to me since the Grammy nominations,' Halsey wrote on one of her Instagram stories.
'The Grammys are an elusive process,' Halsey added. 'It can often be about behind-the-scenes private performances, knowing the right people, campaigning through the grapevine, with the right handshake and "bribes" that can be just ambiguous enough to pass as 'not bribes.'
Check Out: "Space Force" Season 2: Netflix Gives the Green Light for the Show
'It's not always about the music or quality or culture,' Halsey continued. 'While I am THRILLED for my talented friends who were recognized this year, I am hoping for more transparency or reform. But I'm sure this post will blacklist me anyway.'
Halsey released her third studio album 'Manic' in January, and her single 'Without Me' topped the charts, her first-ever number 1 as a lead artist.
Stay tuned to Glamour Fame for more new related content of your favorite celebrities.
-->