Iron Man's Mark 85 Armor In Avengers: Endgame Revealed In Huge Detail
Published Mon Apr 01 2019 By David
Iron Man to don a new suit in the battle against Thanos in Avengers: Endgame.
Merchandise are turning out to be quite helpful in predicting Avengers: Endgame. Every toy replicas of Earth's Mightiest Heroes are suggesting that they are arming up themselves with seemingly enhanced weaponries.
And now the aesthetics have released a new feature for none other than the principal hero, Iron Man. Based on all that contract hearsays, Endgame could end up being Tony Stark's swan song in the Marvel Cinematic Universe, but if his legacy is about to reach its conclusion, then we can at least look forward to him going out in some style.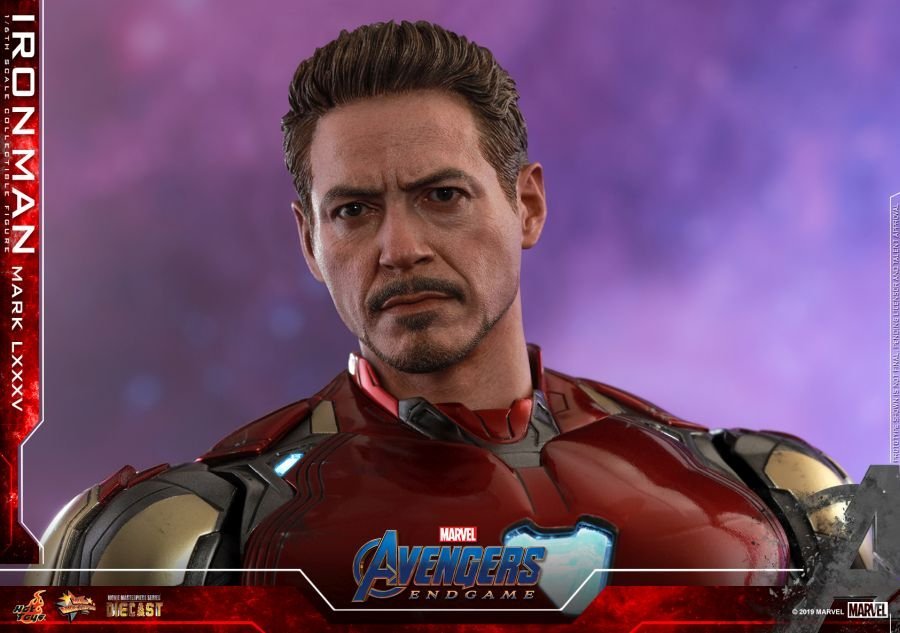 Official merchandises for the Avengers: Endgame releases a new suit for Iron Man.

SOURCE: Hot Toys
That's the scenario we're getting from this particular figurine from Hot Toys. This specific plaything shows off Robert Downey Jr.'s character suited in a red and gold outfit. It looks like an incredibly similar and detailed look of the Mark LXXXV armor which in turn seems to be inspired by the Mark II armor from the comics. Given the Infinity War's surprise revelation of Tony's nanotech armor, Endgame might also have a similar amusing moment.
Also Read: Chris Evans Jokes About Captain America's Death In Avengers: Endgame
Confirmed as true to the movies, the miniature comes with distinct characteristics of—two interchangeable head sculpts including a newly developed head sculpt with the remarkable likeness and a replaceable helmeted head with LED-light up function. Reports are further claiming that there'll be additional accessories for sale as well, presumably after Avengers: Endgame has released.
It's worth noting a confusion in this case. This is the Mark LXXXV - or, in numeric terms, the Mark 85. Tony was wearing the Mark 50 in Avengers: Infinity War, so what happened to the other 34 armors in between?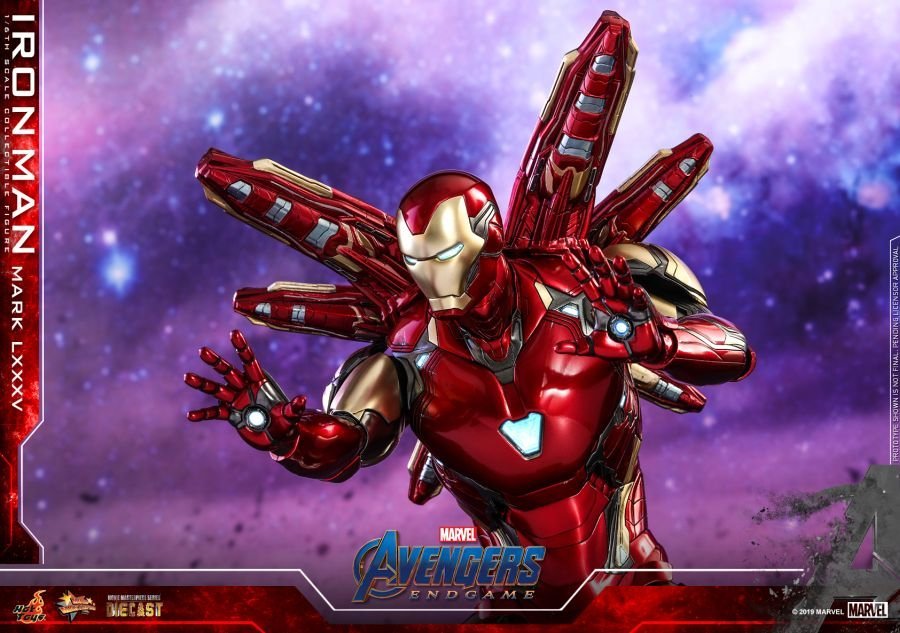 The toys of iron man from the hot toys say a lot about Robert Downey Jr role in the Avengers: Endgame.

SOURCE: Hot Toys
Though this may be just a trivial number given by Tony to his iterations, on the other hand, this strongly hints the possibility of much talked about time jump in Avengers: Endgame, and the only reason as to how he was able to do such a huge upgrade in such a short span.
Recommended: Avengers: Endgame actor, Josh Brolin Posts Shocking Video as He Addresses Bizarre Thanos Theory
But before all that revenge mission of Stark Jr begins, he'll first need to escape his lonely drift through space since it will be way too trivial in seeing his final outing in the MCU slowly suffocating to death in a spaceship. Nonetheless, the matter of how exactly Iron Man returns to Earth is still one of the biggest questions that fans have amidst the Endgame anticipation.
Don't Miss: Avengers: Endgame Estimated For A Record-Breaking Opening Weekend Thanks To Early Release In China
Naturally, the internet has its own hypothesis, but they are all to be watched for once Avengers 4 hits the theaters on the 26th of April. Since there's still some time left before the film's release, we could be seeing a lot more toys like the one in the gallery above which will continue to give us new and detailed looks at the rest of the heroes from the team Avengers possibly hinting all about their roles, contributions, and many more.
-->