Jacob Elordi and Zendaya are Dating in 2020, Here's Something You Should Know About the Couple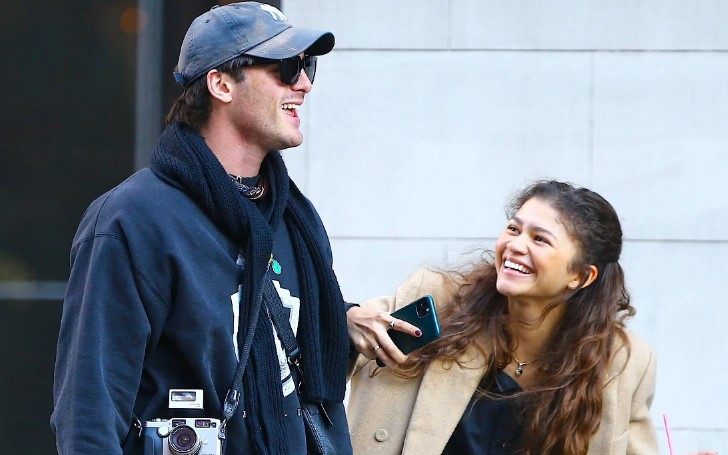 Well, it's time to say sorry to Tom Holland as Zendaya Coleman's love with Jacob Elordi is confirmed. Even though the pair declined, they are in a dating scene, they were caught kissing on the lips, and what more do you want to confirm?
The couple apparently were seen in New York, kissing on the lips, on February 4, 2020, one of the media outlets, E!, confirmed with a picture as a proof. The couple's relationship escalated after filming the series, 'Euphoria,' together. We tried to gather some information about the couple and their past relationship, so let's just find out them all.
Jacob Elordi is Dating His Girlfriend, Zendaya, in 2020
We covered a story a while ago, where we speculated they are more than just best friends as Zendaya and her now-boyfriend, Jacob Elordi, tried to remain secretive about their love life, and claimed they are just best friends.
Watch: Jacob Elordi and Zendaya Coleman are dating in 2020.
At one point, Jacob even tried to play Zendaya as his sister. In an interview with GQ Australia, Jacob said, "Zendaya is an amazingly creative, you know? She's super dope to work with. She's an incredible artist and a very caring person to all of us. But we're all really close."
Also See: Diane Addonizio is Married to Howie Long - Some Facts to Know About Businesswoman
Elordi further added, "There is not one weak link in that show. We've spent so much time together, and everyone is just so cool to work with. Sam Levinson is just a genius and working with him; it was just like electricity all the time. I was in awe. Like a kid in a candy shop."
But all those games won't work now, as we all know, it's pretty much clear the two are dating, and we hope they won't deny this fact anymore.
Before Zendaya, Jacob Elordi was Dating Joey King
Before Zendaya Coleman and Jacob Elordi's love was confirmed in 2020, their romance was speculated by many outlets, that was in mid-2019, but before all the rumors started, Elordi was dating Joey King.
Watch: Jacob Elordi dated Joey King before he met Zendaya.
The former couple were co-stars on Netflix's 'The Kissing Booth' and grew very close while working together, which apparently turned into a relationship. According to reports obtained, the two dated for over a year and called their relationship off in 2018.
But the two again reunited for the sequel of their 2018 series, 'The Kissing Booth,' to which both share a very awkward experience working together as exes. More than Elordi, Joey was very vocal about her experience, as she stressed it was a rather crazy and wild experience working again with Elordi.
Further, King also emphasized she the whole thing, working with a ex, really helped grow as a person, despite she really did not like the experience kissing Jacob again on the set. But she said it was all fine and all good at last.
Also Read: Camille Kostek Dating Her Boyfriend Rob Gronkowski - Facts About Their Relationship
King further added, "I think for me because I am very much a frickin' huge fan of The Kissing Booth myself, I'm a fan of how it resonated with the world, it resonated with me, so going back and doing that and making the sacrifice of what, obviously, everyone is thinking about, and what I'm not outwardly addressing, but what I'm kind of on the sly addressing, making those sacrifices was totally worth it."
What About Tom Holland and Zendaya, By the Way?
All this time, we were busy speculating there's something going on between Tom Holland and Zendaya, despite they always tried to clear the air saying they are just best friends. But how should we trust them, as Zendaya did the same this time as well with Elordi? Zen said they were just best friends, but it turned out the two are dating now.
Watch: People suspected Zendaya and Tom Holland were dating in 2019.
Things like this really leave no option but to speculate; While some speculations might come true, some just remains mere speculation. But this is all we are here for, we really need to the bottom of things, even we have to speculate at first, but come out with a fact at least. Well, we are really happy for the couple, Jacob Elordi and Zendaya, and, of course, they look perfect together.
For more information on your favorite celebrities' lifestyle, stay tuned to Glamour Fame, and don't forget to sign up for the newsletter.
-->