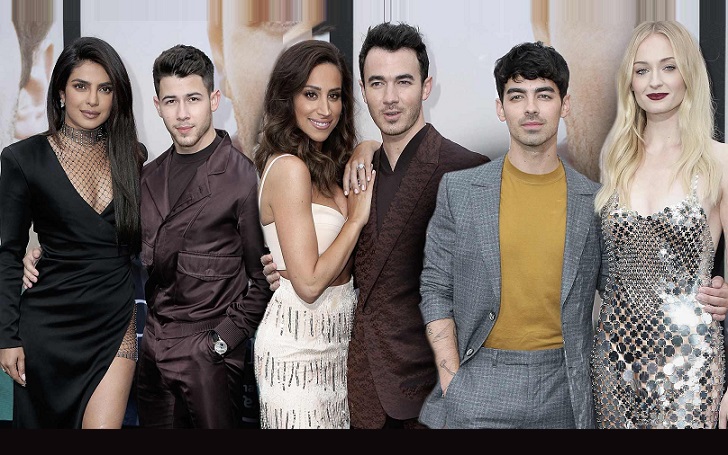 All three Jonas brothers are hitched and seem happy with their other half. Know all about their wives!
For years, female fans have been raving over the Jonas Brothers, even after they broke up and before they got back together. Their 'Jonas Brothers: The 3D Concert Experience' concert film should let you grasp the immensity of their fame back in the day. They were like what the ideal guys should be for teenage fangirls (there were others too)
Imagine the millions of hearts break when they had to cope with the fact that they would soon be married, but not with them. Yeah, not much fun to imagine it. But they've been chasing them down since forever, and they won't stop now.
Besides the point though, the fans would be happy to know that the JoBros have each found the love of their lives and are living the best moments with their wives right now. Some much earlier than the others, of course. We've all seen their happiness begin together again in the 'Sucker' video.
Watch: Their Happiness Begins As They Flaunt Their Wives in 'Sucker'
Kevin Jonas, the oldest, was the first to get hitched with Danielle Jonas (née Deleasa), even before the band broke up. He's already even started a family. Nick Jonas, the youngest of the three headliners, was the second in line for a wedding (double wedding, to be exact) to Priyanka Chopra-Jonas, in a literal festive fashion.
Then, it was the middle one's turn. Ignoring the fact that the middle child is usually out of favor, Joe Jonas made no haste to get together with Sophie Jonas (née Turner) in marital bondage, just recently.
There's one other Jonas people seem to forget (no, not the parents). In this case, it's the youngest Frankie Jonas (you might've seen him on Disney's 'Jonas Brothers: Living the Dream' and 'Jonas LA'). For young fans out there, he's still left out, if you want 'Jonas' stuck as your last name. You might have to break some other girl's heart for that though.
Here are the juicy details about the Jonas Brothers and their wives.
Kevin Jonas & Danielle Jonas with Their Two Daughters
Kevin has always been looked over; fans regularly point out. Just because he doesn't sing often, they feel like he's always in the background. Far from true though. Since their reunion, he's getting a lot of screen time and, suffice to say, every fan out there are rejoicing on the fact.
Before the peak of their fame in the late 2000s, Kevin Jonas met Danielle Deleasa in May 2007, when she was in the Bahamas for a family vacation. His was also there for his family vacation. At the time, she didn't know the band even existed but would later understand what she was getting herself into. The then-future Jonas-wife handled it pretty well though.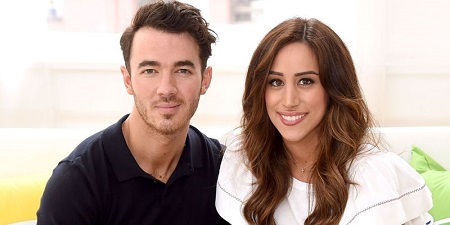 Kevin Jonas and his wife, Danielle Jonas, are married for the longest and very few know about their love story.
Source: Jamie McCarthy, Getty Images
The brothers' new documentary, 'Chasing Happiness', touches very lightly at the early beginnings of Kevin's wife with the band. But there's more to it than that conversation in the back of an SUV when heading towards a show in November 2007. Nick tells him, "Sorry. We were just excited because she's your wife," after Kevin hangs up and scolds them for disturbing him during the conversation. At the time, no, Kevin wasn't married yet.
Danielle Wasn't That Into Kevin During Their Vacation Meeting, But His Pursuit Eventually Led to Their Wedding
Born on September 18, 1986, Danielle is a New Jersey native raised in Denville, a few miles away from the brothers' hometown of Wyckoff, and previously worked as a hairdresser. When they met, she admitted, she wouldn't waste her time away from her family on vacation as she might not see him again.
The musician pursued her tough. He got her phone number from her older sister and immediately called her when she landed home (back in the US) after checking which flight she'd gone on. Later that year, their song and music video, 'Year 3000', had gone viral, and the deal with Disney came on. The rest of the fame is history, while their love story, filled with dedication to one another.
Paul Kelvin Jonas II (birth name) is the one brother to have the most traditional Christian wedding, being the son of a pastor (sometimes called Papa Jonas by the fans). There were questions over them marrying so young, but fast forward 10 years, ain't nothing wrong with them.
Watch: Kevin Celebrated One of the Best Days of His Life with Danielle
In July 2009, the 32-year-old (yes, younger than Danielle) artist left a Jonas Brothers concert and proposed to Danielle after flying all the way to New Jersey. "She said 'yes, yes, yes' like 500 times super fast in a row," he told People after the engagement. "It was tough performing last night, knowing that I was going to ask the biggest question in my life to the most amazing girl in the world."
The couple tied the knot on December 19, 2009, when there was a blizzard outside the Oheka Castle, the wedding venue, in Long Island. Joe and Nick were his best men.
Kevin's Daughters, Entry Into Reality TV Show, 'Married to Jonas', And Business Venture
As the band's name became the face of rising singers, family life (together) had to be a priority for both of them. Danielle had already entered the screen role with a voice character in 'Cyberchase', but being titled 'married to Jonas' rose her fame to an even greater height. Thus was born, the reality TV show, 'Married to Jonas', focusing on the lives of the oldest Jonas brother.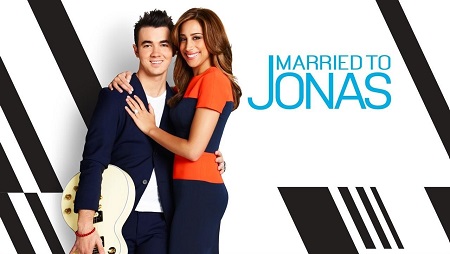 'Married to Jonas' focused on Danielle's married life with Kevin, her tumultuous relationship with her mother-in-law and the family issues.
Source: Married to Jonas, NBC
Friction was already forming within the band before the official breakup announcement of the Jonas Brothers in October 2013. Their documentary, 'Chasing Happiness', revealed the other brothers were worried for the band as they felt he was holding them back by picking up the pace in his life.
To make amends, all the family members, including Frankie and their parents, appeared in an episode. But it was worse for the band as they feared everything they wanted to keep to themselves would come out when in front of the cameras. Nick had also already begun his career as a solo artist. Later that year, he wasn't invited to play with the guys when they were called for a performance of their own songs in Argentina. It all just fell apart.
Moving on from the band breakup, the show stopped after Kevin's wife was pregnant with their first child in 2013. On February 2, 2014, they were parents to their first daughter, Alena Rose Jonas. Their second daughter, Valentina Angelina Jonas, arrived on October 27, 2016.
You should search for some clips of Alena's life as a young daughter. She's just too adorable.
Source: Kevin and Danielle Jonas
It was a rather quiet time for Kevin during the period of separation from his brothers. Fans would ask which Jonas he was when they recognized (kind of) him in public. Although, 'Kevin' would be the last to be guessed as his identity. But he was dedicated to raising his family with his wife and didn't really mind it.
Just before the Jonas Brothers reunion and the shocking 'Sucker' video, the wife tried a hand at a new venture. She founded a jewelry company called 'Moments', launching her first birthstone line in December 2018. She has plans for a children's line with silver pieces as well.
Aside from taking care of the girls in their New Jersey home, the business is doing pretty good for its beginning. She's partnered with 'Lifetouch' became their ambassador earlier this year.
Nick Jonas & Priyanka Chopra-Jonas with Their Lavish Double Wedding (Additional Receptions)
Kevin hasn't had that much of a relationship history besides Danielle. The other two sure does. There's really no need to talk about the two as everyone is well aware of their wives. But since 'falling in love' for the first time with Miley Cyrus, Nick's come a long way.
Nicholas Jerry Jonas's story of first starting out with the Bollywood-turned-international sensation was somewhat similar to Kevin's. But the first meeting, not so much. Nick Jonas is known to have confessed about dating older women (Kate Hudson, Deltra Goodrem) because "they know what they want". A reflection of the fact came when he went to the Twitter DMs on September 8, 2016, and proposed a meeting between him & Priyanka after claiming "a few mutual friends" suggested him to.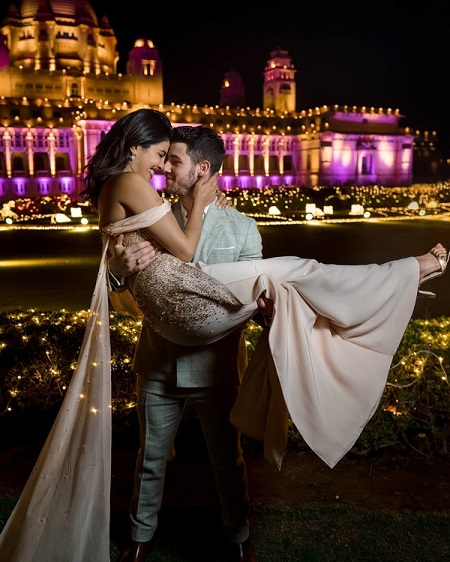 A classic Indian movie scene between Nick Jonas and Priyanka Chopra-Jonas.
Source: Priyanka Chopra-Jonas, Instagram
Priyanka gave him her number to privately text each other, since her team would be monitoring the DMs, and that he did for months before actually meeting her. The two first physically met each other at the 2017 Vanity Fair Oscars afterparty in February that year.
As Chopra entered the room, he got down on one knee and just plainly said, "You're real. Where have you been all my life?" boldly in front of everyone. In May 2017 again, they were seen together grabbing drink together at the Carlyle Hotel. Later that month, Ralph Lauren invited them (separately, of course) to the Met Gala in his designs. The event ended with a platonic back pat.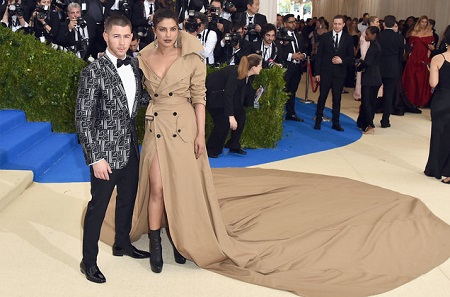 Nick Jonas provided a distraction from the dress Priyanka was wearing at the 2017 Met Gala.
Source: John Shearer, Getty Images
The two were just friends for a while, but a year later, they were said to be dating already. But earlier in April 2019, the wife revealed she initially felt skeptic about this 'fling'. But Nick did all those nice things and gave her many surprises that made her think twice about it all.
The Best Moments Were in 2018, from Engagement to Wedding and Getting 'Jonas Brothers' Back Together
2018 was the year for them. After the dating confirmation, the engaged rumors flew. They were spotted wearing matching gold bands, but it was confirmed that month of July, Nick had proposed his then-girlfriend as the midnight struck for her birthday (July 18, 2018). They were on vacation in Crete, Greece.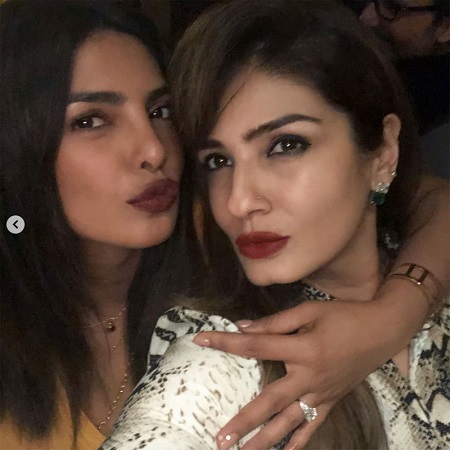 The world, especially Bollywood, was freaking out about the engagement ring as people never knew about it.
Source: Priyanka Chopra Jonas, Instagram
The hype just went from there as they couldn't stop expressing their happiness with the world. The 27-year-old also met his then-fiancee family members in India, and the Bollywood sensation met his family, as they prepared for their wedding. The two families even spent the 2018 Thanksgiving together in India.
The speculation of the band being back together was already going around as Nick's brothers also prepared to be his best men. The former Miss World winner was also really close with Joe's to-be-wife, Sophie Turner, back then.
Bollywood and Indian media were going crazy over the news of the engagement. While Nick was already a US phenomenon, this made him a prominent talk in India as well.
On December 1, 2018, the wedding finally happened at the Umaid Bhawan Palace in Jodhpur, Rajasthan, first in a traditional Christian wedding officiated by Papa Jonas. The connection with Ralph Lauren helped as the bride wore a custom gown from him.
The next day, they performed a traditional Hindu ceremony, thus making it a double wedding. Indian fashion designer Sabyasachi outfitted the bride and groom. At the end of the month, they held another (third) wedding reception in Mumbai. They were also reported to have had two more receptions during their wedding week.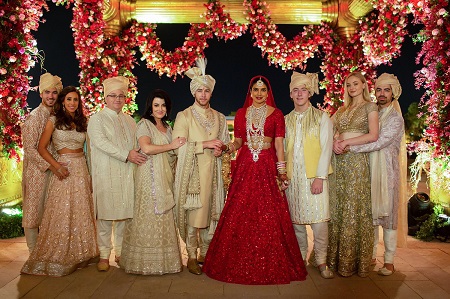 By the end of the second wedding...
Source: Nick Jonas, Twitter
As the other JoBros were already were at their wedding as the best men, people already knew the band would get back together. So they did, in February 2019, with a surprise 'Sucker' video and social media announcement.
For Nick and Priyanka, they spent their Honeymoon in the Caribbean this January. But immediately later, their split rumors also surfed around the tabloids. Maybe just an attempt to break them up instead since they'd squash it later with more of their intimate moments together. Nick even attended the engagement of his wife's younger brother, who is older than him!
Since it was Nick who first talked of the band's separation, it was also he who came back to ask them to get back together. He was initially scared for it and was blown away by the reception from the other two. He'd missed the group even after the solo success, and love was a big part of that feeling.
Joe Jonas & Sophie Jonas Also with Their Double Wedding
Taylor Swift, Demi Lovato and Gigi Hadid, among others, were in Joe Jonas's dating history, but it wasn't until he met Sophie that he'd decide to settle down. But they were experts on keeping their relationship private. They shared only tidbits of their partnership, leaving everything to the imagination for the fans.
Joseph Adam Jonas's relationship with the 'Game of Thrones' star began with rumors (November 2016) as they were seen together on many occasions (first in October 2016), but it wasn't the true case. Like Nick, they also met via social media DMs (maybe Nick followed his older brother's tactics). He was with his band DNCE back then.
"We had a lot of mutual friends and they'd been trying to introduce us for a long time. We were following each other on Instagram and he direct-messaged me one fine day, out of the blue," she told Harper's Bazaar UK. The mutual friend also shared the photo of a group with them (including Nick) before the rumors.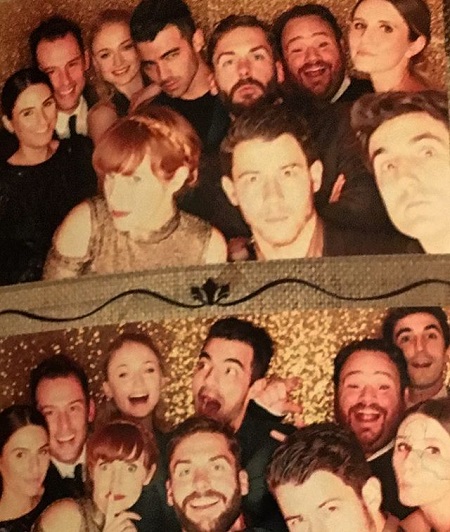 Joe and Sophie Jonas were way ahead in their relationship than one might've seen.
Source: Marissa Machado, Instagram (The Mutual Friend)
The relationship became official after the 'X-Men: Dark Phoenix' star posted a photo of the 30-year-old on Instagram in January 2017. The still kept the relationship to themselves, with Sophie replying, "I'm not saying anything... I'm very happy." when asked about dating later that month. Of course, a wise decision.
Nick Jonas Was Engaged and Married During Joe's 'Engaged Period'
Various events and red carpet appearances followed soon after, without either of them talking too much as a couple. The media got nothing new about them; they were well aware.
They took one step forward by adopting a Husky puppy, Porky Basquiat, in September 2017, Waldo's friend, which actually passed away recently. It was time for one more step into the relationship. They made a surprise engagement announcement in October 2017. As she wished, the relationship was still private for a long while, but then his younger brother was also engaged and went on to be married in December 2018.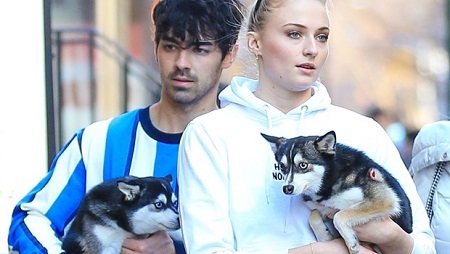 Sadly, one of their Huskies passed away.
Source: BackGrid
Both the elder couples, their parents and even Frankie absolutely rocked the traditional Indian wedding-occasioned dress, by the way. Sophie became Priyanka's bridesmaid too. Seeing his brother hitched might have triggered a response for him, but let's not see it that way. We know how lovey-dovey they've been all this time. They had already met each other's families.
The Jonas Brothers are huge fans of 'Game of Thrones', and they were pretty bummed out when it ended. Joe was affected most profoundly as he knew about the end way before anyone outside the production did. He had to sign an NDA 'cause he knew so much about it.
Finally, The Wedding
The nuptials in late-April, technically early-May, was supposed to be low-key, but thanks to DJ Diplo (who the brothers worked with on the song 'Lonely'), it was immediately known to the whole world. Another surprise from the new husband-wife and the heartthrob couple of the century.
Not two hours after the 2019 Billboard Music Awards concluded, the pair headed to Las Vegas's Little White Wedding Chapel and actually said their vows with Rings Pops. Diplo then shared the clips. An Elvis tribute was given as the officiator with Dan + Shay's 'Speechless' played in the background. Nick and Kevin were the groomsmen, while Priyanka and Danielle supported the bride.
The news came before their advertised France wedding. Even if everyone knew about it, they did go on to have a grander wedding, just as they promised, especially since the wife's co-star, Maisie Williams was supposed to be the maid of honor. Later, Kevin admitted that it was kind of a swing wedding as they were under the influence with you-know-what.
The big wedding happened in a Château in the South of France on June 28, 2019. The wedding photos came about a week later. The chateau can be rented, if you're interested. The third wife, too, was adamant on remaining single before meeting Joe.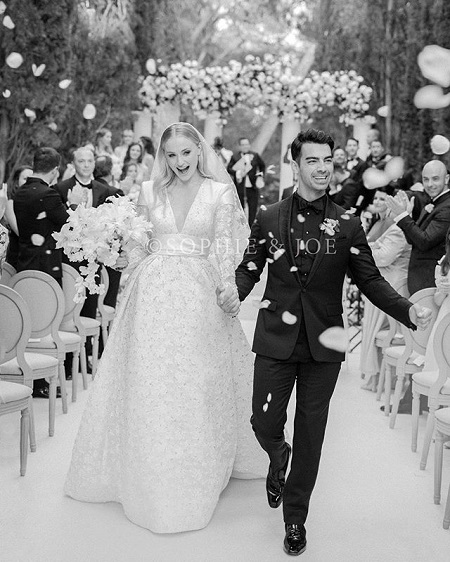 The France Wedding was grand, to say the least.
Source: Joe Jonas, Instagram
There you go; married life has been a bliss for all of them. Even when the brothers are busy with the tours, they won't stop sending their wives a little bit of love every day. But wait, there one more person left to talk about.
Frankie Jonas Went to Prom with His Girlfriend in 2016
Often called the 'Bonus Jonas' by the fans, Franklin Jonas has always been around his older brothers during their fame, only if you notice who he was. Of course, fans remember him as kind-of a chubby kid from their Disney sitcom, 'Jonas', appearance in 'Camp Rock', 'Married to Jonas' and many other ventures people don't know he's a part of.
Fans' noticed at this young lad peaked when he also dressed up manly for Nick's wedding. When looking back to who he was, they were surprised that he'd grown up to be a handsome hunk. Joe Jonas was right; ladies have to be alerted before checking him out now.
Check this guy out. Frankie Jonas.
Source: Joe Jonas, Instagram
Regarding his relationship status, one might consider him single, but it's not like he's not dated at all. In May 2016, hearts were broken when he went to High School prom dance with his girlfriend (at the time) Austin. They studied in Carroll Senior High School dance in Southlake, Texas. You might not believe they even kissed in a photobooth. And did you catch a glimpse of Frankie with a date in the 'Kevin Jonas wedding video' above?
Married life may still be a long way to go for the 19-year-old. But there's still a chance for any teenager to be the one for this Jonas. He's good friends with Noah Cyrus (yeah) as they voiced on 'Ponyo On the Cliff By the Sea' together as friends in 2009. Just a warning... He doesn't seem to have a girlfriend now though.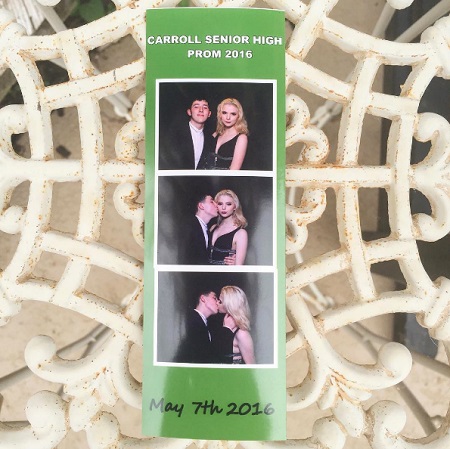 Photobooth pictures of Frankie Jonas and his High School girlfriend, Austin. Yeah, he is a ladies man alright.
Source: Frankie Jonas, Instagram
People might come and claim they are the biggest JB fan in the world, but that'd be far from true. Frankie is the one. "I know every lyric to every song. I can recite every story of how they were made. I love their music, so much," he speaks of them as the end credits roll on 'Chasing Happiness'.
As for his connection to music, he graduated in audio engineering from the Blackbird Academy in Nashville earlier in March and moved to LA for a career in studio engineering. Who knows, as time goes by, he might just become the fourth JoBro, even if it's just helping them backstage.
Watch: Just to Jog Your Memory of Little Frankie Jonas (Yeah, That's Noah Cyrus)
Kevin has been a leader for the other brothers' love life. Even though, his dad-life freaked out the others during the breakup, now they know what they should do too, to live out a better life with their wives. Underrate him all you want, but the brothers agree he's been a role model for them.
Stay tuned and connected for more Entertainment content on GlamourFame.
-->