Jordyn Woods Tearfully Admits Tristan Thompson Kissed Her But Declares She is 'No Homewrecker'
Published Sat Mar 02 2019 By Tess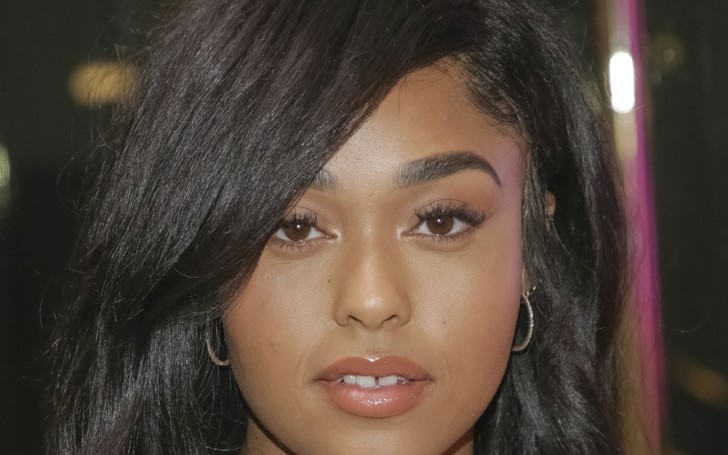 Jordyn Woods finally confirms the cheating scandal while on tears.
Almost a week after Jordyn Woods low key talked about the cheating scandal during her eyelash collection launch, the model finally opens up about the alleged accusation.
On Friday, during her interview with Jada Pinkett Smith at Red Table Talk on Facebook Watch, Woods cleared up media speculation on what exactly happened between her and Khloe Kardashian's boyfriend Tristan Thompson.
Jordyn admitted she attended the basketball player's house for a party where the dad of 10 months old True kissed Kylie Jenner's Bestfriend on lips on the way out. She also accepted she was indirectly accountable to the approach as she did nothing to stop him.
"On the way out, he did kiss me. No passion. It was like a kiss on the lips. I don't think he's wrong either because I allowed myself to be in that position and when alcohol is involved, people make dumb moves or people get caught up in the moment."
Woods denied of other alleged accusation of making out.
'No tongue kiss, no making out"
Further, Jordyn sympathized Khloe for all the emotional turmoil she is going through.
Jordyn also admitted she hurt so many people by not opening up about her side of the story while confidently denying she was the reason behind Khloe's and Tristan's split.
"I would never try to steal someone's man, I don't need your situation. I really just hurt so many people by not telling the truth. I'm no homewrecker. I would never try to hurt someone's home, especially someone I love."
When Jada asked if Woods believes she is the reason behind the split. The young model remained firmly confident and responded:
'No I'm not the reason that Khloe and Tristan aren't together, now this situation may have made it harder to want to be with him and I understand that but I know I'm not the reason.'
Khloe, however, didn't agree with her statement calling Jordyn a liar and confirming she is the reason for the disintegration of her family.
The youngest Kardashian sister took to Twitter to write: 'Why are you lying @jordynwoods ?? If you're going to try and save yourself by going public, INSTEAD OF CALLING ME PRIVATELY TO APOLOGIZE FIRST, at least be HONEST about your story. BTW, You ARE the reason my family broke up!'
Khloe followed up the post with another tweet which explained Tristan was equally responsible and she would publicly address him if he lied on the public platform.
Also see: Jordyn Woods Leaves Kylie Jenner's Home and Moves Back To Her Mom's House amid Tristan Thompson Cheating Scandal
"Tristan is equally to blame but Tristan is the father of my child. Regardless of what he does to me, I won't do that to my daughter. He has been addressing this situation PRIVATELY. If Tristan were to lie publicly about what conspired, then yes I would address him publicly as well."

Woods additionally explained the adverse effects the ongoing scandal put upon her family.
"we can't leave the house. My brother can't go to work, my sister can't go to school, she's 12-years-old, my mom can't even go to the grocery store."
Further, the young model vehemently admitted her life is being trashed as media and fan attention honed in on her to which Pinkett Smith agreed: "You know what they say, black women can be the most disregarded and disrespected people on Earth."
Don't miss: Kylie Jenner 'Extremely Upset' With Jordyn Woods Following Tristan Thompson Cheating Scandal
Woods eventually concluded admitting she may have done something wrong but her action didn't necessarily deserve all the cruelty world is apparently bashing her with.
-->