JWoww Set To Fight Roger Mathews To Keep Custody Of Her Children In Divorce Battle
Published Wed Feb 13 2019 By Tess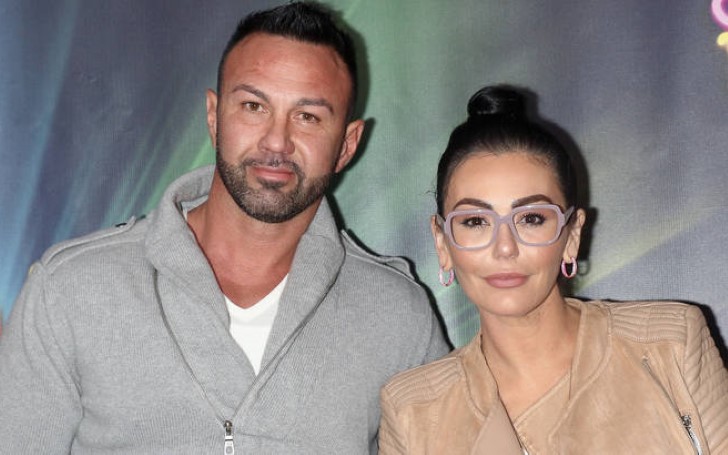 Jenni "JWoww" Farley is determined to keep custody of her children in Divorce Battle with her husband Rodger Mathews.
After nearly three years of marriage Jenni "JWoww" Farley filed for divorce from her husband Roger Mathews citing irreconcilable differences.
According to The Blast, Mathews filed his own petition four months after Jersey Shore star Farley filed for divorce.
As per the documents filed on Jan 24, Mathews is requesting for primary physical custody and joint legal custody of son Greyson Valor, 2, and daughter Meilani Alexandra, 4.
In addition, he reportedly requested for both alimony and monthly child support from Farley in his filing.
Mathews is also challenging his and Jwoww's prenuptial agreement and wants the judge to find it "invalid and unenforceable."
While the terms of the reality star's prenup are still unclear, the actress requests the prenup to remain intact and valid.
Jenni's divorce documents too requested primary physical custody for Meilani and Greyson. Moreover, she wanted Mathews to visit and pay for child support which in turn was challenged after Rogers filled the petition with a similar request.
With two parents fighting over the custody of their children, Jenni hopes the jury decides on her favor.
As per the information by a source to Hollywood reporter, Jenni is determined to take the custody of her children despite Rogers continuously slamming her.
"Jenni is going to continue to live her life as the amazing and strong mother that she is, despite Roger continuing to slam her. She will never just give up custody of her children."
The source added the MTV star didn't wish for all the ongoing drama related to their divorce.
"She fully intends to fight tooth and nail to do what's best for their children. Jenni hates how dirty and messy things have gotten, but she is so sick and tired of Roger slamming her for no reason."
The source went ahead to explain "she does everything for her children and puts them above anything else and will continue to do so."
Further, the mother of two will "continue focusing on herself, her business endeavors and most importantly her children and that includes doing what's best for them."
In addition, Farley recently shared a lengthy statement on her personal websites accusing Mathews of physical and emotional abuse.
The reality star also released footage which showed Mathews attacking her.
You may also like: The Complete List of 2019 Grammy Award Winners
Furthermore, Jenni also accused Rogers of neglecting their children on multiple occasions. She recalled an incident where he allegedly didn't let a therapist into the house for Greyson's scheduled appointment "even though she stood there knocking and ringing the bell for 30 minutes in the freezing cold."
Their son Greyson was diagnosed with autism as revealed by Farley in November 2018 after opening up about his speech delay.
Don't miss: Chris Pratt Responds to Ellen Page's Claim About His Church
In a lengthy statement posted to her website on Jan. 30, Farley also alleged what Mathews presents on social media is a lie.
"Your postings are consumed with inaccuracies, false statements, self-serving comments, outright misrepresentations and blatant lies."
She then referenced an alleged incident in which Mathews gave Greyson a pizza who is highly allergic to gluten and dairy.
"When I asked you about the food situation, you chose to berate me instead of acknowledging that Greyson's health is of paramount concern. You hurt the children and you hurt me. When will it end?"
A day later, Mathews denied Farley's claims in an Instagram video.
"I sit here humbly before you today, a pretty heartbroken man in light of recent circumstances and things that were said about me in a long, rambling rant that was highly erroneous and had many lies in it."
While his lawyers prepared a statement for Mathews, he instead decided to "shoot from the hip."
Additionally, Roger said:
"We're going to address this in court, which is the proper place to address this where it should be," he said. "We've proven Jenni and her attorneys to be liars in the past and we will do it again. There is a deep-rooted history of this — playing the victim. This is just the early stages of this and I know we have the proponents of truth on our side."
Meanwhile, in an exclusive statement, Farley explained the reason behind her decision to speak out against her estranged husband amid their ongoing divorce.
"In light of the recent accusations, I would like to clarify one point: I did not post the message to Roger to cause him any upset."
She added:
"My intention was to protect our children and to liberate myself from all of the pain I had endured for so many years, to finally be free from the abuse and now look into the future more positively for the sake of the kids."
Farley and Matthew started dating in 2010 after meeting in Seaside Heights, New Jersey, while Farley was filming the third season of Jersey Shore.
While filming MTV's Jersey Shore spin-off, Snooki & JWoww, the couple eventually got engaged in September 2012.
Farley and Mathew tied the knot in October 2015 after nearly five years together in front of guests including her Jersey Shore castmates Nicole "Snooki" Polizzi and Pauly D, and Bachelorette alums Trista and Ryan Sutter.
-->