Kate Middleton Reportedly Jealous of Meghan Markle's Close Relationship With Prince Charles; Any Truth To It?
Published Wed Feb 13 2019 By Jessica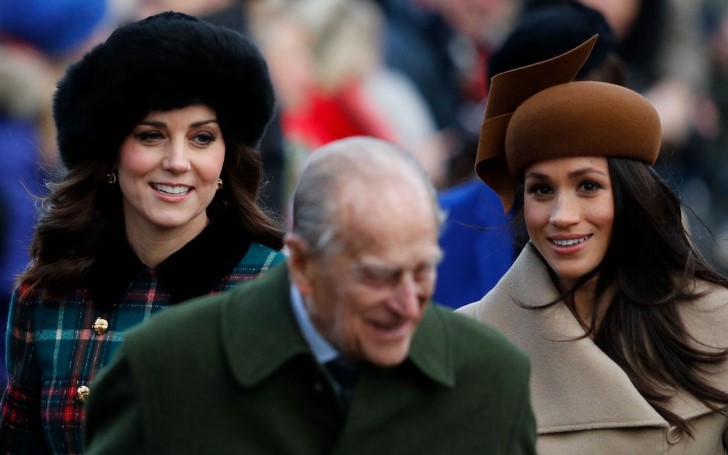 Is Duchess of Cambridge Kate Middleton jealous of Meghan Markle's close relationship with their father in law Prince Charles?
Since her marriage to the royal family with Prince William, Duke of Cambridge and earned the title of Catherine, Her Royal Highness the Duchess of Cambridge, the first daughter in law of Prince Charles arguably became the most attention-grabbing and beloved member of the British royal family.
However, in recent time, since Kate's brother in law Prince Harry, Duke of Sussex tied the knot with Hollywood actress Meghan Markle, now holding the title of Duchess of Sussex, all the spotlight attention drastically shifted from Kate to Markle.
After snatching The Duchess of Cambridge place in the Kensington Palace, Meghan grew her fondness with everyone, more exclusively with father in law, and the heir apparent to the British throne, Prince Charles, the Duke of Prince of Wales.
Prince Harry, Meghan Markle, and Kate Middleton at an event
SOURCE: Zimbio
In addition, Prince Charles even mentions Markle as the daughter he never had. That absolutely appears to be sweet but also somewhat troublesome in the family.
Also read: Kate Middleton and Meghan Markle Both Break The Ridiculous Royal Family Rule
Well, what about his other and first daughter in law, Kate, who actually has been part of the royal family for almost eight years and connected with his son, Prince William for nearly 15 years now?
Over the years, from the beginning, we witnessed Prince Charles' friendship and attachment growing more and more with his younger daughter in law. Charles even walked Meghan down the aisle since her own father couldn't be present at the wedding.
And from helping her guide her royal life from the start to being impressed with her involvement in charitable events to most importantly cutting ties with certain friends who called Meghan 'frightfully common' and criticized her wedding dress for being made of concrete, and as well calling her father a 'big lump', Prince Charles seems to admire Meghan a lot and also greatly protective over her.
Don't miss: Kensington Palace Confirmed that Prince Harry and Meghan Markle are Moving Out, The Real Reason is Here
Whereas, Prince Charles relationship with Kate seems a little different, albeit it doesn't mean that the two hate each other or share a bitter relationship. We took a look at the history of Kate's relationship with Prince Charles, and surprisingly, it doesn't come close to Meghan's.
In fact, when some of the Royal family observers revealed Prince William told his father he didn't want to get married at just 25, it was Prince Charles who suggested him to directly break up with Kate.
Though it sounds a bit harsh, Prince Charles actually suggested since he thought that it would be unfair for Kate to string her along.
However, what was also revealed is that Prince Charles allegedly felt jealous over the attention his son and daughter-in-law received.
Also see: Meghan Markle and Prince Harry Joined Together For his Annual Christmas Tradition
Although such things happen within their private life, Kate and her father in law always greet each other politely in public.
Meanwhile, Kate is yet to address publicly on her opinion of Meghan Markle.
-->