Katy Perry's Shoes Under Scrutiny For Resembling Blackface
Published Tue Feb 12 2019 By Jessica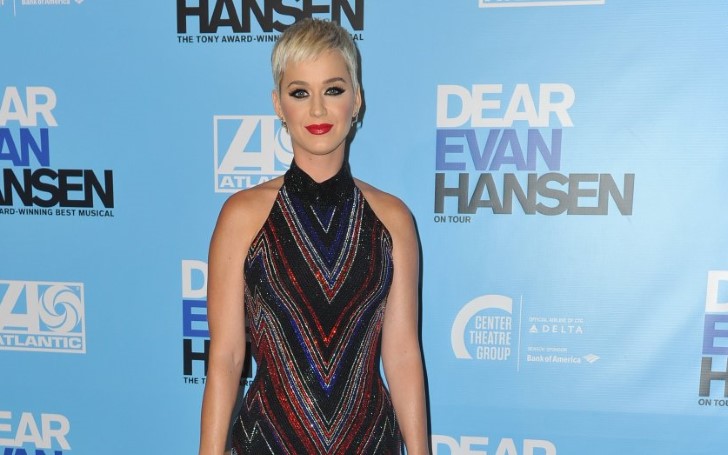 Social media slams Hollywood singer Katy Perry for one of the shoes from her label collection resembling a black face.
American singer Katy Perry and her fashion brand house came under fire after facing tons of critiques for evoking black racist stereotypes face in her footwear items.
For resembling blackface imagery, at least two of the shoe designs from Katy Perry's fashion trade, Katy Perry Collections, were strongly criticized on social media, which resulted in the shoes being removed from sale.
US singer Katy Perry's shoes under scrutiny for resembling Blackface

SOURCE: Kieren Boyce Twitter
In response to the backlash against Katy's shoe collection particularly, 'Rue Face Slip-On Loafers' and the 'Ora Face Block Heel Sandal', it's online retailers including Walmart and Dillard's reportedly removed the shoes from their stores.
You may also like: Selena Gomez Hit The Beach for BFF Courtney Barry's Bachelorette Weekend
Both the sandal comes in beige and black color, both styled in the same design of protruding eyes, nose, and full red lips.
One Twitter user under the name of Kieren Boyce shared her displeasure of the shoe design saying:
"Ignorance is Never A fashion statement! Apology NOT accepted #blackface #Gucci #gucciblackface #prada #moncler #katyPerry"
Likewise, another one with a username of Masked Viner stated:
"ThOsE KaTy PeRrY BLacKfAcE sHoEs ArE raCisT"
A source told TMZ the shoe design merely a part of a line of shoes holds no racial undertones.
Don't miss: Nicki Minaj Pulls Out of the BET Awards; Won't Perform at The Ceremony
The source reportedly said:
"In order to be respectful and sensitive the team is in the process of pulling the shoes."
The 'Teenage Dream' singer debuted her line of comical shoes nearly two years ago in 2017, making them available on her website and through the retailers.
Perry now joins several other fashion companies like Prada, Moncler, and Gucci who as well faced backlashes in recent months for using blackface as fashion design.
Only less than a week ago, top fashion brand Gucci went through attacks after the company designed a sweater that included a long black collar which could be pulled from over the mouth that ended up with displaying a large red lip.
In other news: Ariana Grande Deletes Angry Tweets After Mac Miller Loses Grammy To Cardi B
Similarly, Prada made a collection figurines that received criticisms for their product resembling racist caricatures.
-->