Kinsey Wolanski's Super Hilarious Prank On The Beach Has Fans Begging For The Other Angle! You Don't Wanna Miss This!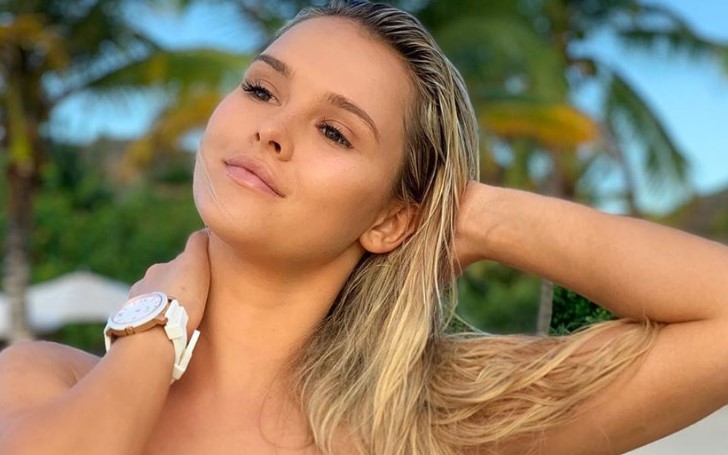 Kinsey Wolanski just uploaded a sneak peak of her new prank video on Instagram.
The Russian-born American model, Kinsey Wolanski, is here with her yet another prank which left fans begging for more.
The 23-year-old model, who pulled the maddest dirt bike stunts, took to her Instagram and gave us a sneak peek of her new prank "Beach Volleyball prank" in which the model is seen with just a bikini bottom and nothing up above.
The model, who uploaded "Personal Space Invading Prank" on YouTube, is basking the sun on the beach near the sea while a volleyball hits the head of the Instagram model. The model stands up (wearing nothing to cover her knockers).
After seeing the 23-year-old model in her bare skin, a bunch of balls is thrown at her hoping Kinsey will show her assets again.
The 14-second long video was posted on the model's account 14 hours ago, and it already has the attention of more than 1.5 million fans.
People are finding really hard to hold their imaginations as they are bombarding the comment section with their raunchy thoughts.
One fan wrote, "Is there another angle🤤"
Another fan wrote, "Why don't I play volleyball more often? 😭"
Next fan wrote, "I wish I were that guy."
Well, you pretty much have the idea now what fans want from Kinsey. Fans are eagerly waiting for the prank, as they can't wait any longer to watch the full version of the show (if you know what we mean!).
There were a few fans who did not like the idea, as they commented: "the content is unoriginal and old." People want something creative on their plate too.
So, we are not really judging anyone here, neither the fans, and nor Kinsey of course. All we are want, just like many other fans, is to see the full version of the prank.
The Instagram model, who modeled for a steamy photoshoot, did not leave many details about her upcoming prank, will there be a full version of it? We really don't know that either.
But if Kinsey makes the full version of the prank, will it be available on YouTube or on Vitaly Uncensored? Let's just hope it's available on YouTube so we can watch it for free.
-->