Koraun Mayweather - Some Facts to Know About Floyd Mayweather's Son
Published Mon Apr 06 2020 By Eric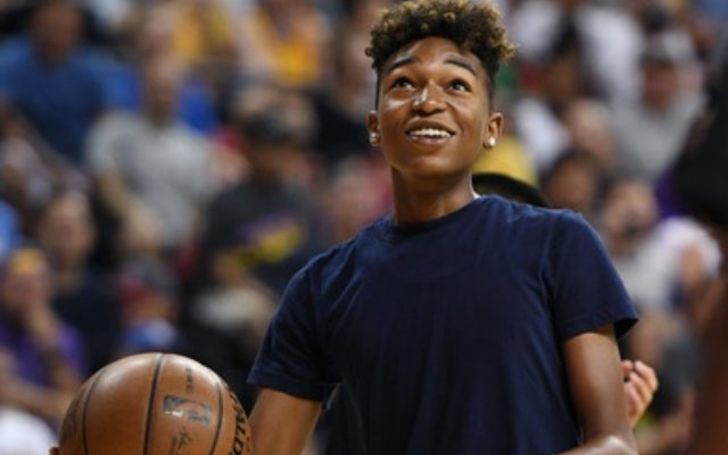 If you are a fan of the boxing, then you might be familiar with the name Koraun Mayweather. He is the son of the famous boxer, Floyd Mayweather. His father is a retired boxing champion who had created a great career from his fighting skills inside the ring. However, 43 years Floyd garner tons of negative comments in the media from his antagonistic relationship with his former lover Josie Harris.
Subsequently, Koraun as the son of the former couple Floyd and Josie, also got involved in his parent problem, which made him a topic of many news at a very early age. He showed some brave attitude in a blooming period, which helped him to collect attention for his bravery. Now, do you guys want to know what he did and how he became famous at a young age, then stay tuned until the end of this article as we brought you some exciting facts about Koraun Mayweather, including his courageous actions? So, let's begin.
Koraun Mayweather Mother Josie Harris Died With an Unknown Reason
Koraun Mayweather's mother, Josie Harris, recently passed away on March 10, 2020. She was 40 years old and was in between legal war with her former boyfriend, Floyd Mayweather. Koraun mama Josie was in the middle of a $20 million court battle with his father Floyd before her death, as per Blast.
Floyd Money Mayweather Devastated REACTION to the Death of his Babies Mother 'Josie Harris'
Harris sued Mayweather in 2015 for $20 million, accusing him of lying about her during a sit-down with Katie Couric. In the interview with Katie Floyd pointed out that Koraun mother and his ex, Josie was high in drug during the domestic violence case occurred on 2010.
Recommended: Who is Lapattra Lashai Jacobs, the Alleged Victim of Yaya Mayweather Knife Attack?
The late mother of Koraun was scheduled to face off at the trial on December 7, 2020, with his dad Floyd which she will not be able to attend now due to the tragic death of Josie. She was found dead in her car at her home in Valencia, California, around 9:40 p.m.
The Son of World Champion Boxer Koraun Mayweather is Brave Enough to Rescue His Mother
As we stated earlier, despite Koraun Mayweather's young age, he gathered enough guts to go against his dad, Floyd Mayweather, to save his mother from domestic violence.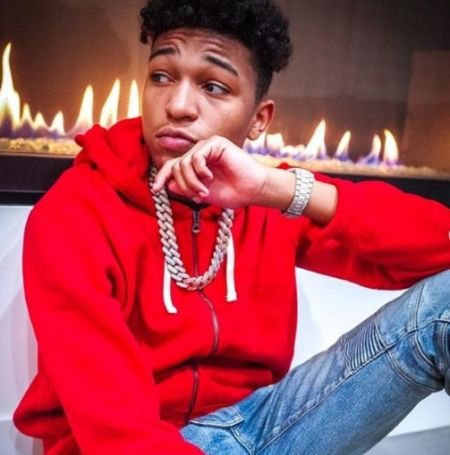 The young Mayweather witness the brutal assault against his mother by his father.
Photo Source: Instagram account of Koraun Mayweather
Yes, guys, you read it right; the unfavorable situation in the relationship between Mayweather parent was the domestic assault. As you already know by now, the world champion boxer Floyd was abusing his ex-lover Josie Harris. The retired athlete was battering the late mother of three children of Mayweather. She was afraid to speak out about it, Harris thought getting separated from her ex-boyfriend would affect their child's future, but things become worse every day as the domestic assault against her never stopped.
Josie Harris on Being Young & In Love with Floyd Mayweather, Beating Up His Girlfriends
The case made its appearance in many media after the 20 years old Koraun ran away for help when his pops Floyd was hitting and abusing his late mama Josie. He reacted and called for aid to protect his mother after he witnessed the incident.
Also See: Jirah Mayweather - Interesting Facts About Floyd Mayweather and Josie Harris
According to Answer Africa, in 2010 while Koraun saw Harris beaten up by his father and tried to save her, but he was forced by his dad to stay inside the room. He wanted to help his late mother from the physical abuse but was powerless, as one of the friends of Floyd was assisting him in the crime. However, Koraun used his brain and escaped through the window of his room and ran to find the guard and called an ambulance and police to put an end to the domestic violence. The next day, after the incident, Floyd was arrested but made out of jail on a bail of $3,000. Further, a year after, Koraun's father served as a prisoner for 90 days and attended a 12-month domestic violence program, and paid a fine of $2,500.
The Retired Athlete Floyd Mayweather Son Koraun Called Him a Coward
The brave son Koraun Mayweather of the retired boxer Floyd Mayweather and late Josie Harris not only got the guts to go against his father's orders to save his mother from the physical abuse did by Floyd, but Koraun even had the courage to call his father a coward in front of the world.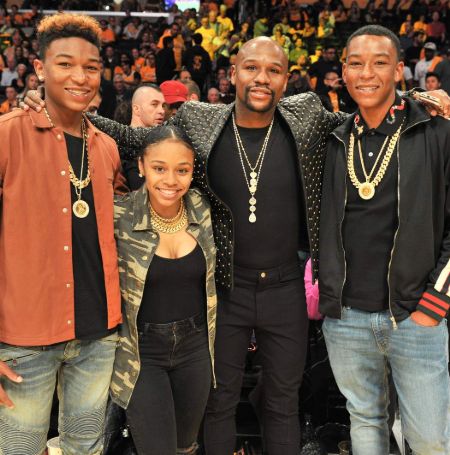 Koraun Mayweather called his fighter father Floyd Mayweather coward.
Photo Source: Click2Huston
The undefeated boxer Mayweather though won tons of battle inside of the ring, failed to put a positive impact in his children's lives, which led him to lose the real fight outside of the ring. Like we stated earlier, Koraun observed the domestic violence of 2010, where his late mama was poorly punched and hit by his bully father, Floyd. So, young Mayweather knows everything about his dad's aggressive behavior against his mother, and even though Floyd came out clean from the case by using his power, he was branded as a coward by his son, Koraun.
You Might Also Like: Drew McIntyre Wife - Find Out Who the Pro-Wrestler is Married to
According to News One, the eldest son of the Mayweather family, Koraun speaks on the topic with the media after gaining permission from his late mother, Harris. Though the assault was clear as crystal and world know that Floyd did physically abused his late girlfriend, Josie, he never fully admitted his mistakes and for the Koraun called him a coward in the mass.
Despite Being The Eldest Son of The Undefeated Boxer Floyd Mayweather, Koraun Finds Boxing a Boring Sport
As mentioned by Heavy, the eldest son of the undefeated boxer Floyd Mayweather, Koraun Mayweather is not interested in boxing. Since the devastating incident Koraun faced in 2010 at Las Vegas, he admitted that he still hangs out with his father. However, he isn't that excited by it anymore plus things between him and his old man became more complicated because he lacks keen interest in boxing.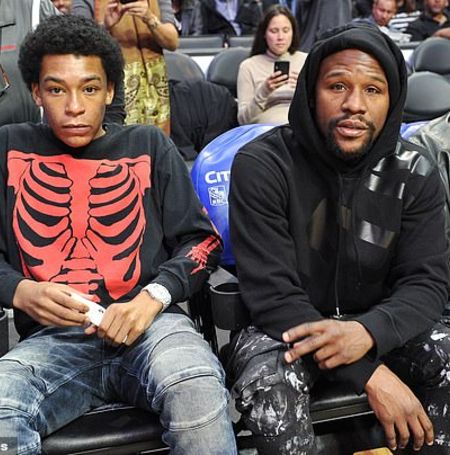 The son of the undefeated boxer Floyd Mayweather, Koraun find boxing boring.
Photo Source: Daily Mail
But time do helps to heal some of the wound, which might be the reason though he found boxing unexciting we can catch some glimpse of Koraun on the latest Instagram post of his dad Floyd. The pair of the father and son can be seen spending time together was the world champ Floyd is teaching basics of boxing.
Iyanna Mayweather is The Step-Sibling of Koraun Who Was Accused for Stabbing Woman on Cypress
The eldest son of the Floyd Mayweather's Koraun has three siblings in the family. Zion Shamaree Mayweather is the younger brother of Koraun Mayweather, whereas Jirah and Iyanna Mayweather are the sisters.
Floyd Mayweather Daughter Arrested For Attempted Murder On NBA Young Boy
Iyanna, who is the step-sister of Koraun, also made headlines in many news from her recent incident. According to Click2Houston, she was charged with aggravated assault after being accused of stabbing an old woman in Cypress.
Koraun and 50 Cent Clash in Social Media
We already know by now Koraun Mayweather is fearless as he steps up for his mother to protect her from his dad's physical assault because of which we think it won't surprise you, people, to know that he had a minor clash with the gangster rapper 50 Cents.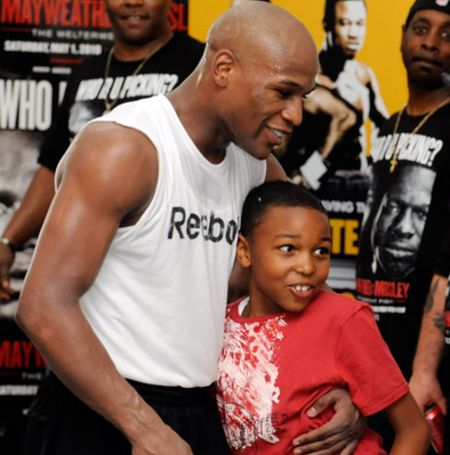 Koraun had some argument in social media with the artist 50 Cents.
Photo Source: Zimbio
Yeah, you got it right Koraun dared to reply 50 Cent who first attacked his father through social media. The gangster artist made fun of Floyd, pointing out the poor relationship between the father and son Floyd and Koraun, respectively.
Recommended: Iyanna Mayweather - Some Facts to Know About Floyd Mayweather's Daughter
Nevertheless, the eldest son of the Mayweather took the critics gently and responded 50 Cents by saying he love his old man Floyd and he must focus on his family rather than indicating other personal matters.
Koraun Mayweather Father was Highest Paid Athlete, and He is Pursuing a Career in Music Field
Coming to the professional field, as we pointed above, Koraun Mayweather, despite being the son of the successful boxer, is not interested in boxing. This might made you guys think what is the 20 years old fellow will do with his life? So, let us tell you, Koraun is fond on music biz and completed certain numbers of projects which we can find in the different musical platform.
Koraun Mayweather aka King Koraun - RACK$ (Official Video)
The young Mayweather career as a musician is just starting, so let see how he will do in the music industry. Still, even if Koraun failed to make profitable earnings from his profession, he got no worries as he is supported by his father's finance, who was ranked top 1 athlete for earning the highest income by Forbes in 2018.
To be update with the breaking news regarding COVID-19 and keep up with interesting facts related to celebrities feel free to visit Glamour Fame.
-->