Iyanna Mayweather - Some Facts to Know About Floyd Mayweather's Daughter
Published Sun Apr 05 2020 By Bran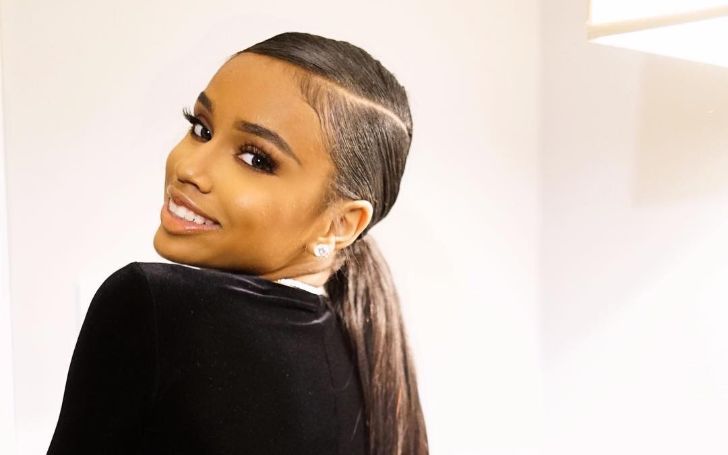 Boxing legend, Floyd Mayweather put many men down in his boxing career, and it seems like her daughter, Iyanna Mayweather is born with the same killer instinct. Let's find out some intriguing details of the young lady.
Floyd Mayweather, the record holder with an unbeaten streak, is known all over the world. And, out of his four children, daughter Iyanna Mayweather is quite famous, be it with good or bad reasons. Being the daughter of such a legendary personality is no less because of all the hype around, which inevitably leads to massive media exposure.
The boxer's daughter recently made the headlines as the cops arrested on suspicion of aggravated assault on a woman named Lapattra Lashai Jacobs. Interestingly, Iyanna Mayweather went into the NBA Youngboy's home and caught him with his so-called fiance, Jacobs. Thus, one thing led to another prompting Floyd's daughter to get physical as she charged at the lover-rival with one of the knives to a life-threatening injury.
Iyanna Is an Instagram Personality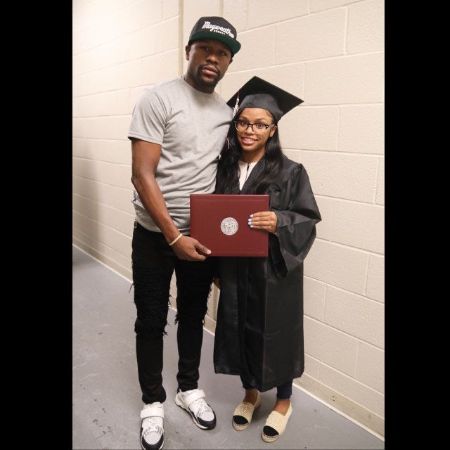 Iyanna Mayweather is one of the four children of Floyd Mayweather.
Photo Source: Factbos
Being a daughter of a reputed athlete like Floyd Mayweather definitely has it's one perk when it comes to fame. A significant share of her prominence came from her boxer dad, while the rest of it was the credit of her own hard work in singing.
Also See: Evelina Maria Corcos - Some Facts to Know About Debi Mazar's Daughter
The Mayweather child is an online personality with around 1.1 followers on her official Instagram handle. Moreover, the platform is also open to all her musical bookings and proposals. The diva often shares her latest happenings in her handle, be it with her shoppings or father's match attendances. Similarly, Iyanna also looks to pursue a career in modeling since she partners with several fashion agencies and dresses up in coordination with them.
Iyanna Mayweather Was Linked with Justin Bieber
Back in 2014, Iyanna Mayweather was romantically linked with the teen-pop sensation, Justin Bieber. And, the news was quite apparent because the Baby singer posted a sarcastic photo with her, claiming her as his girlfriend. Although the caption was supposed to be satirical, not many could get the twisted joke and thought it to be true.
Initially, the Baby singer posted a series of pictures with the 18-year-old model, Yovanna Ventura, as they spent some time together at the Venice Beach boardwalk. However, the media, smelling an opportunity, labeled them as a couple, which got Justin aggressive. He later even slammed all those rumors saying how the media houses make all his photo companions as his girlfriends. The caption with Iyanna was precisely made in a similar satirical sense, which many media houses took for a mistake.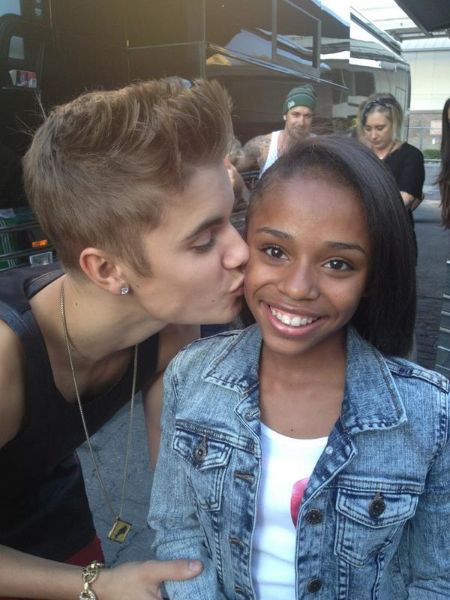 Iyanna Mayweather is a big fan of popstar Justin Bieber.
Photo Source: Pinterest
To be precise, Iyanna wasn't Justin Bieber's girlfriend, but a big fan, just like many young girls today's generation. The alleged criminal even tweeted how she is excited to see Justin Bieber in 2012, when the singer alongside Lil Wayne walked beside his idol, Floyd Mayweather, before his big fight against Saul Alvarez. Floyd's daughter barely watched the game that day, as her eyes were all over her favorite artist in the stands. The 19-year-old often shares tweets and stories about the singer after all these years.
Floyd Mayweather Gifted Daughter Iyanna a Mercedes
Floyd Mayweather gifted her daughter Iyanna a Mercedes in Christmas 2019.
Photo Source: Pinterest
Another perk of being the daughter of Floyd Mayweather has to be the lavishing life that you get to live. Iyanna was left shocked in Christmas 2019 when her legend father gifted her a brand new Mercedes-Benz AMG G63, which costs him a staggering $152,500. He announced the gift through an Instagram post, wishing Iyanna a Merry Christmas.
Recommended: Some Interesting Facts to Know About American Columnist Katherine 'Kat' Timpf
When it comes to fortunes, Floyd Mayweather is a multi-millionaire with around $915 million net worth as per Forbes. However, he seems to be a Mercedes lover since he gave Iyanna another car of the same brand on her 16th birthday. Not just that, the music industry's stars like Drake and Future performed at her 16th birthday party. The unbeaten boxer is quite abled when it comes to vehicles and engines, as he owns several luxury cars and two jet planes.
Iyanna Mayweather's Step Mother Passed Away in March 2020
Just before a few weeks of Iyanna's arrest, the Mayweather family suffered a tragedy as the boxer Floyd Mayweather's ex-wife, Josie Harris, passed away. The past few weeks don't look for the fighter since his former lover died first, and then her princess-like-daughter got involved in an ugly brawl and ended in jail.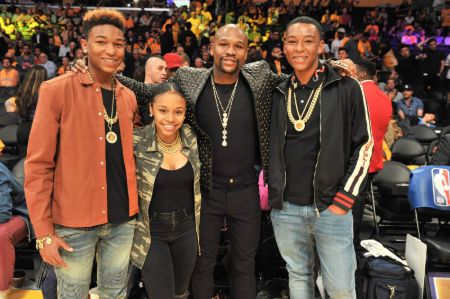 Iyanna Mayweather's step mother passed away in March 2020.
Photo Source: Twitter
Despite the fact that Iyanna didn't share much time with Harris, her father, Floyd, still shared a soft spot for the demised soul after the shocking death in her car itself. The boxer posted a few flashback pictures with his past lover and described her as a 'bright and loving soul.' Even though the two shared a rollercoaster type relationship in the past, they spent around 15 years together. Surprisingly, the boxer also visited the prison for two months as the late Harris charged him of domestic violence. Before her death, she was in a middle of a lawsuit worth $20 million against the legendary boxer for defamation. While the two were together, they shared three children named Jirah Mayweather, Zion Mayweather, and Koraun Mayweather, which happen to be Iyanna's half-siblings.
Iyanna's Relationship with NBA Youngboy Turned Ugly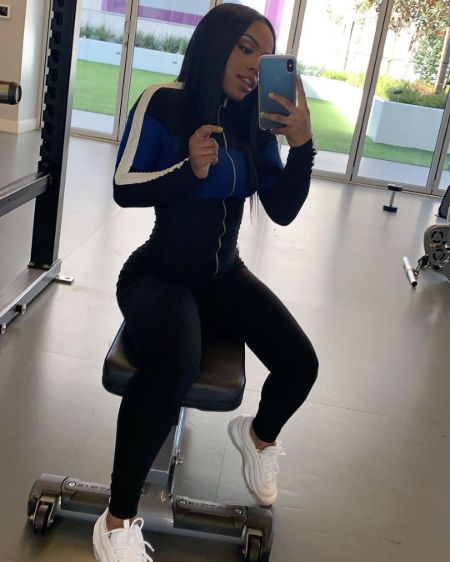 Iyanna Mayweather used to date NBA Youngboy for a short stint in the past.
Photo Source: Iyanna Mayweather Instagram
The recent arrest of Iyanna Mayweather is wholly related to her ties with fellow rappers, NBA Youngboy from the past. The two dated for a short period, and broke up quite ugly, leading to a lot of drama in the social media.
You may also like: Some Facts You Didn't Know About Brian Malarkey
The 20-year-old NBA Youngboy even released a diss track over her ex-girlfriend titled 'Dirty Iyanna, ' which demonstrated the ugly side of the boxer's daughter. While the rapper moved on, got engaged, and had a child with Lapattra Jacobs, Iyanna still seems stuck over the relationship, which eventually led to the alleged stab confirming a trip to the jail.
For more news and updates about your favorite stars, please stay connected with us at Glamour Fame.
-->