Lady Gaga Defends Cardi B Amid Backlash Over Grammy Win
Published Wed Feb 13 2019 By Tess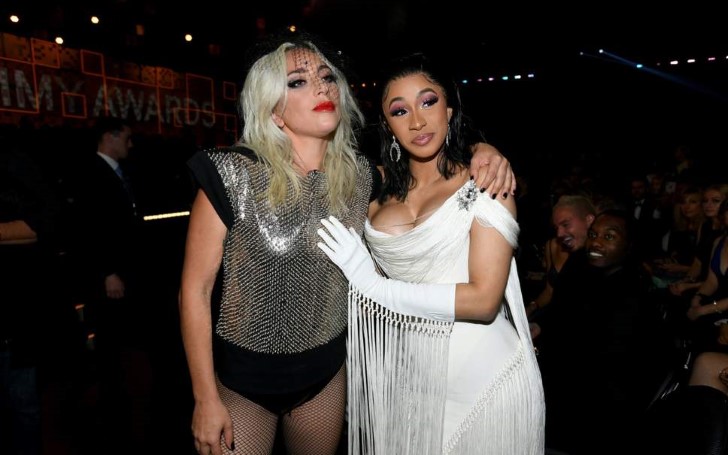 Lady Gaga hops in to defend Cardi B amid backlash over Grammy win.
On Tuesday, Shallow singer Lady Gaga took to social media to defend rapper Cardi B subjected to wide criticisms regarding her recent Grammy win.
The singer turned actress took to Twitter to praise the rapper for her achievement alongside a photo of the two of them at the ceremony.
The singer went with the caption, "It is so hard to be a woman in this industry. What it takes, how hard we work through the disrespectful challenges, just to make art. I love you Cardi."
She continued, "You deserve your awards. Let's celebrate her fight. Lift her up & honor her. She is brave."
Don't miss: Cardi B and Offset are Reunited Together in Puerto Rico After Two Weeks of Split
Recently, on Sunday during the 61st Grammy Awards, Cardi B became the first ever female to win an award for Best Rap Album.
The 26-year old took home the title for her album "Invasion of Privacy" which was widely criticized by the public terming the rapper unworthy of the title in social media.
Also see: You Might Be Surprised By The Amount Cardi B Spends On Her Hair And Nails
Immediately, the Grammy winner defended her win on Instagram where the rapper posted multiple rants explaining the extensive effort put forth in creating the album before deactivating her Instagram account later on Monday.
Read more: Cardi B Surprised Everyone Rapping About her Divorce
Following the ongoing backlash, several fellow artists and celebrities including Chance the Rapper spoke on her support.
-->