Who is Lil Tjay's Girlfriend in 2020? Find Out About His Relationship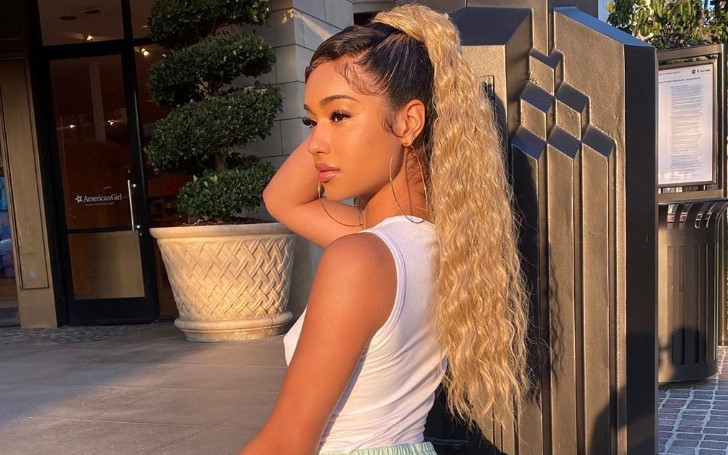 Here's what you should know about Lil Tjay's girlfriend in 2020.
Lil Tjay (born Tione Jayden Merritt) is an American rapper/songwriter from the Bronx. Lil's singing career started in 2017; the rapper is known for his singles "Brothers" and "F.N." Moreover, the rapper is also known for collaborating with Polo G.
Lil's song with Polo, "Pop Out," peaked at number 11 on the Billboard Hot 100. Following the success of his singles and a few collaborations, the rapper released his first album, "True 2 Myself," in 2019.
Tjay's first album was a massive hit as well; The rapper's album, "True 2 Myself," peaked at number five on the US Billboard 200, now that's massive!
Also See: HipHop Pioneer Andre Harrell's Is Dead at the Age of 59, Find Out About His Wife Wendy Credle
We assume we don't need to stress more about his career as you all are aware of how successful Lil Tjay is as a musician, but how well do you know about his personal life? Do you know whom he is dating in 2020? Let's find out.
Lil Tjay's Girlfriend in 2020
As a fan of Lil Tjay, we suppose you already know who the rapper's girlfriend is. Indeed, Lil is in a dating scene, and the whole knows about it. But still, since we are bound to look into the facts carefully, here's what you should know, or we know.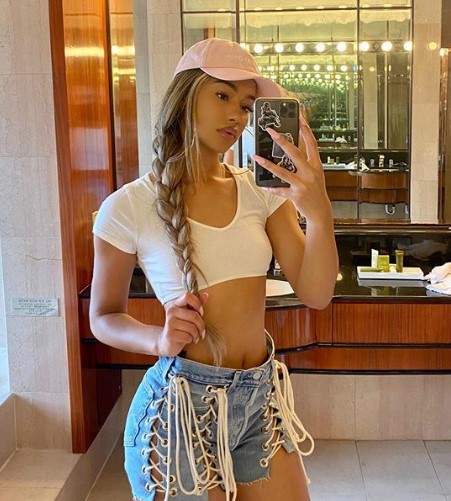 Photo Source: Instagram
Lil Tjay is dating his girlfriend, Lala Baptiste. It's not been too long since the couple started dating, from what we know, the two started met back in 2019.
Also See: Sierra Furtado Boyfriend - Find Out If the Tik Tok Star is Dating Someone Or Still Single
For those of you who are wondering who is Lala Baptiste, the girlfriend of Lil Tjay is a social media influencer, more specifically, an Instagram model, and now she also has a YouTube channel.
Lala Baptiste's Success Came From Instagram
Lala Baptiste is one of those personalities who made it big through social media. The Instagram model has more than 1 million followers on her main account. Lala didn't keep her popularity limited to only modeling.
Following the success, as an Instagram model, Lala made a smart move to establish herself as an entrepreneur as well. Baptiste has her own clothing line, "Nyela Collection." As the tagline of the company suggests, Lala's clothing line is, "Luxury Resort Wear with a Sexy Twist."
Also Read: Dita Von Teese Boyfriend - Find Out Who the Playboy Model is Dating After a Series of Failed Relationship
There are only a few collections at the moment on the Instagram account, and the official website for "Nyela Collections" suggests the clothing line is yet to be launched. You check the website by following this link and drop your email address to get notified of the launch date.
Lil Tjay, Lala Baptiste, and Rubi Rose's Scuffle
Lil Tjay and Rubi Rose had something between them a few months but their "whatever" relationship turned sour when Lala Baptiste entered the scene, and let us tell you this, Lala and Rose are best friends, well, at least they were before any of these things happened.
So here's the context, a few months ago, Lil Tjay celebrated his birthday with Atlanta rapper, Rubi Rose. The model traveled to see Tjay. But then things went south when Lil embarrassed her on his Snapchat story and decided to not pay for her flight back home.
And here's Tjay's reason for embarrassing Rubi. On his Instagram post, Tjay explained,
"Rubi came to my house, seen another girl texting my phone, got mad emotional, and called the police on me. Can't call the police to my crib, girl."
Later Rubi stressed Tjay distorted the situation to make her look bad. Just when thought the drama was over between two, Tjay was not done with things. For whatever reason, Tjay decided to post pictures of him with Rose's best friend, Lala.
As expected, Rubi was not at all impressed by the move, following which she took to her Twitter to call out her best friend. Rose wrote,
"Let's talk about backstabbing best friends. Imma just let karma do what it do. It's not about the n****. It's about a girl I called my sister being a snake."
You May Also Like: Who is Nikita Dragun Ex-boyfriend? Find Out What Happened Between the Former Couple
For more information on your favorite celebrities' lifestyle and other news, stay tuned to Glamour Fame.
-->