Everyone is a fan of the Duchess of Sussex, Meghan Markle attires. Whatever she wears, the limelight and the media are always quickly there to comment on it. And obviously, what she wears, she wears it beautifully to match her persona.
And since Meghan became a member of the British Royal Family, she spontaneously started wearing brands and designers more. And here, we are presenting you a few glimpses of the Duchess of Sussex's favorite designers and brands she often wears.
10. J.Crew
Meghan Markle wearing a J.Crew Coat
SOURCE: Town And Country Magazine
Over the past years, Meghan Markle who recently reactivated her Instagram account temporarily has been constantly spotted wearing J.Crew. We have concluded Meghan likes wearing J.Crew coats and boots.
9. Finlay & Co.

Meghan Markle wearing Finlay & Co. sunglasses
SOURCE: Finlay & Co.
To accessorize her outfits, Meghan likes wearing Finlay & Co. sunglasses to give a more impressive neat appearance with her outfits.
You may also like: Meghan Markle's Most Stylish Moments
8. Veronica Beard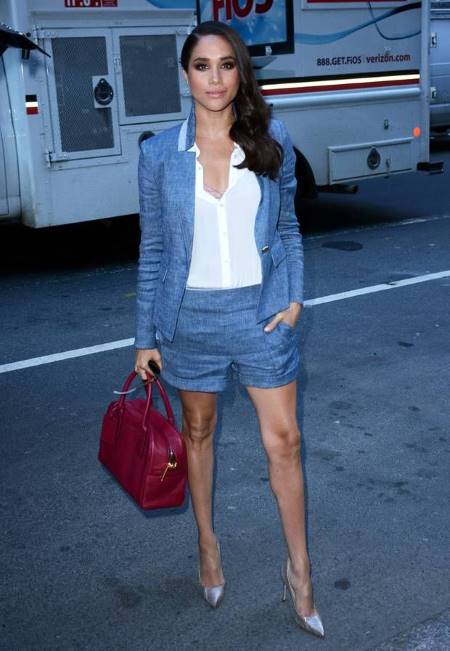 Meghan Markle wearing Veronica Beard
SOURCE: Pinterest
In many of the stylish Duchess appearance, she can be seen wearing Veronica Beard an enormous time. This year too, Meghan wore the brand's short and suits.
7. Strathberry
Meghan Markle carrying a Strathbery handbag
SOURCE: Pinterest
When it comes to handbags, Strathberry is usually her first priority. Meghan Markle owns bunches of cute and adorable handbags.
See also: Kate Middleton Rumoured To Be Pregnant And Expecting Fourth Child
6. Club Monaco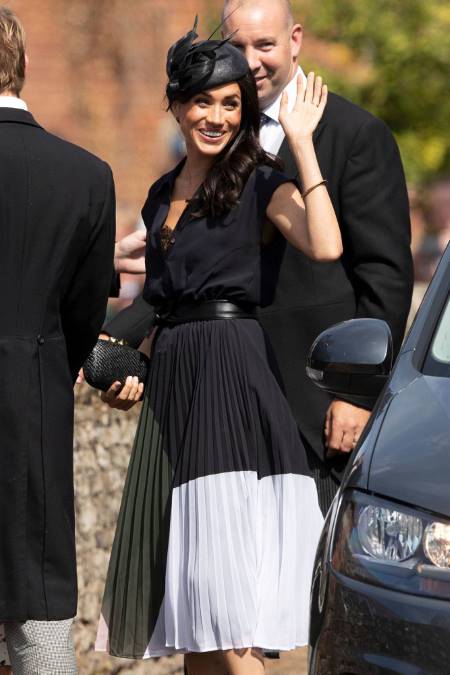 Meghan Markle wearing a Club Monaco dress

SOURCE: Dress Like A Duchess
Meghan Markle has keenly developed a habit of wearing Club Monaco. In many outdoor events, for instance, at the Van Straubenzee wedding, Meghan wore a sleeveless navy dress.
5. Shaune Leane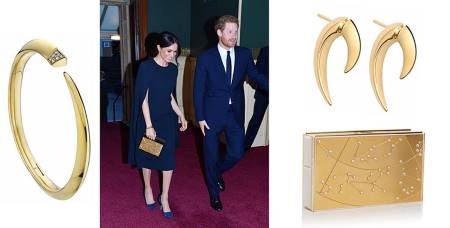 Meghan Markle in Shaune Leane and Catbird for the Queen's birthday concert
SOURCE: The Adventuring
When it comes to jewels, the beautiful Duchess prefers Shaune Leane. As a matter of fact, Meghan owns three pieces of his designed jewels. We love how she accessorizes his pieces of jewelry.
4. Soia & Kyo
Meghan in a Soia & Kyo coat

SOURCE: Fashionista
No chance of missing to list Soia & Kyo. Meghan Markle can be seen wearing clothes designed by Soia & Kyo numerous times. The Duchess wore a grey coat designed by the brand to keep with the British weather at the Royal Variety Charity in England.
3. Aritzia
Meghan Markle wearing Aritzia maroon pleated dress
SOURCE: Yahoo
Meghan Markle is absolutely fond of wearing Aritzia. As a matter of fact, the gorgeous Duchess of Sussex has worn the designer dress multiple times. At her recent surprise appearance at King's College London on 5th December, she wore a long cocoon coat by Aritzia.
Read as well: Stylish Coats and Jackets For Less than $100
2. Ralph Lauren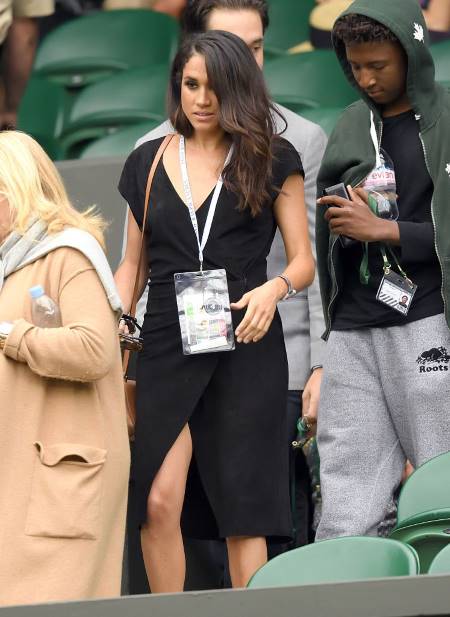 Meghan Markle in a Polo Ralph Lauren black dress
SOURCE: Town And Country Magazine
There's a big numbered list of celebrities that possess and wear Ralph Lauren dress. And our elegant Duchess comes under the list as well. Meghan has worn Ralph Lauren in many events, it is almost impossible to name all of them here.
1. Givenchy
Meghan Markle wearing her wedding gown
SOURCE: Daily Star
Givenchy can be considered the stylish Meghan's top and her most favorite fashion brand. From her wedding gown to her first trip to Ireland, she chose to wear Givenchy. Even in the coming days, we all certainly can expect her to inevitably wear Givenchy more.
Meghan Markle always seems to garner attention no matter what she wears out in public, but to her credit, the Duchess of Sussex always appears exquisite with her dressing sense.
-->