Mel Tucker is the New Head Coach of Michigan State Spartans Football - Find Some Interesting Facts About Him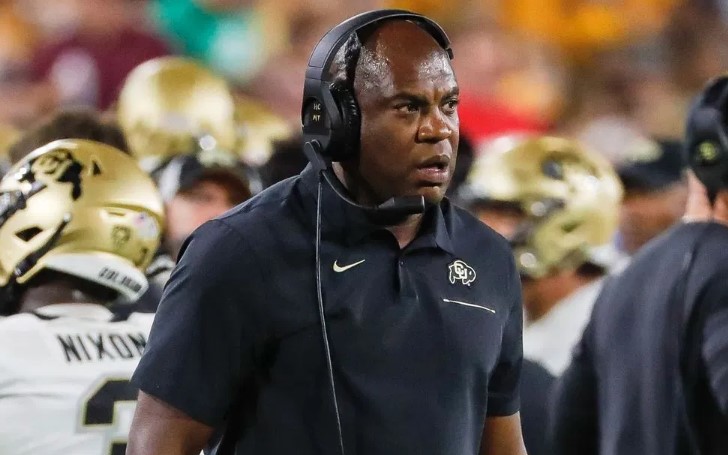 Mel Tucker is an American football coach, but before he embarked into pass his talent to his disciple, Tucker was himself a former NFL player. Mel is now officially the Head coach of Michigan State Football team as he was recently contracted for six years with the Spartans for a staggering amount of $30 million.
Mel was born on January 4, 1972, in Cleveland, Ohio. His love for football grew when he enrolled in Cleveland Heights High School, following which he started playing for the college team and remain the standout. Later, the Michigan State's coach joined the University of Wisconsin-Madison and played defensive back for the college team, Wisconsin Badgers Football.
There's more you should know about this exceptionally talented former player and legendary football coach. Let's just dive into the facts to understand more about him.
Mel Tucker Career/Wiki: Started His Coaching Career from 1997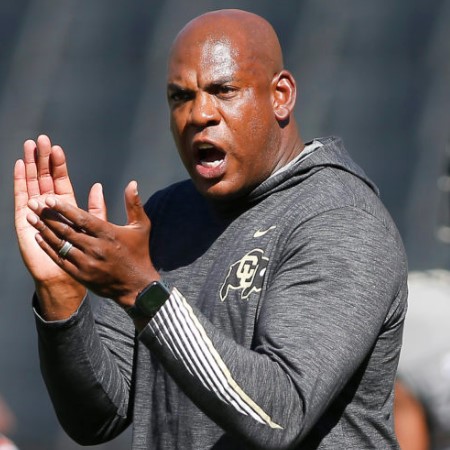 Mel Tucker started his coaching career from 1997, with Michigan State as defensive coach.
Source: The Athletic
Mel Tucker started his journey of coaching a football team from 1997. Since Tucker was always good with his ideas in defensive backs, he assisted Nick Saban on his first job with Michigan State University Spartans. The defensive coach, over the period of a year, built a good rapport with Saban. Since the two had a good alliance, Saban left Michigan to join Miami University Redhawks, where Mel Tucker followed him to work under Nick as Defensive Backs coach again.
Also See: Facts to Know about Christopher Knight's Wife Cara Kokenes
With plenty of experiences from his college football coaching, Mel, then tried his hands on NFL. Since he always had the plethoras of expertise as a defensive coach, he had a humble beginning on NFL too. Mel, after entering NFL, shook hands with Cleveland Browns, where he served from 2005-2007. Later the 48-year-old coach was promoted to defensive coordinator in 2008.
Another leap on his career came a year after when Tucker was hired by the Jacksonville Jaguars, where the NFL coach stayed as a Defensive coordinator for the period of almost two years, and later upgraded to interim head coach, after previous coach, Del Rio, was fired.
While promoted to a head coach from a specialized coach, Mel saw some downfall on his career as everything was new for the 48-year-old. Following his downfall as a coach, Mel even faced a backlash from the people; however, nothing could stop him from doing things he was always destined to do.
After serving as an head coach for more than four years, Tucker moved to Georgia and settled for his comfortable position of defensive coordinator in 2016. While he liked being a lowkey, Mel decided to test his luck again and went on to become the Colorado Buffaloes Football team's head coach in 2019.
Mel Tucker as the Head Coach of Michigan State's Football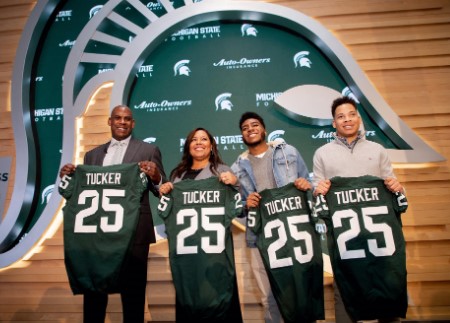 Mel Tucker is the head coach of Michigan State Football (Spartans).
Source: MSUSpartans
The fate decided to reunite Mel Tucker and Michigan State's Football team, Spartans, again. The person, who started his journey of coaching as a defensive coach for the team, came back again to shake hands as the Head Coach. However, his move to the team is hugely criticized, but it's not going to change anything to take command of the team.
Also Read: YouTuber Joe Weller's Body Transformation — He Tells All in a Video
Mel is on his journey to revive the boat of Spartans. Tucker, after joining the team of Michigan, said, "I would say Coach Saban really gave me my foundation in coaching." Given his experience, Mel is ready to weather any challenges that may come for the team.
Mel Tucker is married to his wife, Jo-Ellyn Tucker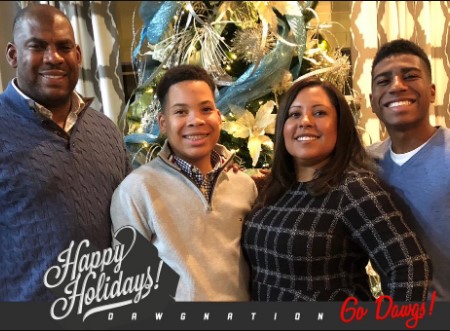 Mel Tucker is married to his wife, Jo-Ellyn Tucker. The couple share two kids, Joseph Tucker and Christian Tucker.
Source: Twitter
Mel Tucker is married to his wife, Jo-Ellyn Tucker. According to the sources obtained, the couple met on a blind date after Jo-Ellyn's roommate set them up while Jo-Ellyn and her friends were visiting Cleveland for the job fair.
Tucker and his wife only had a couple of conversations before they met, but Mel could not stay longer to propose her his love, and he did it on his first date as he was smitten with her beauty. The couple, in their more than two-decades-long relationship, shares two sons, Joseph Tucker and Christian Tucker.
Mel Tucker Net Worth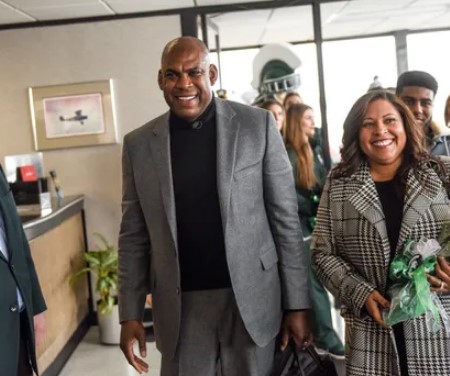 Mel Tucker holds an impressive net worth of $60 million.
Source: Lansing State Journal
Mel Tucker was hired by Michigan State's Spartan for a whopping $30 million for six years. According to the sources, Mel, in his new job, will earn a annual base salary of $3.8 million.
You May Also Like: Veteran Quarterback Terry Bradshaw Married Four Times; Facts about his personal life
Moreover, the NFL coach will get a supplementary salary of $1.3 million and an annual bonus of $400,000. So, with that already impressive numbers, Mel Tucker's estimated net worth stands at $60 million.
For more information on your favorite celebrities' lifestyle, stay tuned to Glamour Fame, and don't forget to sign up for the newsletter.
-->