Who is Michael Le? Some Facts to Know About the Choreographer
Learn who Michael Le is? Also, get some interesting things about him.
This is a generation Z; gone is the time of millennials as Gen-Z are taking over the entertainment business. While they still are behind when it comes to mainstream media, but all thanks to apps like TikTok, people are getting the platform and exposure they deserve.
Michael Le, aka JustMaiko, is one of those bright stars who is taking over the TikTok world by storm. He is the latest trending TikToker girls are swooning over. Michael Le's popularity is not limited to only one platform; he is equally popular on Instagram as well.
So, this brings us to provide you with some interesting facts about the exceptionally talented Michael Le, aka JustMaiko. So without further ado, let's get into the points.
Who is Michael Le, aka JustMaiko? (Wiki/Bio)
Michael Le, aka JustMaiko, is a social media influencer, who is known and loved for extraordinary dancing skills. The dancer/choreographer keeps his followers entertained with his dance moves via different social media platforms like TikTok, YouTube, Instagram, and YouNow.
Michael Le was born on May 19, 2000, in West Palm Beach, Florida.
Photo Source: JustMaiko Instagram
Michael was born on May 19, 2000, in West Palm Beach, Florida. The 20-year-old got his name JustMaiko for his social media handles. All of his social media profiles go by the name -JustMaiko, following which people assumed his real name was Maiko.
While not much is known about Michael's parents, he is blessed with three younger siblings, sister, Tiffany Le, 14, brother, Jonathan Le, 6, and youngest in the family, brother, Daniel Le. All three of them appearances on their older brother's video quite often, among whom Jonathan and Daniel are the most frequent ones.
Recommended: Who is TikTok Star Emmuhlu and What's Up With Her Controversial N-Word Video? Get All the Details Here
Following his older brother's path, Tiffany is also a dancer/choreographer while she pursued an utterly different genre than her brother's. Tiffany is into contemporary dance, while Michael is much more into hip-hop dance style.
Something You Should Know About Michael Le, aka JustMaiko's Parents
Just like we mentioned earlier, there's only a little information about Michael Le's parents. Still, according to what we found, JustMaiko's mother, Tina Le, is a nail artist, and runs her own spa, 'Oxygen Spa." While it's not confirmed, but by what it seems, she is a single parent.
Michael Le with his mother, Tina Le, sister Tiffany Le, and brothers, Jonathan and Daniel.
Photo Source: Michael Le Instagram
We know how hard it is to raise a child all by yourself, but Tina is doing pretty good with her four kids. After coming of age, even Michael seems to take care of his younger siblings. Moreover, what we saw in Michael's mother's feed, just melted our hearts.
It's needless to say, Tina is blessed with very humble and loving kids, and Michael is the most understanding son one mother could ever ask for. We found a note from JustMaiko to his mother.
Also See: ITSQCP - Some Facts to Know About the Controversial TikTok Star
His note reads, "Hey momma, I just wanted to tell you randomly, thank you for the sacrifices and hard work you do for the family and me. I love you so much for it, and I am proud to be your son."
Note further reads, "Soon, you won't have to work a lot; I will make sure that you will be the one to be able to relax and not have to work again, I promise. I wouldn't be where I am today without your support and love."
Michael Le, aka JustMaiko's Career
Michael Le started his career at an early age. While it's apparent, he got his fame after he was discovered in TikTok, but he started putting videos on the Internet a long time back. YouTube is the first platform Michael started uploading his dance videos.
Michael Le with his fellow TikTokers. They are often seen collaborating on TikTok.
Photo Source: JustMaiko Instagram
He started his YouTube Channel back in 2014 when TikTok was still in its developer release. Le's video where he beautifully choreographed Chris Brown's 'Came To Do,' on YouTube really took off, but still failed to make his name. But that has changed, thanks to platforms like TikTok and Instagram, where he is loved and known by millions.
Also Read: Who is Justin Escalona? Find Some Interesting Facts About the Filmmaker
On TikTok alone, the 20-year-old choreographer boasts an impressive 48.5 million followers and 1.3 billion likes. On Instagram, Michael flaunts a splendid 2.7 million followers. While on YouTube, his JustMaiko channel has over 2.63 million subscribers, and his other channel, 'Michael Le,' has over 347K subscribers.
Does Michal Le Have a Girlfriend?
As it seems, despite his massive female fan following, Michael Le is currently single, which is understandable as he is really busy with his work and family. All we can assume is, he is directing his all focus and energy to his work, and the growth is evident too.
Michael Le does not have a girlfriend, but he dated Analisse Rogriguez, aka AnalisseWord, before.
Photo Source: JustMaiko Instagram
But according to a few sources, it was not the case a while ago. Michael Le was, indeed, in a relationship with his girlfriend, Analisse Rodriguez, aka AnalisseWorld, who is also a dancer/choreographer. While it's still unknown why the two broke up, but as we said, they are focused on their career, which could be one of the reasons.
Micheal Le's Net Worth
As we know, Michael Le, aka JustMaiko, is pretty big on social media platforms. It's no secret that the 21-year-old social media personality is getting a lot of sponsorship for his videos. We often see him doing videos with brand placement.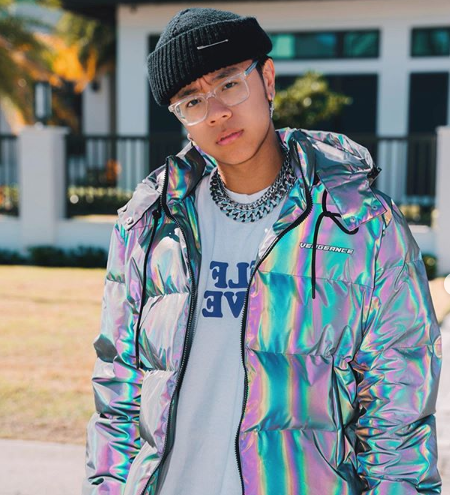 Michael Le has an estimated net worth of $1 million as of 2021.
Photo Source: JustMaiko Instagram
So, with following so big, and it is expected Michael is doing pretty good when it comes to making piles of greens. Moreover, the 21-year-old internet personality owns his merchandise store, 'Shluv Clothing.' According to the sources, Michael Le's net worth is expected to be close to $1 million. It's only a matter of few years, he will be in the list of millionaires. What a way to go! Kudos to this amazingly talented soul. Isn't that inspirational for you?
Some More Trivial Facts About the TikTok Star
How Tall is Michael Le? He is 5'7'' Tall.
Who is JustMaiko's Girlfriend? JustMaiko is currently single, but he dated Analisse Rodriguez, aka AnalisseWorld, before.
What ethnicity is JustMaiko? JustMaiko is half-Vietnamese/Asian.
How Old is Michael Le? JustMaiko is 21 years old as of 2021.
Michael Le Height: Michael Le is 5'7'' tall.
Michael Le nationality: Michael Le is an American.
You May Also Like: Justin Escalona Girlfriend - Is the Filmmaker Dating Someone?
For more information on your favorite celebrities' lifestyle, stay tuned to Glamour Fame, and don't forget to sign up for the newsletter
-->