Mila Kunis Looked Comfy in a Gray Sweatshirt and Matching Sweatpants as she Enjoyed a Day of Pampering in Studio City
Published Sun Mar 17 2019 By Jessica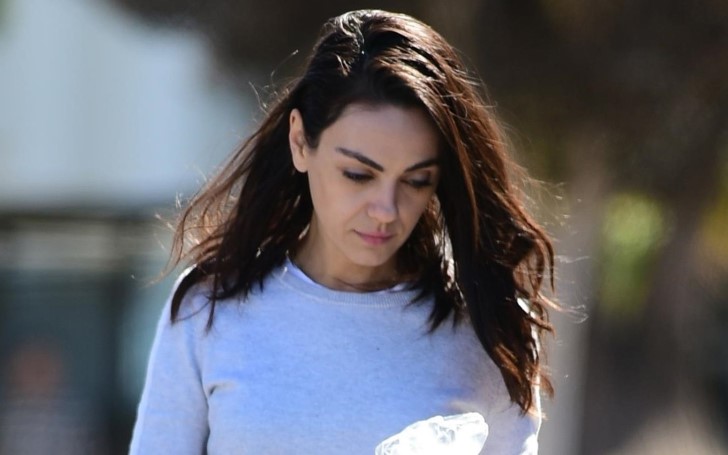 Hollywood actress Mila Kunis is all happy to spend some time pampering herself in Studio City.
Mila Kunis looked all prepared for presumably a weekend celebration after she got a fresh pedicure and stepped out of a nail salon on Friday afternoon.
Paparazzi spotted the actress solo in Los Angeles after her recent attendance at the premiere of her upcoming film 'Wonder Park' in LA where she graced the red carpet in an elegant pink and black pant.
Mila Kunis spotted in LA after getting her fresh pedicure.
SOURCE: Daily Mail
The 'Bad Moms' actress looked all comfortable in a full body covering gray matching sweatshirt and sweatpants as she turned her head to avoid being photographed by the paparazzi.
You may also like: Dwayne 'The Rock' Johnson Faces Backlash after he Shares His Delight at an Army Tank Named after Him
The 35 years old star kept her dark brown shoulder-length locks free whilst she carried her white sneakers in a transparent plastic bag on her left hand and her black iPhone on the other hand.
The mother of two stepped into a pair of pink plastic flip-flops to avoid the smudge of her fresh pedicure. Although it can't be obvious whether it was a coincidence or intended, by the look at the pictures, Mila's pink flip-flops ironically match to her pink nail color.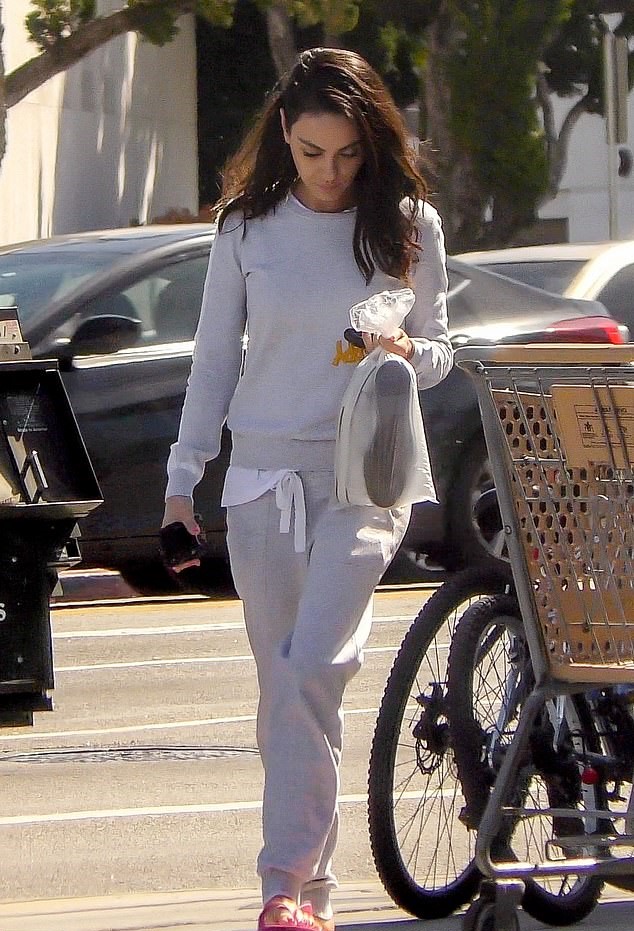 SOURCE: Daily Mail
Although Mila got her nail done, she didn't opt to go for any makeover. Her face looked completely makeup-free besides a light touch of nude lipstick applied over her full lips.
See more:Chance the Rapper and Girlfriend Kirsten Corley's Fairytail Wedding
Meanwhile, as Mila flaunts her pink plastic flipflop and carries a plastic bag, her husband of three years, Ashton Kutcher shares concerns expressing his worries about the issues regarding plastic.
Kutcher took to his Twitter to share an article link to his eighteen million followers on the app that spread the message regarding plastics.
The 41 years old retired actor, now an activist wrote:
"solving the plastic problem is complicated but there are some simple things we can all do."
Kunis and Kutcher who married in 2015 shares two children together; Wyatt Isabelle Kutcher, 4 and Dimitri Portwood Kutcher, 2.
Also see: Pete Davidson And Several Other Celebs Are Changing The Way We Perceive Mental Health
The couple first met at ages 14 and 19 on the set of 'That '70s Show' that aired in the late '90s. The duo dated and even got married to different people before their fate brought them back together again in 2012.
-->