Mod Sun Engaged Avril Lavigne in March 2022! Learn About Sun's Relationships
Mod Sun is a cool name in the world of music. He is an American rapper, singer, and songwriter with a huge fan following worldwide. In 2010 he released his first EP, The Hippy Ho EP, which helped him to gather huge recognition. Now the rapper has released five studio albums.
Recently Sun launched his fifth studio album; God Save the Teen! The said album was released on February 3, 2023. Apart from music, he has done several TV and Film appearances, including Bashira, Measure of Revenge, Cooking on High, Ridiculousness, etc. Now, let's dig into more detail regarding the famous American singer.
Mod Sun Engaged Avril Lavigne in March 2022
American songwriter Mod Sun often grabs massive limelight through his incredible career. So it is inevitable that his personal life is a matter of interest to many of his fans. In mid 2022s, Mod gathered massive media attention through his news of the engagement.
On April 2022, he got engaged to his fellow punk rocker, Avril Lavigne, in the beautiful weather of Paris, France. Look Up singer bent into his knee and proposed to his love of life in the most romantic way. The duo dressed in black and chose the venue near the Eiffel tower.
Avril nodded with a big yes, and they shared a sweet smooch. Mod popped up the question will you marry me with a custom-designed, heart-shaped ring with little hearts from XIV Karats.
Regarding the proposal, the Complicated singer stated that "I knew we had a very strong unstoppable connection from the first week of writing. And he was the one."
The duo confirmed the news through their respective social media accounts. Their fans worldwide congratulated them on the new beginning in life.
How Did Avril Lavigne and Mod Sun Meet?
In February 2021, Avril and Mod sparked relationship rumors all over the internet. They were spotted together enjoying dinner at BOA steakhouse located in Los Angeles. Pairing them, MGK and Megan Fox were also captured during the double dinner date.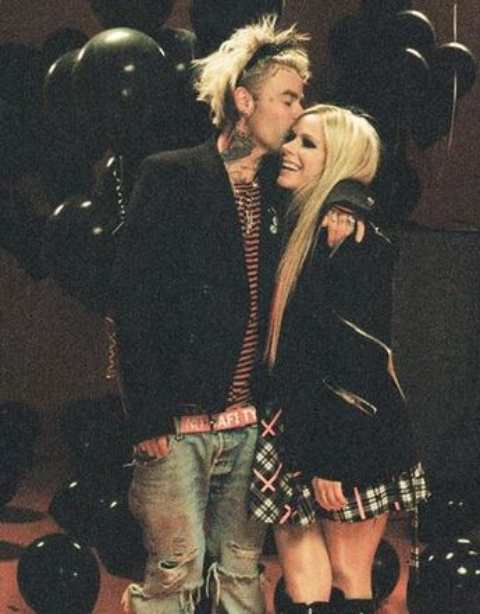 In January 2021, they met one another for the very first time at the studio. At that time, Mod was writing his single Flames, to which she contributed. Well, with a first meeting, they instantly had feeling for one another.
Later that same month, they appeared together in the Flames. Lavinge and Sun gave clues to the world about their relationship. The following year Mod put a ring on Avril!
Making Relationship Official
On 9th September of the same year, they made their love life official by uploading pictures of one another on their respective Instagram accounts. The first sees the pair enjoying a smooch with one another chick, and the captions are full of love feeling.
Later they made their first Red Carpet debut at MTV Video Music Awards and grabbed the massive limelight. Recently the musical pair enjoyed ice skating together which Avril posted on her InstagrCurrently now, the duo have been together for more than two years and share an incredible connection.
With the same working background, they often support and praise one another. Also, they record and make music together for the sake of one another.
Did Bella Thorne And Mod Sun Marry?
One of the most famous relationships of Mod Sun was with Bella Thorne, who is an American actress and singer. She is known for her appearance as Margaux Darling in the popular series Dirty Sexy Money.
Bella and Sun began dating in 2017 and were very open about their relationship. They even quickly uploaded pictures of one another in their social media posts and attended public events without hesitation.
Their romantic life was hyped after Thorne revealed she was also dating Tana Mongeau, an internet personality. The three popular personalities enjoyed a triplet relationship but later broke up.
After some time, Sun began a monogamous relationship with Bella. Mod even insisted that he'd marry and divorce in 15 months of relationship with the actress. However, they did not make their wedding official.
In 2019, the actress published The Life of Wannabe Mogul: Mental Disarray, where she clarified they didn't marry at all. After that, the rapper began dating his other partner, Mongeau, which also ended in a breakup.
As of now, Mod is happily engaged to his fiance, Avril. While Tana faced break up with Jake Paul and Bella called off her engagement with Italian singer Benjamin Mascolo.
A Little Bio on Karma Singer, Mod Sun
The rapper Mod Sun was born on 10th March 1987 in Bloomington, Minnesota, United States. His real name is Derek Ryan Smith. He focuses on hip-hop, pop-punk, and post-hardcore.
When Derek was little, his parents divorced, and he frequently moved due to his mother's jobs. However, the rapper spends most of his time on a farm in Corcoran, Minnesota.
In his teenage period, he developed a keen interest in pop punk and started appearing in several concerts. During his eighth grade, he started designing merchandise for several bands.
In his sophomore year at Jefferson High school, he played for the band Semester as a drummer. Later he joined Four Letter Lie and left it in 2009.
Know About Mod Sun Fortune
Rapper Mod is one of the most talented artists out there. Not only he writes and sings his songs also adds music in new to play several instruments and create great music. From his talents and hard work, he has grabbed a huge name and fame.
As of 2023, he is enjoying a net worth of $5 Million, which he earned through his incredible career. Sun has released six studio albums, six mix tapes, and three eps with incredible feedback. His songs and albums are sold worldwide.
He often goes to tours and concerts, adding extra fortune to his account. As estimated, the singer makes over $300,000 per annum through his overall works. Currently, the songwriter is enjoying a lavish lifestyle. He also owns several homes in the United States.
Stay Connected to Glamour Fame For More Related Contents
-->