Newly Married Couple Miley Cyrus and Liam Hemsworth Make First Public Appearance Together
Published Sun Jan 27 2019 By Jessica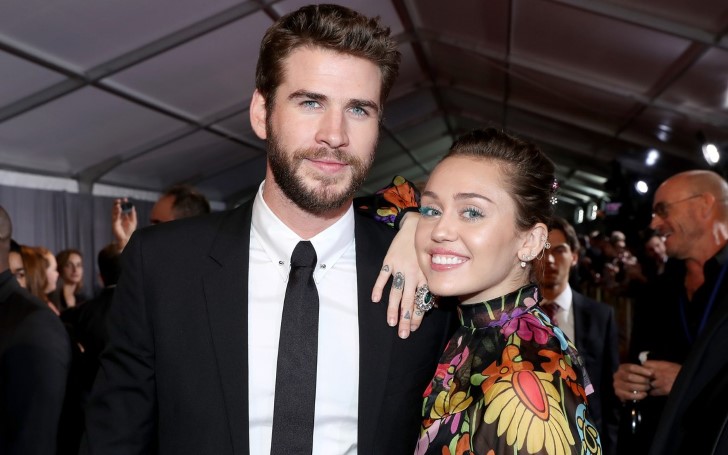 American singer Miley Cyrus makes her first public appearance with husband Liam Hemsworth.
Love is in the air. Oh sorry, we meant love was in the air when the newlywed singer Miley Cyrus and her husband Liam Hemsworth attended the 16th Annual G'Day USA Gala event together in Los Angeles just a day earlier.
This marks as their first public appearance after their secret wedding last year in December. Furthermore, the couple looked all cozy and snugly from their assigned seats inside the hall.
The newlywed couple Miley Cyrus and Liam Hemsworth
SOURCE: Shamel News
Liam, 29, attended the red carpet donned in a black fitted black suit, white shirt, and a shiny black tie. Whereas his date night, Cyrus, 26, opted to match her husband by wearing a black revealing dress that showcased her cleavage, legs, and tattoos.
You may also like: Kate Hudson Reveals Her 'Genderless' Approach To Parenting
The Party In The USA hitmaker previously posted pictures in the same black dress looking all gorgeous on her Instagram.
The newlywed couple, Miley who recently shared a love letter and her hubby, Liam looked so much in love like lovebirds at the event.
Basically, the event is a program that intends to encourage economic ties and support Australian innovation, ideas, and talents in America.
As a matter of fact, the event honored Hemsworth, The Hunger Games star among the other three Australians artists for their accomplishments as an artist in Hollywood.
The Aussie actor walked solo to receive his award on the stage. During his Award acceptance speech, Liam made sure to thank and mention his new bride.
Don't miss: Jennifer Garner is Thrilled To Be Dating New Boyfriend John Miller After Ben Affleck Divorce
The actor thanked his wife by saying:
"Thank you to my beautiful angel... my sweet sweet angel."
Hearing her name from Liam, Miley in her seat from the crowd blushed and smiled.
Likewise, Game of Thrones production designer Deborah Riley and another famous Aussie singer Helen Reddy were awarded at the show too, for their extraordinary artistry.
Other high profile celebrities including Liam's older brother Luke Hemsworth, Vince Vaughn, John Travolta, Emilie de Ravin and pop-punk band 5 Seconds of Summer attended the show as well.
Miley Cyrus all eyes on her husband Liam Husband
SOURCE: Pinterest
The fairytale romance of Liam and Miley began when they met during the filming of Nicholas Sparks book adapted movie; The Last Song.
See more: Nicholas Hoult Ex-Girlfriend Jennifer Lawrence Started Dating Her Current Boyfriend Cooke Maroney
The couple reportedly got engaged in 2012 and shortly separated in the same following year. But, since their fate meant to destine them together, Miley and Liam got back together in 2016 and they have been together since then.
-->