Nicki Minaj And Cardi B's Feud Looks To Be Reignited This Week; Learn The Reason Here!
Published Thu Aug 15 2019 By Travis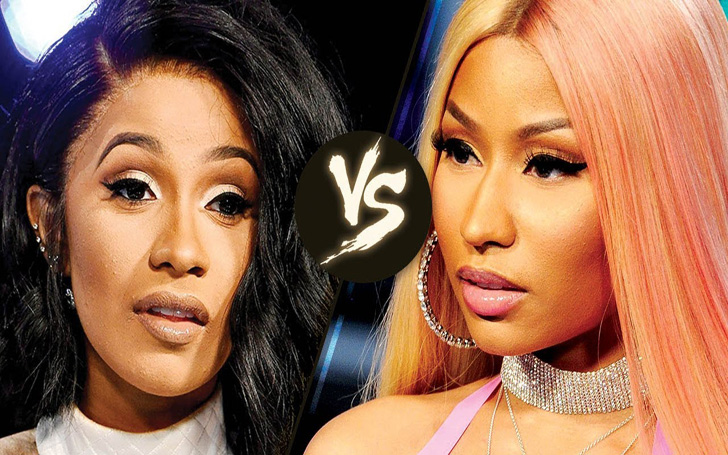 Nicki Minaj and Cardi B may be back feuding again after the recent comments by Nicki.
Trevor Noah said in one of his video the whole world feels upside down because feuding male rappers are hugging it out on stage and female rappers are trying to take each other's heads off. The South African comedian was referring to the hand to hand combat Nicki Minaj, and Cardi B got into during the New York Fashion Week fight. This September will mark the one year anniversary of Cardi sporting a shiner Nicki gave her after the got into it.
Well, they both called a truce to the war of word after a while, but it seems the battle is reigniting between the two top-selling rappers of this decade. The two rappers started to throw some subtle digs at each other, which may blow up into a full-on war. It all started when Nicki was talking with Joe Budden on his podcast, referring to the post going around the internet about the top to greatest rappers of all time.
On the podcast, while talking about the list, Nicki said, "This is what I want to say, I would feel so f--king crazy if I had numbers ones and Grammys and ain't on nobody top 50 lists. I'm not talking about myself."
"We just sat here and spoke for an hour and all I've seen, stuff on the Internet about this top 50 thing, have not once seen anyone say, 'Well does he have a Grammy?'" She continued. "Yet, the Grammys have brainwashed us into thinking for years that the Grammys are about what? Talent."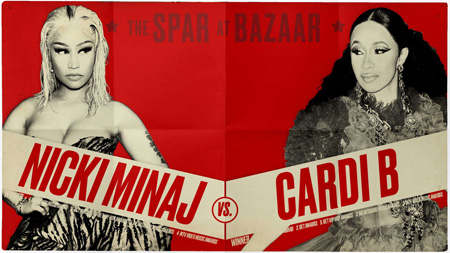 Source: The Daily Beast
At this point in Nicki's career where she carted all the money away and built a massive networth life, it seems she is a little sour for not getting the Grammy recognitions. But it is not all we heard because Cardi B was the one who recently won Best Rap Album at the 2019 Grammy awards and maybe Nicki is sour because the Grammy moved away from talent and started giving awards based on popularity.
The comment on the podcast was also a subtle dig at the 'Bodak Yellow' hitmaker who doesn't write her own songs, or so the rapper thinks because Cardi responded back on Instagram (now deleted) with a photo of the world album sales chart with the caption, "One year and some change later and my album is still SELLING. Only list I give a f--k about. Have a beautiful day everybody."
Source: The Daily Beast
Whether Nicki was calling out Cardi or not is debatable, but for a while, Cardi thought the comments were a dig at the rapper, so we are moving in with the same assumption. Cardi comments were subtle, but Nicki took aim at another rapper during the episode which was far away from subtlety.
During the podcast, Nicki took aim at Rick Ross who recently released the tracklisting and cover of his new album Port of Miami 2. In the 2017 track 'Apple of My Eye' Rozay rapped, "I told Meek I wouldn't trust Nicki/Instead of beefin' with your dog, you just give 'em some distance."
Watch: Rick Ross disses Nicki Minaj on Apple of My Eye
Well, Nicki didn't forget the dig, and she said how Rick was talking to people about "Yo, this chick is a keeper." According to Nicki, Rick said, "This chick is a keeper. She went in a room full of rappers and spoke to Obama, and the first thing out of her mouth was about you and figuring out your probation situation." And she was taking issue with the fact he went and did a diss about her after talking her up.
Nicki said, "And then you come out on an album when it's time to sell some weak-ass fuckin' album and try to disrespect Nicki Minaj?"
Well, Nicki is not pulling any more punches; she is going for the jugular and letting people know what's up. She recently gave a feature on the track Hot Girl Summer by Megan Thee Stallion; it seems their Instagram live video did the trick, and those two got together finally fulfilling the dreams of fans.
Nicki is currently riding high and whatever comes of the beef between the former friends turned enemies, Cardi and Nicki will be something to watch out for in the future.
-->