The Real Housewives of New York Luann de Lesseps Into Custody for Probation Violation; All the Details Here!
Published Fri May 24 2019 By Jessica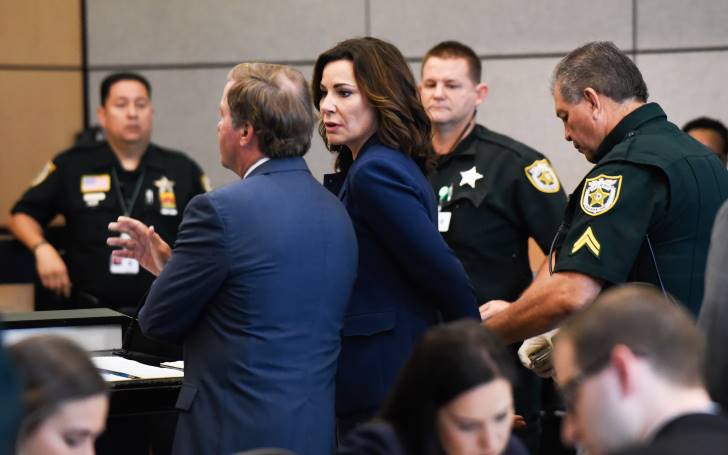 The Real Housewives of New York star Luann de Lesseps taken into custody for violating her probation period.
Police authority handcuffed disobedient reality tv star, Luann de Lesseps to take her inside the courtroom in Palm Beach Florida on Thursday.
The Real Housewives of New York star allegedly violated her probation period and was found with a presence of alcohol on her through a breathalyzer last month (21/04/2019) by the Florida police.
Recommended: George Clooney Thought He Would Die Following Motorcycle Crash: "I Was Waiting For Switch To Turn Off"
As the audience of the show recalls, the police first arrested Lesseps during the Christmas time in 2017 for trespassing over an occupied area drunkenly and threatening to kill one of the officers.
The Real Housewives of New York star Luann de Lesseps taken into custody for probation violation.
SOURCE: Daily Mail
The reality star was then put on probation after she pleaded guilty to avoid jail time and charges. Luann was then admitted to a rehab center for the second time.
Making her appearance at the court after eighteen months since her first encounter, the Bravolebrity agreed that she consumed two glasses of mimosas after performing in Chicago.
The 54 years old mother of two also failed to meet the guidelines of her probation after not being able to provide evidence that she was not in touch with her psychiatrist.
Also see:Jeannie Mai Reveals Sexual Abuse By A Family Member
Luann de Lesseps was supposed to contact her psychiatrist weekly for telephone counseling sessions and monthly for in-person sessions.
The celebrity, however, will not face jail time once again after she agreed to a plea deal but is required to pay her own transportation fees to Florida for the violation.
"The reports have not been accurate so I'm glad the judge was understanding after being made aware of the facts. I look forward to completing the last couple months of probation and getting this entire situation behind me and moving on with my life", said Lesseps to a news outlet.
Luann is now obliged to attend her treatment session weekly and also maintain a 'breathalyzer monitoring device' under the guidance of her probation officer.
Don't miss: Australian Actor Geoffrey Rush Wins Record $2.9m Defamation Payout
She is also ordered to take her alcoholism medication regularly as per the prescription of her doctors, according to the court documents.
Luann de Lesseps is a mother to daughter Victoria de Lesseps and son Noel de Lesseps.
-->