Rihanna Casually Revealed She's Been Residing In London For A Year And No One Seemed To Realize
Published Wed May 22 2019 By Jessica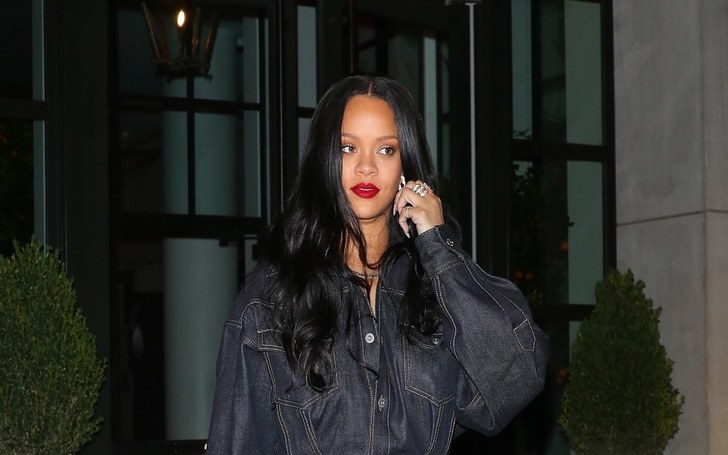 Fenty mogul Rihanna has been living in London for years without anyone noticing.
Pop singer Taylor Swift super secretively resided in London for nearly a year with her British actor boyfriend, Joe Alwyn and no one ever found one single evidence.
Rihanna, likewise, too has been residing in London for two years and no one seemed to have realized it until now. From New York to London, Rihanna revealed in an interview with The New York Times that she moved to the UK over a year ago.
Recommended: Listen Out 2019 Lineup Is Here And It's Bound To Be Epic!
Although some of the fans believe that Rihanna moved to London to get closer to her billionaire Saudi boyfriend, Hassan Jameel who she was recently spotted with flaunting her legs, the 'Umbrella' hitmaker, however, claimed she wanted to make her time flexible to Fenty company that manufactures their products in Italy and Paris.
British fans noticed a Sainsbury bag behind Rihanna who has been living in London for two years.
SOURCE: Rihanna IG
Speaking of what she loves about the capital of England, Rihanna says she enjoys 'walking around the block' further adding that she tries to keep her exploring a little 'incognito'.
The 21 years old beauty mogul then blatantly yet comfortably spilled she has been living in London for, in fact, two years whilst addressing her neighbors who never knew about it.
Just recently, Riri shared a picture on social media that included a shopping bag from Sainsbury in the background and the British fans went crazy to learn the news and hints.
Also see: Singer-Songwriter Margo Price Has A Message For Male Alabama Lawmakers
One of her excited fans wrote: "Rihanna lives in London?? I didn't know I was this close to the queen. I've breathed the same London air as her! oMg!"
Whilst another one said: "rihanna just been living in london for 2 years and getting away with it lmao"
A third one added: "even if rihanna lives in london she doesn't live near any of you poor people"
This one fan, however, sarcastically remarked over the news saying: ''Rihanna been living in London and you're acting all shocked like she was meant to call you to say shes here"
See some of the reactions from the fans below.
-->