Ryan Reynold's Oldest Daughter, James, Wants to Be an Actor, But He Has Second Thoughts about It
Published Mon Dec 16 2019 By Sea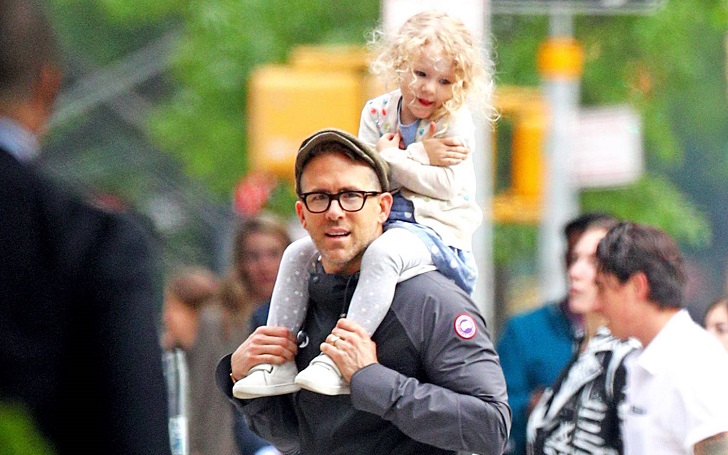 Ryan Reynolds told Jimmy Fallon his first-born, James, wants to be an actress one day, but he's not too thrilled about the idea.
It's fine, Ryan Reynolds. We'll be fine not knowing your new baby daughter's name for a while, because your oldest daughter, James, has given us a reason to be excited about your family.
In a promotional appearance for his new movie, '6 Underground', on 'The Tonight Show with Jimmy Fallon', he talked about how his oldest already has the acting bug despite his best efforts to keep his daughters out of the spotlight. While he is accepting of her decision, he mentions he tried to explain the showbiz is hard, especially for kids.
James (left) is already singing up the house as she wishes to be an actor when she grows up.
Source: Getty
Reynolds does have an excellent point as we've seen many child actors gone awry after not being able to handle the fame and recognition. But James is just 5. She, of course, wouldn't understand it now, but maybe time will.
"She wants to be an actor. Yep. I'm fine if she wants to be an actor. Go ahead. You know, in school, do after school stuff like that. That's all fine. Right now, it's every day is like a recital," he told host Jimmy Fallon. "I tried to explain to her, that's a huge burden on your nervous system. I mean, having to process all of that attention and information."
Watch: Ryan Reynolds Talks '6 Underground', Daughter James, Among Other Things
The 43-year-old continued, "And she just looked at me, like she didn't know what the f**k I was talking about, and I was like, what's cheaper and easier is let's just skip showbiz and enroll you right into cocaine. Because showbiz is not good for kids! I feel like we should know this by now, right?"
When Reynold's third daughter with wife and actress, Blake Lively, arrived on October 4 (as previously almost guessed), he did share the moment with the rest of the world. But he did cover the baby's face, not letting out even a smidge of her face. They've always expressed their intention to not let their daughters be seen around the public easily, and they fulfill it ever so obediently.
As for her name, he was pretty coy about it when talking about it with Hoda Kotb and Craig Melvin on the Today show Thursday. He left them guessing as he told them all the letters in the name would be silent. Maybe it's actually one of our guesses. Hey, Ryan, check them out first!!!
"We're gonna be original," he spoke of the name. "I want to give her something to push against in life." "Gonna"... There's probably still time for the name to be thought of. But it will be unusual, like his other daughters' names.
And one more thing. He did mention, "If I could have nine daughters, I would be thrilled," after their second daughter, Inez, (now three) was born. So, as a silver lining, he's not weird about having another daughter. But it does get harder for him to leave the house.
Stay tuned and connected to GlamourFame for more Entertainment content. Plus, we've covered their stories before. Be sure to check them out in the tag-links below.
-->