Sarah Hyland Doesn't Want To Hide How Her Body Has Changed Since Her Health Struggles
Published Wed Aug 14 2019 By Sea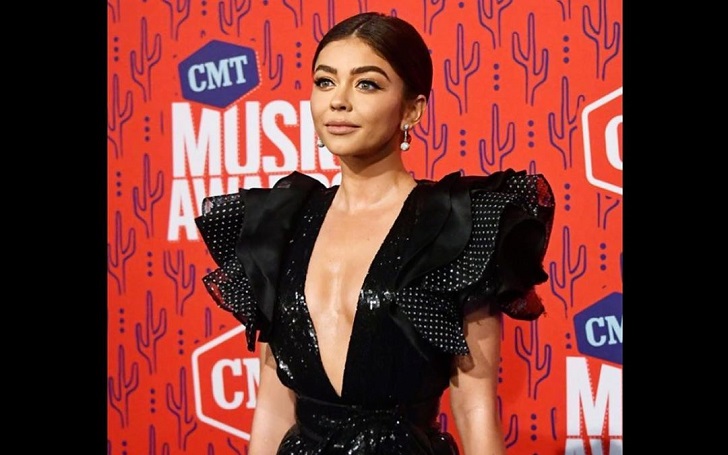 Sarah Hyland went to the Teen Choice Awards Sunday without a Spanx, showing her bulging stomach, and she is being praised for it.
People would often try to hide the shameful parts of their body once they undergo a difficult treatment but not Sarah Hyland. She performed 'Met at a Party' alongside Jordan McGraw at the Teen Choice Awards on August 11, and she didn't hide her bump with a shape-wear.
The 'Modern Family' actress took to Instagram to give tribute to her "ever changing self confidence" for the courage it gave her to decide on not wearing a Spanx and let her "KUPA (kidney upper pussy area) shine".
(Source: Sarah Hyland on Instagram)
Hyland is quite open recently about her health struggles that resulted from kidney dysplasia, a disease that is the result of organs not fully developing while in the utero and can cause chronic difficulties while filtering waste from the bloodstream.
The 28-year-old underwent two kidney transplants after her kidney failure in 2012. She received a kidney first from her father that year and the second time, she removed the transplanted one and got it from her brother in 2017. She also revealed how she was obsessed with skincare after the first transplant.
Watch: Sarah Hyland Lymphatic Roll-Our Routine
Hyland previously joked about how she wore two pairs of Spanx, for flattening the small bulge from her two transplants, to the Vanity Fair Oscars party in February. But from now, it seems she plans to ditch the idea of hiding the shame and proving to the world that she can be strong.
Hyland is opposite of being criticized this time as fans claim she looked 'amazing' and "bad-ass". When she opened up about her cousin's death in December and asked on Twitter to donate for the medical costs, she was back-lashed and then she quit using Twitter. But, she is not getting shouted down this time, and was praised for being stunning.
Wells Adams was her new fiancé who attended the award ceremony with her as they walked the red carpet after just three weeks of announcing their engagement.
(Source: Sarah Hyland on Instagram)
Adams is a significant support for Hyland ever since they got together in 2017. Hyland's engagement ring was on display as he rocked an all-denim look and she was in a pink dress.
-->