Some Facts to Know About the Former SNL Star Sasheer Zamata
Published Fri May 08 2020 By Eric
Desperate to know who the SNL star Sasheer Zamata is, let's find out.
The 34-years-old Sasheer Zamata Moore, known professionally as Sasheer Zamata, is an American actress and comedian who is renowned for her work in the late-night live television show, Saturday Night Live. Her work in SNL made her garner tons of applaud, which uplifted her career as a comedian and actress.
Except for Zamata work in SNL, she is also quite popular for several other movies and series. She is in the movie industry for over a decade now and is still on fire. Her grown popularity made many people curious to know more about her, which brought us to today's article.
So, if you are looking to get more insight on the former SNL actress, then keep on reading as we will shed some light on the personal and professional life of the beauty Sasheer Zamata.
Sasheer Zamata Named After the Star Trek, Alien Flower –Like Crystal
The fact might shock you guys, but the gorgeous actress Sasheer Zamata was born on May 6, 1986, in Okinawa, Japan. Indeed, she was welcomed by her parents in one of the cities in Japan. It was because of her father's profession who was in a military career.
Sasheer Zamata rose to prominence as a comedic actress.
Photo Source: Instagram of Sasheer Zamata
However, Zamata grew up in Indianapolis, Indiana, with her mother Ivory Steward and father, Henry Moore, who was a lieutenant colonel in the Air Force. There she graduated from Pike High School and subsequently completed her graduation with a Bachelor of Arts degree from the University of Virginia, as per People.
Click To Read: Who is Shelley Luther? Some Facts to Know About Texas Salon Owner
Both of her parents might be a huge fan of the series Star Trek; as per Zamata, they named her after the alien flower-like crystal called the "Sahsheer," which appeared in one of the episodes of the show.
She was the First-Ever Black Woman on SNL
The painfully beautiful actress Sasheer Zamata rose to prominence after she became part of the NBC show Saturday Night Live. She was brought in when the SNL went under fire for not having any black woman cast. After they hired Zamata, she became the first-ever black woman to make an appearance in the show.
Sasheer Zamata: Pizza Mind - Working at Disney World
Further, comedic star Zamata gain more recognition from her independent act, as a stand-up-comedian in Pizza Mind. Her work in the show was praised by many and uplifted her career in the entertainment industry.
Is Zamata Dating Anyone?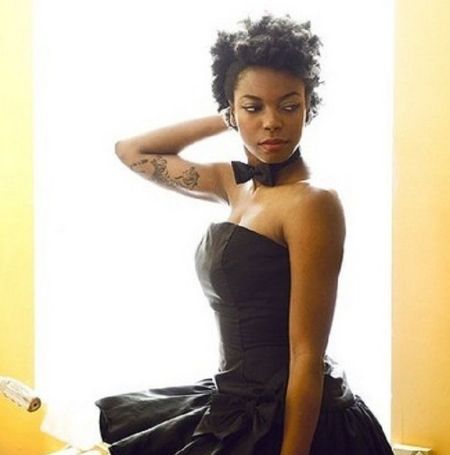 Zamata is gifted with exceptional beauty and talent.
Photo Source: Pinterest
There no question on how beautiful and gorgeous the actress Sasheer Zamata is? Her beauty and confidence give rise to jealousy in the hearts of many girls in this world.
Recommended: Zandy Reich and Lea Michele are Expecting
Further, Zamata is gifted with exceptional talent to make people laugh, plus she has an attractive body figure.
So, without any doubt, men want to be with her, and she might even have a lover. However, she is dedicated to her profession and rarely reflect anything related to her love life in the media. Due to that, we must say that Zamata is not dating anyone and is still single.
Sasheer is Best Friend with Nicole Byer
Except for Sasheer Zamata appearance in the SNL and Pizza Mind, she also managed to make positive impacts on her fans from her act in the TV series Pursuit of Sexiness.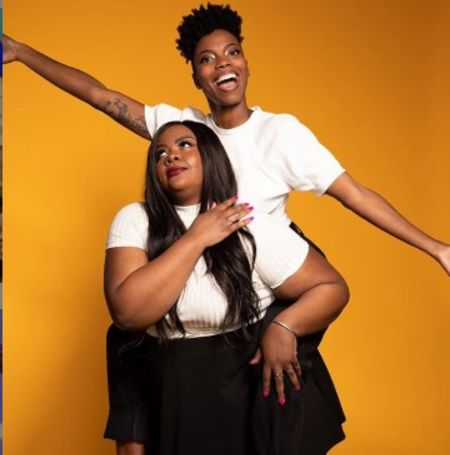 Sasheer and her best mate Nicole Byer met in the set of Pursuit of Sexiness.
Photo Source: Instagram of Nicole Byer
Besides fame, the former SNL actress Zamata from her presence in the drama Pursuit of Sexiness got herself a best friend. She met Nicole Byer, and since then, they share the tag of a best pal.
Also see: A Tour at Kylie Jenner's Arresting Wardrobe Collection & Fashion Trends
As both of the talented artists have so much in common, Zamata and Byer quickly got sync with each other. Further, the duo is also working for their future projects together.
For more updates on your favorite celebrities, visit Glamour Fame.
-->