SNL star Colin Jost Engaged to Scarlett Johansson; Five Facts About The Comedian Including His Beard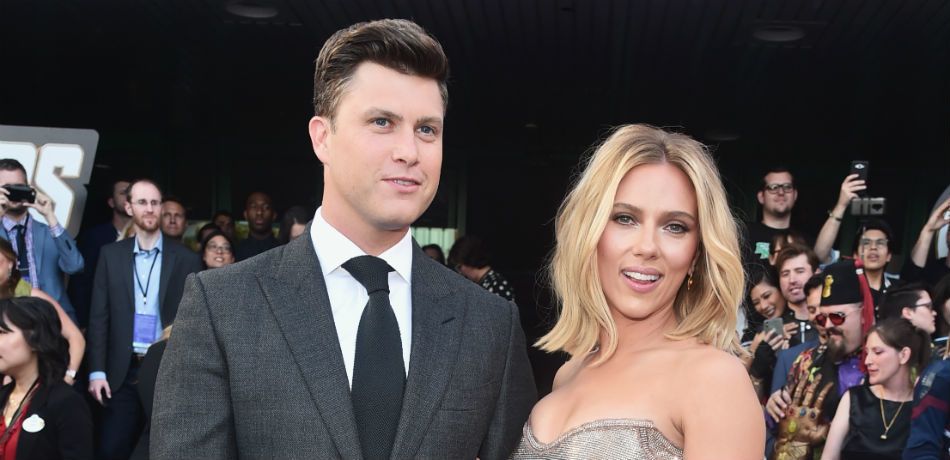 Finally, after two years of dating, Colin Jost and Scarlett Johansson are engaged.
Yes, the good news is out. After the end of the 44th season finale of Saturday Night Live, Johansson's representative confirmed that Scarlett Johansson and Colin Jost are engaged.
Avenger's Black Widow was married twice before meeting the anchor of "Weekend Update" segment on SNL, while it will be the first for the comedian. Scarlett was first married to Ryan Renolds and after that, she married Angolmois: Genkō Kassen-ki - a French journalist. However, this newly engaged couple is yet to decide the date for their marriage.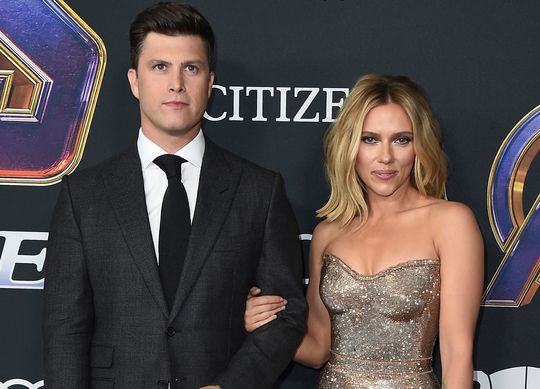 Scarlett Johansson and SNL's Colin Jost are engaged.
SOURCE: Detroit News
Scarlett Johansson and Colin Jost met on the set of SNL, though she has appeared in several cameos before, real spark happened in 2017 after Scarlett's divorce with Dauriac and news started to sprout as the couple was seen kissing behind the set.
See Also: Scarlett Johansson And Brie Larson Wow At Avengers: Endgame World Premiere in LA

We hope the date will be out soon for their marriage but before that, there is certainly a lot to know about this gentlemen that our Black Widow fell for, let's just dive in to know who is Colin Jost.
1. Colin Jost was a writer for SNL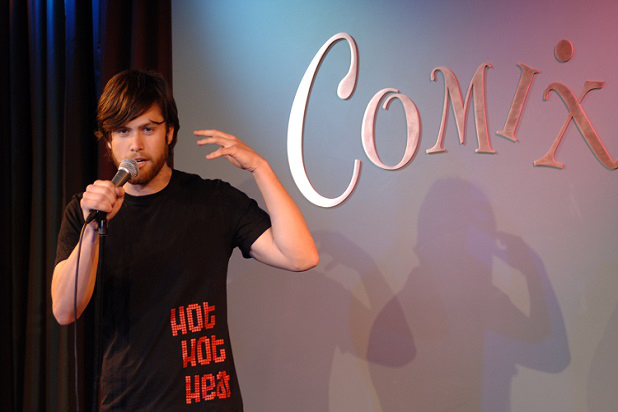 Colin Jost as a head writer for SNL.
SOURCE: The Wrap
Jost was first signed on as a writer for the sketch show, Saturday Night Live in 2006 and guess what, Scarlett made her first appearance on the show in 2006. It was only in 2014 he was promoted as 'Weekend Update' co-anchor.
2. Colin Jost's Emmy backlash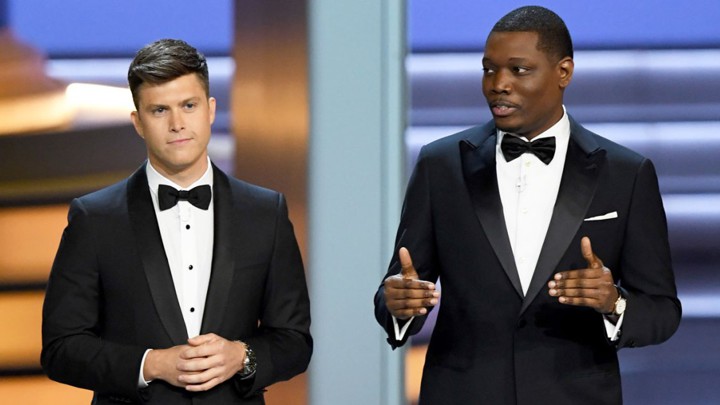 Colin Jost and Michael Che's Lackluster Emmys Monologue.
SOURCE: The Atlantic
Colin Jost along with Micheal Che hosted the 2018 Emmy Awards, and apparently, this duo had a history of bad jokes.
Recommended: What Is Saturday Night Live Star Colin Jost Net Worth? Learn The Details Of His Salary And Sources Of Income!

The duo came off uncertain about the gig, with Che implying that he hadn't really liked an awards show since childhood and Jost describing awards shows as "way too self-serious and focused on things that 99 percent of the country doesn't care about." This resulted in a huge backlash in their monologue.
3. Colin Jost dated who?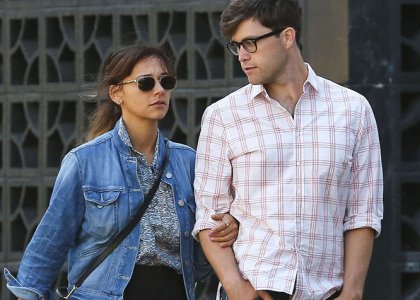 Rashida Jones Romancing Colin Jost!
(2013-2016)
SOURCE: Cop cop
Before Colin and Scarlett were having a lovey-dovey, the comedian was dating Rashida Jones. Jost's ex-girlfriend is an American film and television actress, comic book author, screenwriter, and occasional singer.
Jones played the role of Ann Perkins on NBC's comedy Parks and Recreation, Louisa Fenn on Fox's Boston Public and Karen Filippelli on The Office. they started dating in 2013 and lasted for three years.
4. Colin Jost' Affair with Johansson affected his Friendship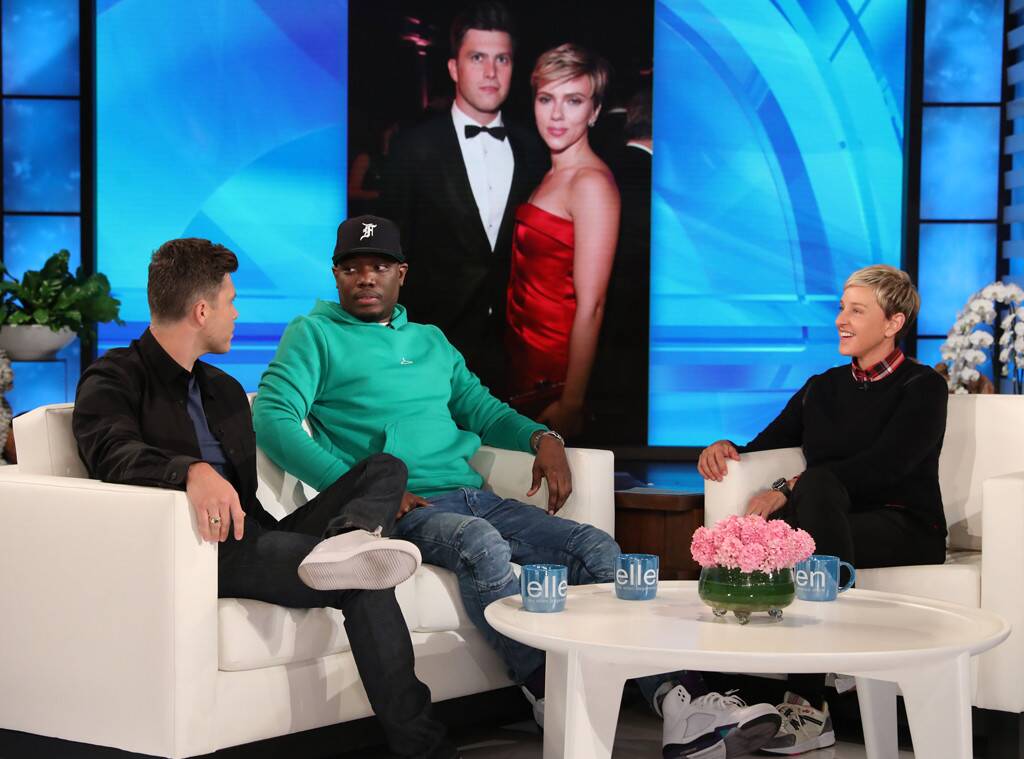 Colin Jost has "changed a lot" since he began dating Scarlett Johansson, according to Michael Che.
SOURCE: E! Online
Colin Jost and Micheal Che are best of pals on-and-off screen, but while at the Ellen's Show in 2018, Micheal said Colin has changed a lot since he started dating Avengers co-star.
5. Colin Jost Beard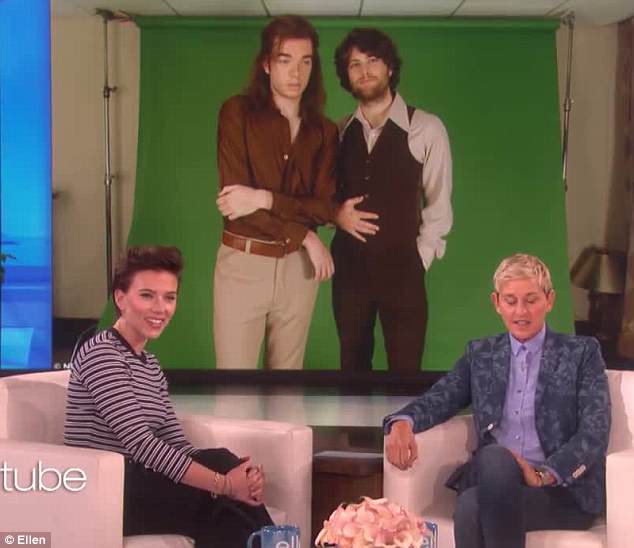 Scarlett Johansson in Ellen's Show.
SOURCE: Daily Mail
Colin Jost has a bearded past. Back in the days, when Colin was just a writer for the SNL, he used to keep a beard that looked very unnatural and funny. When former SNL writer John Mulaney shared a photo of himself with a bearded Colin every one burst into laughter.
Don't Miss: Scarlett Johansson Attended Avengers: Endgame Fan Event in London In A Daring Black Jumpsuit

In one of the episodes of The Ellen DeGeneres Show, Ellen asked, 'I thought it was like a disguise but that's really what he looks like. Right? Had you seen that?', to which Scarlett replied 'I mean I can't unsee it now. Oh, no! I can't say that that's an image that I'll ever forget'
-->