Top 5 Facts About Bill Skarsgard!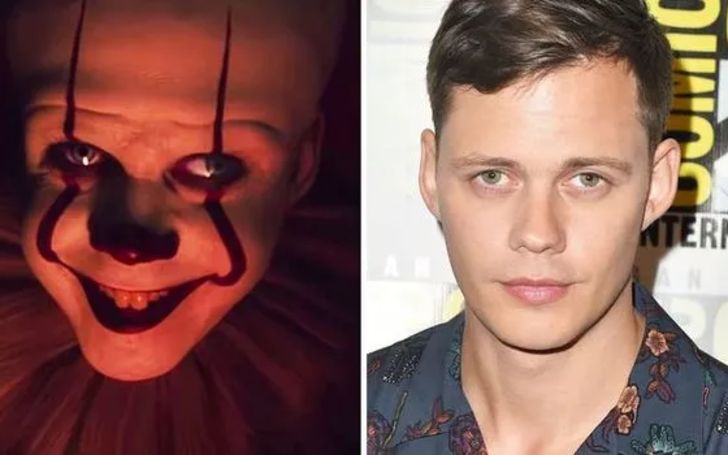 The trailer for the IT Chapter Two surfaced last week, and left fans amused at the sight of the comeback of Iconic villain returning again.
Bill Skarsgard who effusively played the role of Stephen King's iconic villain, Pennywise, said the process of playing such an unsettling character was hard to shake off.
The 28-year-old further said Pennywise would visit him in nightmares and would have to deal with the creature just as the characters do in the movie.
No doubt, the actor did the role justice and proved why he was selected for the sequel. Well, there's plenty to know more about this amazing actor, so without any further ado, let's dive into the facts.
5. Bill Skarsgard Hails From Acting Lineage
Bill Skarsgard comes from an acting family comprising his father, mother, and seven siblings. Bill is the son of acclaimed 'Mamma Mia!' actor, Stellan Skarsgard.
Also See: Top 5 Angourie Rice Movies!
Bill's older brother Alexander Skarsgard is also one of the acclaimed actors in Sweden best known for his role in the movie 'The Legend of Tarzan.'
4. Bill Skarsgard Debuted At The Age Of 10
Bill Skarsgard made his acting debut at the age of 10 in Swedish thriller 'White Water Fury' in 2000.
While young, Bill resisted turning into acting as the star feared he would be stigmatized and accused of riding on his father's fame.
3. Bill Skarsgard Debuted in Hollywood in 2012
Bill Skarsgard made his Hollywood debut in 2012; the actor successfully bagged a role of himself in Joe Wright's adaptation of Anna Karenina.
Read Also: Top 5 Moments From Black Mirror Season 5!
Bill fully invested in acting after graduating, and even put a hold on his plan to go on a dream vacation.
2. Bill Skarsgard To Reinvent Pennywise
Bill Skarsgard said he wants to give something new to the new generation; the actor said, "It's such an extreme character. Inhumane. It's beyond even a sociopath because he's not even human."
Bill, however, was not the first choice for the movie, the director of the film wanted to cast British actor Will Poulter. Good heavens, Will declined the cinema!
1. Bill Skarsgard Is Terrified Of Curry's Pennywise
Bill Skarsgard, in an interview, confessed about his fears and said he is terrified of Curry's version of Pennywise.
The actor said he still remembers IT being the scariest thing that existed for kids. Bill further added, although there were several other horror movies, IT was a frightening one because it was 'children and clown' thing!
Recommended: Top 5 Righteous Villains In Superhero Movies History!
The actor admitted the character took a toll his personal life, Bill said, ""After we wrapped, I was in my childhood home in Sweden, sitting having coffee with my mom at our kitchen table, and realized, 'Oh, holy sh—, I don't have to deal with this relationship anymore!' It was a rapid shift of just feeling better, like, 'Oh my God, I'm relieved that I don't have to deal with the darkness of the character."
-->