Top 5 Sasha Pieterse Movies!
Published Tue Aug 06 2019 By Travis
Sasha Pieterse made a name for herself playing in the hit show Pretty Little Liars for 160 episodes. The series lasted from 2010 to 2017 following four friends who come together after someone anonymously threatens to reveal their darkest secret. The show was a huge success, and Sasha Pieterse was a pivotal character for the show.
Born on 17 February 1996 in Johannesburg, Gauteng, South Africa, hard work was ingrained in her since a pretty young age by her parents Zizi Pieterse and Sean Pieterse who were both dancers. Her parents allowed her to become a strong independent woman, which was the reason why she was only 12 years old when Sarah auditioned for the role of Alison DiLaurentis.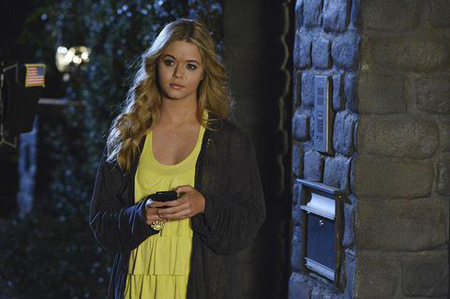 The actress cut her teeth while working in TV series but it was not the only thing she did. Sasha worked in various theatrical as well as TV movies, and we are today going to list the top five films of Sasha's career.
5. Coin Heist
People do desperate things during desperate times, and in coin heist, four people backed into a corner by the world come together to steal from the US Mint which no one's ever penetrated. A hacker, an athlete, a slacker, and a perfect student from a prep school, come together to steal from the US government, and things don't go exactly as planned. Sasha leads the team as 'Dakota Cunningham.' The movie premiered on Netflix. It wasn't a massive hit or anything, but still, she gave a magnificent performance.
4. The Adventures Of Sharkboy And Lavagirl In 3-D
'The Adventures of Sharkboy and Lavagirl' is not exactly a masterpiece of a movie because it is particularly geared towards a specific audience, especially people who loved 'Spy Kids', which isn't saying much. The film which came from Troublemaker Studios was the biggest movie Sasha ever played in with the movie's budget of $50 million. Sasha played Max's friend in the film, and she was also the Ice Princess who can freeze anything including time. The role was her first foray into movies and only her fourth acting job, but still, you can see the talent.
3. The Honor List
In this movie, Sasha portrays the role of 'Isabella Walker', who is among four friends who decide to cross some things off their bucket list. The film and its premise aren't exactly a new and fresh story, but the movie itself is a well-executed time-passer, which you can just turn on and laugh and enjoy. This is a feel-good movie, so just chill and play the film, and have fun.
2. G.B.F
This whole movie is a play on how films and TV series try to put in a gay person just so he can be the one who the ladies can share their feelings too. 'Tanner' is a highschool student who gets outed and becomes the 'Gay Best Friend' of three high school queens. The movie is 90 minutes of funny jokes laden drama with Sasha doing her best to channel some of the Pretty Little Liars magic into the role.
1. Geek Charming
Geek Charming was a TV movie from Disney channel starring another teenage TV star Sarah Hayland. In Geek Charming Sarah's character, 'Dylan' tries to win a popularity contest held at her school and to document her great life; she gets a classmate to film her popular lifestyle which slowly starts to decline. Sarah plays the ex-best friend of Dylan, and they do reconnect at the end like all Disney movies do, but their path is not as easy as other movies. The amount of future star power and an Okay story are coupled together to form a great film which you can enjoy any time of the day.
Also Read: Disney Channel Made History By Featuring Their First Gay Teen Couple In The Final Episode Of Andi Mack
Sasha was recently diagnosed with polycystic ovary syndrome, which was the cause of her weight gain, but she is not letting disease overpower her life. She recently finished a ten-episode season of Pretty Little Liars spinoff show on Freeform. The series is not yet renewed or canceled so expect to see a lot of Sasha Pieterse in the years to come.
-->