Vitaly Zdorovetskiy's Favorite 'Ignite ONE Rechargeable Vape Pen' Is A Perfect Choice For Newcomers As Well As Veteran Vapers
Published Sun Aug 25 2019 By Chester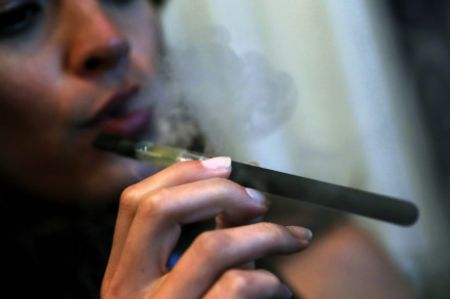 Vitaly Zdorovetskiy's 'Ignite ONE Rechargeable Vape Pen' is a must-have for newcomers and vapers.
The daring prankster Vitaly Zdorovetsky's recently showed off a trendy vape that all you vape lovers are definitely going to love. If you are updated with the 'Villane,' then you might have known him for the crazy and adult prank on his X-Rated website and YouTube channel VitalyzdTv.
The Russian born prankster often travels, parties and pulls off daring pranks but this time the brawny star shared a steamy clip of girl vaping on a club, writing "your girlfriend smokes @ignite." No, he's not talking about his daredevil sweetheart Kinsey Wolanski who invaded champions league final pitch but one of his 'girlfriends' he met in the club.
The stylish vape is one of the products from Ignite known as 'Ignite ONE rechargeable Vape Pen.' So if you are thinking to opt for one of these popular vapes in the market then check out the 'One' as we have brought you it's reviews and features.
Zdorovetskiy shared the product taking to his Insta story on Saturday, Aug 24.
SOURCE: Vitalyztv
The features of the product are mesmerizing and unlike any other typical vapes. So, we've brought you the highlights of 'Ignite One' which you will definitely love.
It comes in a lightweight and ergonomic design with special ceramic coating. Unlike any other vape products, it comes in a portable design with dimension 100mm x 15mm x 8mm.

SOURCE: Ignite
Coming to its performance part it contains 380 mAh battery, yes now you can vape all day without worrying about the battery draining.
The Ignite One is known for it's innovative and tech-forward design with unique anti-dry hit system. The product features anti-dry heating system, yes, unlike others you don't have to worry about the vape getting heated. You can even inhale CPD from it, but the ports are sold separately.
Vitaly often shares using CBD oil, after his workouts explaining the different benefits of it as it enhances focus, supports your mood, and encourage a stable and strong immune system.
Well, this is not the first time the 27-year-old star promoted his buddy Dan Bilzerian Ignite brand. Vitaly often shares product reviews of his paid partnership with the world's first super-premium Cannabis lifestyle brand 'Ignite' in his vlogs and pranks.
Dan the Co. Founder and Chairman of Ignite Cannabis kicked off the California launch of his super-premium cannabis, which features premium quality THC and CBD products. Probably the best one in the market.
So what are you guys waiting for? Go and grab one of Ignite ONE Rechargeable Vape Pen in your near store.
Stay tuned and connected to find updates to some of the best and trendy products like these stylish KO watches preferred your favorite media stars.
-->