Who is Olivia Colman's Husband? Get all the Details To Oscar Winner's Sweet Love Story with Ed Sinclair
Published Tue Feb 26 2019 By Jessica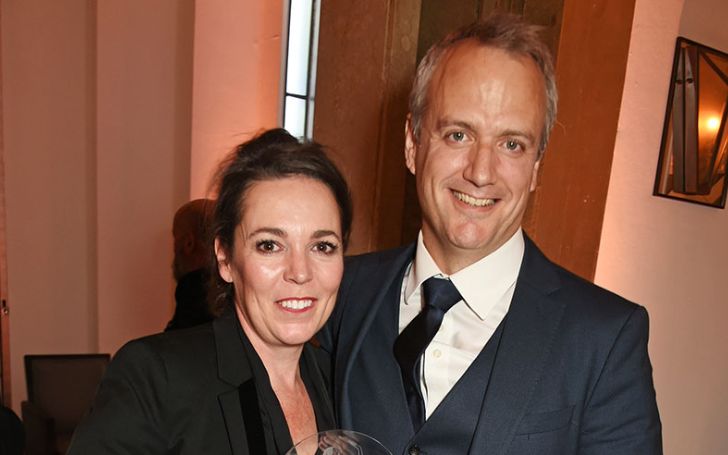 Know all the details of Oscars winning actress Olivia Colman's husband of 18 years, Ed Sinclair.
English actress Olivia Colman, a recipient of two Golden Globes, and four BAFTA Awards finally won her first Oscars Award in the category of 'Best Actress' for her work in 'The Favourite'.
The 45 years old star accepted her Award in a green custom-made Prada gown and gave her acceptance speech emotionally with tears sparkling on her eyes.
The 'Broadchurch' star who will be making her appearance in Netflix show, 'The Queen' reveals in her speech how much she loves her three kids, including two sons; 14 years Finn Sinclair, and 12 years, Hall Sinclair and her husband, She even thanked them for supporting her.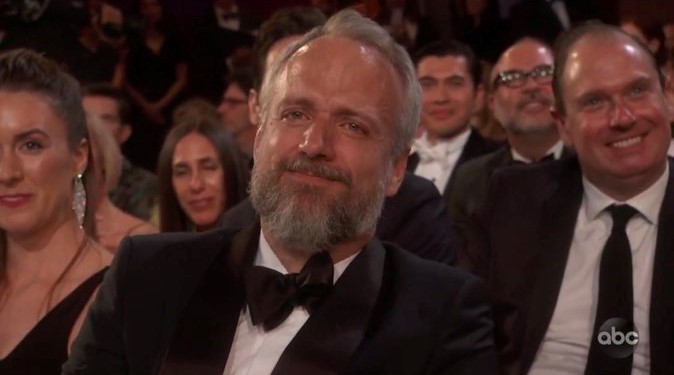 Olivia Colman husband Ed Sinclair at the Oscars 2019
SOURCE: ABC
Olivia has always kept her life simple. The actress is married to her husband of eighteen years, Ed Sinclair. Both Mr. and Mrs. Sinclair keeps their private life away from the limelight. However, there is some little information known about Coleman's husband.
You may also like: Irina Shayk Reacts to Bradley Cooper and Lady Gaga's "Shallow" Performance
The couple met when they starred in a production of Alan Ayckbourn's Table Manners at Cambridge University, both being members of the Footlights Dramatic Club. Olivia and Ed, in fact, studied at Cambridge alongside actor Robert Webb, Peter Serafinowicz, and David Mitchell.
Olivia states her love story with Ed is a bit of 'Love at first sight' thing. Right after the actress saw him, she believed he was the love of her life. Coleman admits she did fall in love with Ed at first sight
"When he walked into the room, I just went, 'That's him!' Mind you, I suppose if he hadn't wanted me, then I might have gone, 'That's him!' at someone else a week later."
Reminiscing the days when they first met, Olivia further told The Telegraph:
"My husband and I were very lucky. We met when we had nothing and we loved each other then. So we were all right. We were 20 and he was also an actor. If you meet at that age then you are fine."

"For me, it was thunderbolts straight away. I still feel like I'm punching above my weight."
The pair got married in 2001 after joining Bristol Old Vic drama school together.
Don't miss: Netflix's 'Roma' Wins Best Director and Two More Oscars But Best Picture Goes To 'Green Book'
Although Sinclair joined the uni as a law student, he later changed his mind after discovering his much interests in acting. As a matter of fact, Ed later turned his career from an actor to writer.
Sinclair has given his hands in various forms of writing including two unpublished novels, short stories, short film scripts, and poems.
In addition, his first screenplay includes a true crime drama series, Landscapers, but there are no new updates on the work yet.
In her recent career span, Coleman successfully showed her potential in the film industry and won several Awards from her hit TV shows including Peep Show and Broadchurch. The actress won BAFTA for portraying Ellie Miller in Broadchurch.
In spite of her huge accomplishment in Hollywood, the 'Hyde Park on Hudson' star always been open that she is still adapting her fame. In fact, Olivia finds it strange when people in public stares at her.
People also searched for: 91st Rendition of Oscars! All the Stars From Best Dressed To Worst!
Colman also opened up that she always puts her family over everything. As long as she has her husband and sons, there's no trouble in the world for her.
The actress and her partner Ed welcomed their third child, a daughter in 2015 whose name is yet to be disclosed publicly.
-->