Irina Shayk Reacts to Bradley Cooper and Lady Gaga's "Shallow" Performance
Published Mon Feb 25 2019 By Jessica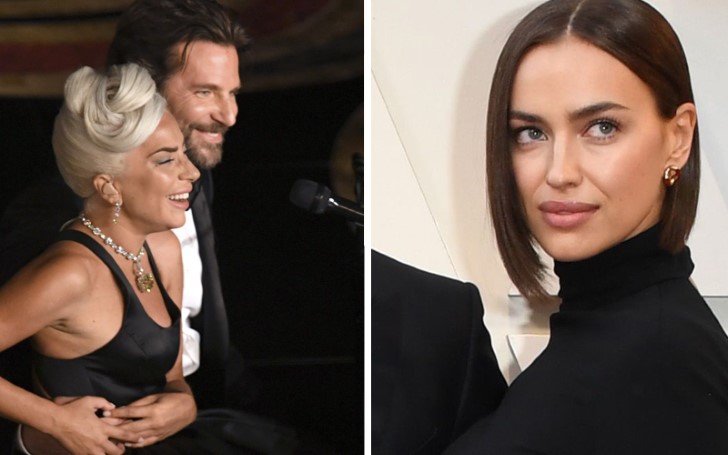 Bradley Cooper's girlfriend Irina Shayk reacts to Bradley's intimate 'Shallow' performance with Lady Gaga, and her reaction is unbelievable.
Actor Bradley Cooper and Lady Gaga gave an intimate performance at the Oscars 2019 stage. Well, how did Cooper's girlfriend Irina Shayk reacted to the whole situation as her boyfriend Cooper and Gaga intimately sang their hearts out?
Both the 'A Star is Born' actors stood up from their seats and reached the stage hand in hand. During their performance, the stars even got too close together as they sat on the piano bench. Hitting their last note to finish off the song, Cooper and Gaga stared into each other eyes with a big smile on their face.
Bradley Cooper, Irina Shayk, and Lady Gaga at the Oscars 2019
SOURCE: Blunt Gaga Twitter
As the duo gave their breathtaking performance, the whole world had their attention only on the pair. However, there was one person in the audience who caught how Shayk reacted as they finished.
You may also like: 91st Rendition of Oscars! All the Stars From Best Dressed To Worst!
Basically, the trio including Cooper, Gaga, and Shayk were all sat together on the front row of the venue. As Irina happened to be seated in between Cooper and Gaga, speculations started arising that there existed few tensions between the three.
In case you didn't know, everyone on the internet believes there's some sort of secret chemistry going on between the 'A Star is Born' actors.
However, after watching the model's reaction, it's definitely certain that she shut down all the alleged romance rumor between Cooper and Gaga.
Meanwhile, as soon as the singers finished their performance, the duo receives a massive standing ovation from the crowd. As a matter of fact, Shayk was the first one to get up from her seat and clap in her long sleeve back revealing gown.
See too: Jude Law To Tie The Knot with Long Term Girlfriend Philippia Coan With His Eldest Son Being Best Man
As Gaga comes back to her place after receiving the overwhelming response from the audience, both Gaga and Irina hugged in their front row seats.
So, there you go guys. The video shared on social media clearly proves Iraina who has been dating Bradley since 2015 is supportive of her man and his film's co-star. After all, Cooper and Gaga are just colleagues and really good friends.
As a matter of fact, when Gaga picked up her Oscar Award for winning the Best Song title for 'Shallow', she didn't forget to mention her co-actor and thank him in front of hundreds of audience.
Don't miss: Offset Seemingly References his Alleged Threesome in his New Song 'How Did I Get Here'
In her heartfelt Award acceptance speech, Gaga emotionally said:
"Bradley, there is not a single person on the planet that could've sang this song with me but you. Thank you for believing in us. Thank you so much"
To make things even better, 'A Star is Born' directed, produced and acted by Cooper himself scored seven Oscars nominations this year. Something, we are sure Irina is extremely really proud of.
-->