Who is 6ix9ine's Wife? Learn About His Married Life Here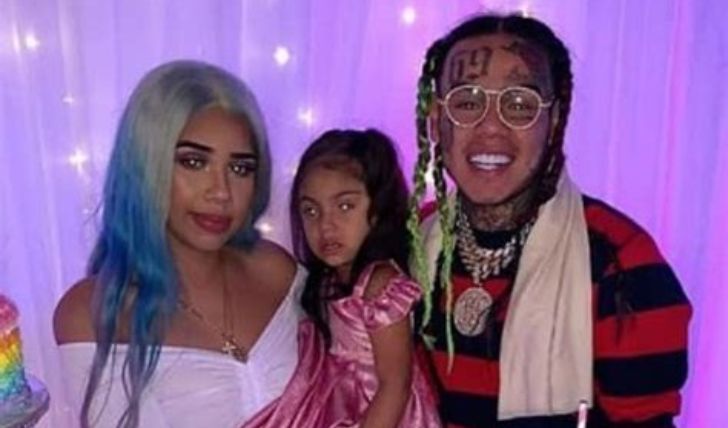 Inside 6ix9ine's Scandalous Love Life: Is the Rapper Married or Dating?
Daniel Hernandez is better known as Tekashi69 or 6ix9ine. Known for his aggressive songs and reckless demeanor, Tekashi69 has consistently maintained his spot in the news, but for all the wrong reasons. The Gummo rapper is labeled a snitch in the Hip Hop community as he co-operated with the federal agents in the Nine Trey Gangsta Bloods racketeering case.
Hernandez was born on May 8, 1996, in Bushwick, Brooklyn. The rapper's early life was marked by a broken family, poverty, and emotionally troubled environments that took a toll on him. After dropping out and doing many odd jobs, Hernandez started his rap career at 16. The rapper is a father of two daughters but isn't on good terms with his babys' mamas. Learn more ahead.
Who is 6ix9ine's Wife?
6ix9ine is not a married man, but he is in a relationship, that too, a controversial one. In 2019, before he was sentenced to two years in prison on nine charges, 6ix9ine was romantically linked with Jade, whose real name is Rachel Watley, an aspiring rapper and dancer.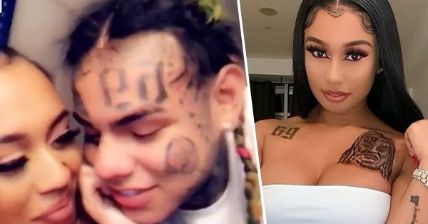 6ix9ine and Jade's relationship came to light when he gifted her a very expensive watch for her birthday. Soon after their romance became public, Jade tattooed Hernandez's face on her body and did her hair rainbow color to match her beau's persona. Jade has also made an appearance in 6ix9ine's Gooba mv.
Don't Miss: Who is Finola Hughes' Husband? Learn About Her Married Life Here.
The popular couple stuck together through 6ix9ine's incarceration. Jade also wrote 6ix9ine's judge a letter before his trial. "When I met Daniel Hernandez, he was nothing like how the internet portrayed him to be. He was the total opposite. He was exceptionally respectful, outgoing, very sweet, kind-hearted and a genuine person," read the letter.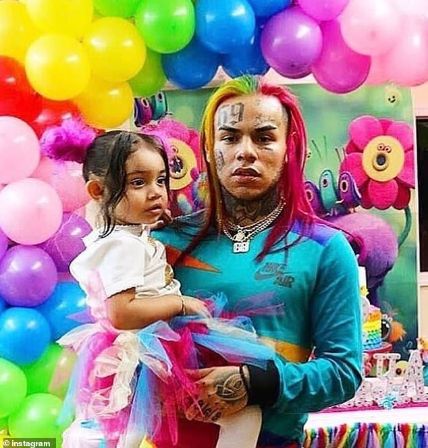 6ix9ine's girlfriend previously worked at a New York strip club along with her sister Baddie Gi. Days before Jade was linked with Hernandez, a headline hit read she had an altercation with Cardi B, who claimed Jade made a move on her beau, Offset. The dispute turned into a vicious fight, after which Cardi was arrested.
6ix9ine's Past Relationships! Was 6ix9ine married?
No, 6ix9ine was never married, so the rapper hasn't called any woman his wife. Despite his ongoing relationship with Jade, the Bebe singer's name is often linked with his ex Sara Molina.
Sara and 6ix9ine never wedded, but Molina did give birth to his daughter Saraiyah Hernandez. Sara and 6ix9ine met as teenagers. They were in a 7-years long relationship that involved domestic violence and infidelity.
6ix9ine's baby's mama calls him a deadbeat father.
Source: No Jumper
Molina has made a generous contribution to 6ix9ine's infamy. She recently accused the rapper of being an absent father. "My daughter has never been a priority for him at all whatsoever. My daughter gave people a glimpse at the humility he didn't have. He's not a changed person," Molina revealed in her recent interview with TMZ.
Recommended: Who is Rebecca Herbst's Husband? Learn About Her Married Life Too.
6ix9ine welcomed a second child with another woman!
While the tattooed artist, 6ix9ine, was serving his time in prison in 2019, a headline hit that said the rapper had another daughter. A woman named Marlayna M claimed Hernandez impregnated her with a child.
The Brooklyn-born rapper initially denied the claims, But in a recent video by Marlayna, 6ix9ine is seen taking a DNA test. She revealed the test found a 99.9% match between 6ix9ine and her daughter Briella Iris.
For more information and news on your favorite stars, stay connected to Glamour Fame.
-->