'90 Day Fiance: Happily Ever After?' Stars Nicole Nafziger And Ashley Martson Exchanged Insults On Instagram
Published Wed Apr 24 2019 By Jessica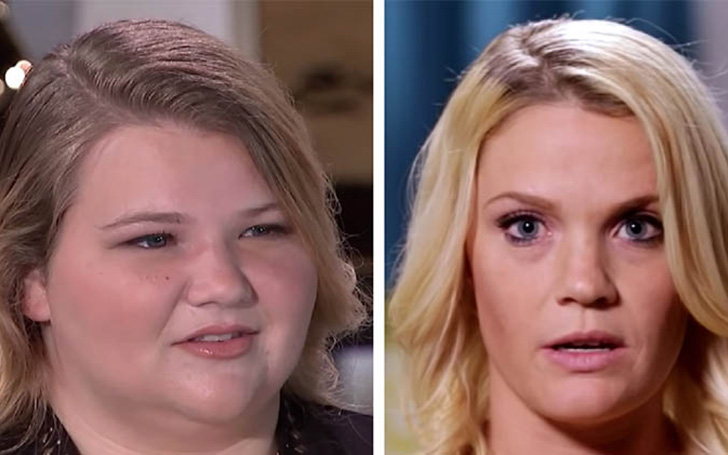 '90 Day Fiance: Happily Ever After?' stars Nicole Nafziger and Ashley Martson argues over their married life on Instagram like school teenage girls.
More drama ahead of the new season premiere of '90 Day Fiance: Happily Ever After?'
Things heated up between the reality show's stars Ashley Martson, 31, and Nicole Nafziger, 24, who recently called out each other on Instagram over their married life.
Well, it all started when just a few days earlier, 90 Day Fiance blogger John Yates shared a post on the latest scandal of the show where Martson accuses her husband Jay Smith of inappropriate behavior and threatens to divorce him.
Recommended: Josh Duggar Reportedly Sued For Fraud After Stealing Neighbor's Land
Ashley previously accused Jay of infidelity and claimed that he used her money and car to go to strip clubs. She also hoped that Jay will be deported back to Jamaica, Jay's native country.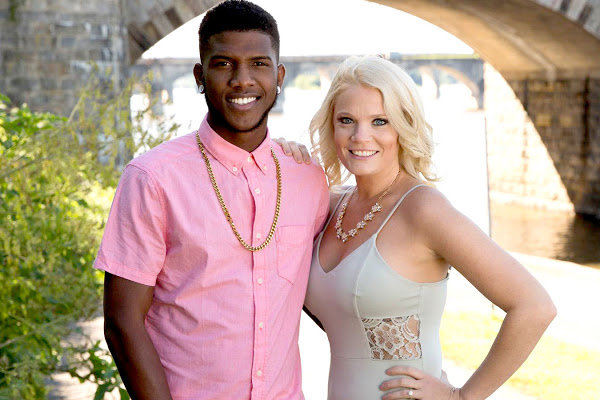 Ashley Martson and her husband Jay Smith.

SOURCE: US Weekly
In the comment section was a response from Nicole that read: "They aren't very good at keeping secrets before the season starts," followed by an eye-rolling emojis.
Absolutely mad at Nicole's comment, Ashley immediately fired back harshly with writing: "Maybe if your husband was around you would get sick of his sh-t and post out of frustration."
Ashley is cleared irked here as she continued to add more mean things to hurt Nicole by going more personal at her.
"This has nothing to do with the season that's about to air. You are the laughing joke of TLC, everyone knows he doesn't want you and that's why he keeps getting denied to come here. So don't even go there," said Martson.
Here, Ashley was implying to Nicole's long distanced fiance, Azan Tefou who lives across the overseas in his home country, Morocco where he runs his own small business.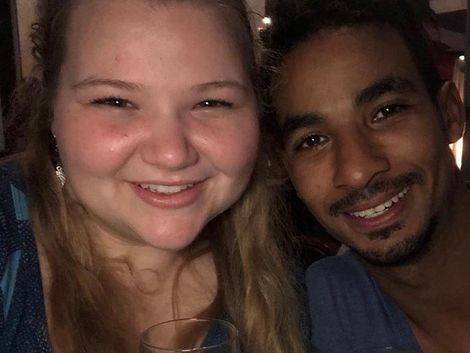 Nicole Nafziger clicks a selfie with fiance Azan Tefou.
SOURCE: Nicole Nafziger Instagram
Tefou and Nafziger have canceled their wedding several times throughout the season, and the viewers of the show are suspicious that Nicole's partner is only with her for his advances.
Luckily, both of the ladies recognized they went too far with the argument and asked for forgiveness as they both later deleted their mean comments.
Don't miss: Teen Mom's Kailyn Lowry Flaunted Her Figure In A Black Bikini
Ashley posted a series of videos on Instagram to apologize to Nicole. In the videos, she said: "If I've insulted anyone or hurt anybody or was mean to anybody for no reason that I apologize. I've just been going through a lot and I know it's not an excuse to act the way that I've acted or be mean. I apologized to Nicole."
"It's been a really rough week and I'm really sorry for anybody that I've hurt and offended. It's really not who I am and I don't know why I stooped to that level to act like that.
Further adding: "It's really not who I am and I don't know why I stooped to that level to act like that. So sorry to my fans, sorry to my haters and sorry to my cast members. That's all I can really say. I'm sure you guys hate me and that's fine because I deserve it. "
Ashley didn't stop there and went on to release another statement that said: "Guys I'm trying. I'm human. I wish I could say what's going on but I can't. When you all see the truth you may sympathize with me a little more. Please watch the show. In no way were my actions excusable but I hope it better explains why I acted like an idiot. My actions yesterday were wrong. I don't like to go after cast as we are all in the same boat. I didn't mean to hurt @alwayssnicole and I feel terrible for the mean things I said."
She also disclosed that she DM'ed Nicole on Instagram to sort out the situation between them. "She was not only kind enough to excepts my apology but she also helps me get through a devastating time. I lashed out because I'm so hurt and unhappy with my own life. Not because anything Nicole did. The pain I'm feeling is inconsolable and I just snapped on the wrong person over a comment. It was me and my own insecurities, anger and pain that caused it. Once again I'm sorry," added Ashley.
On the other side, Nicole too apologized admitting that she holds no hard feelings against Ashley and wishes the best for Jay and her marriage.
Also see: In A Surprising Turn Of Events Ryan Edwards Spent Easter With His Family!
'90 Day Fiance: Happily Ever After?' season 4 premieres on 28th April on TLC.
-->