Anne Hathaway Turned Down Hosting The Oscars
Published Sun Feb 03 2019 By Jessica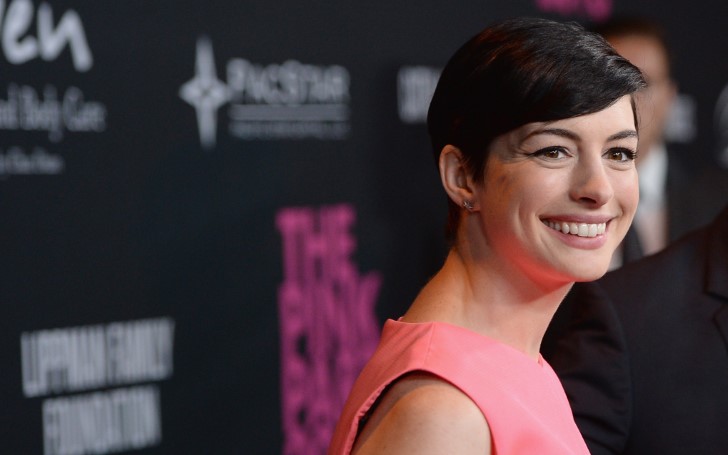 American actress Anne Hathaway initially turned down hosting the Oscars.
It appears that finding a willing host for the Oscars looks actually pretty hard. No wonder why the Oscars 2019 decided to kick off hostless, following the controversy of the comedian-actor Kevin Hart who stepped down from the job due to his historic homophobic tweets.
The reasons for it now also can be acknowledged as actress Anne Hathaway reveals why she initially turned down the offer to host one of the prestigious movie nights in 2011.
Anne Hathaway and James Franco as the 2011 Oscars host
SOURCE: Pinterest
Apparently, The Princess Diaries actress who hosted the 83rd Academy Awards with her co-presenter James Franco didn't accept the offer at first but only agreed to do so later after The Interview actor convinced her.
You may also like: Pete Davidson and Kate Beckinsale Pictured Holding Hands Fueling Romance Rumors
Both Hathaway and Franco' were generally criticized when they anchored the 2011 Academy Awards, with critics saying James held low energy, appearing less interested, which made Anne's enthusiasm appear annoyingly excited.
The 36 years old actress said to PEOPLE's editor-in-chief Jess Cagle in the freshest episode of The Jess Cagle Interview:
"He (James) didn't give me anything. God, I just remember the night before we're about to go up there, and me turning to everyone and going, 'Am I too much? This feels really big to me."
The mother to 2 years old Jonathan Rosebanks Shulman, admitted to feeling like she didn't get her pitch right long before the show telecast even went live. It was the producers that kept her going telling her she was doing a great job.
Don't miss: The Big Bang Theory Cast Gets Emotional as the Series' End Nears
To this day, Anne still wishes she listened to her first instinct and wonders if James set her up on a prank.
The star said:
"When all the dust settled, I was just like, 'You gotta be kidding me. Your first instinct is usually the right one.' And all the reasons why I turned it down came true. All of them"
The Ocean's 8 actress who is married to Adam Shulman continues:
"It's just a no-win situation. You're not trained at this, how is this going to enhance your life?
She further adds:
All of the reasons why. Even the people who do it spectacularly well — like Hugh Jackman, Jimmy Kimmel, Ellen DeGeneres — usually just get a 'meh' from everyone. It's a really hard gig to stick the landing on."
Furthermore, being concerned with not following her instinct, Hathaway reveals even if she hosted the night greatly, she still wouldn't be credited for it.
See more: Lady Gaga's Passionate Defense of Fellow Singer Kesha Revealed in Explosive New Court Documents
As a matter of fact, it appears the actress is still likely traumatized by her Oscars hosting incident.
When asked of her opinion about the Oscars going hostless this year, she answered:
"Sometimes it's better to go with no host than force something that's just not working."
Meanwhile, Anne recently confirmed to her fans that Princess Diaries 3 is officially in the works with actress Julie Andrews on board.
-->