Are Brad Pitt and Jennifer Aniston Planning To "Team Up on Movie Projects"?
Published Thu Mar 07 2019 By Tess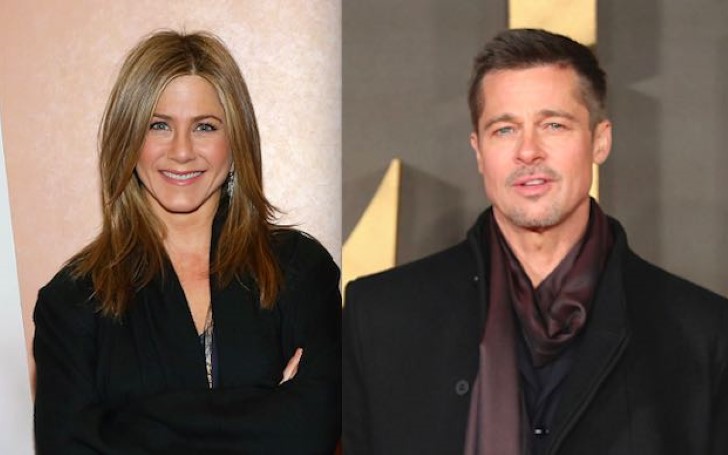 Are the parted lovers finding their way back to each other?
Recently rumors about Brad Pitt and Jennifer Aniston presumably teaming up for a new movie was surfaced. It, however, turned out to be a piece of fake news.
Earlier, NW primarily released a report claiming Pitt and Aniston who were married for five years before splitting in 2005, were to star alongside each other in a new movie.
As stated by the tabloid, they were also in the process of "bringing their love to the big screen." A so-called "source" tells the magazine, "Jen and Brad love the idea of them finally starring together in a movie," adding, "Back when they were married they used to pick each other's scripts and give each other pointers."
Additionally, the tabloid's supposed insider reveals Pitt and Aniston "have a bunch of old scripts in the archives which they'd planned to work on together, and now they're dusting off and looking at."
The recent assumption comes after similar reports by the same magazine in March 2017, where the often disproven website alleged Pitt and Aniston would do a movie together since it could "benefit their careers."
See more: Details on Brad Pitt and Jennifer Aniston's New Friendship
At the time, her rep assured Gossip Cop the claim was a "fabrication" and that "there are no projects that Jennifer is considering with Brad."
Don't miss: Jennifer Aniston is 'Very Happy' Brad Pitt Attended Her Birthday
While the false narrative is concerned towards the impossible reunion, both actors are busy with several projects which don't involve each other.
Also see: Is Angelina Jolie Trying To Steal Brad Pitt Back From Charlize Theron?
Aniston will soon be co-starring with Adam Sandler in the Netflix comedy Murder Mystery, while Pitt is set to begin shooting Quentin Tarantino's new movie, Once Upon A Time In Hollywood, after which he's expected to start production on the sequel to World War Z.
-->