Check Out Hailey Baldwin Debuting French Manicures 2019 With This Twist!
Published Tue Jul 30 2019 By Jasmine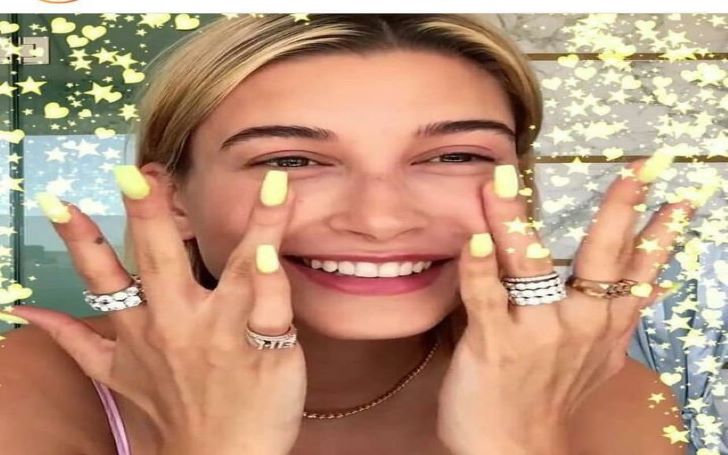 Hailey Baldwin is debuting a set of French manicures for 2019 with a twist.
Hailey Baldwin is hitting the headlines slowly, but she's making sure she hits it hard. She seems to be turning her career routes from modeling towards the beauty and cosmetic industry, and it's turning all heads towards her!
Hailey Baldwin just decided to promote the new Kardashian trend. The most recent con-french manicure is slowly but surely making its way straight into our hearts thanks to celebrities like Khloé Kardashian and now Hailey.
Hailey just debuted her version of nail art in her Instagram story with her friend. Baldwin decided to get her nails done using a beige base and neon green ideas. Similarly, her friend picked a pale pink hue for her nails.
Also Read: Selena Gomez & Hailey Baldwin Wore The Same Sweater, Who Wore It Better?
Hailey's latest manicure is painted by the prominent nail artist Britney Tokyo. He combines the throwback style of the 80s with 2019's largest color trend: neon. Stars like Rihanna and Billie Eilish have particularly been using and enjoying the green assortment of the neon trend. Similarly, other stars such as Kylie Jenner are enjoying testing a large range of colors.
The growth of Manicure trend and cosmetic industry definitely ensures that Hailey's new business will be a massive success. However, besides french manicure, Hailey is also creating headlines for a different kind of rumor, and this time, the story includes the possibility of a baby Bieber.
Recommended: Kylie Jenner Wears Rene Caovilla Galaxia Sandals of $1,640 With Black Trench Coat
Over the weekend, Baldwin, commented on a photo of Kylie Jenner's daughter Stormi Webster, stating the pic gave her "baby fever." Consequently, the rumors about Justin Bieber and Hailey Baldwin, possibly planning a child started to rise. Even though Hailey later denied the rumors, fans are still suspicious and hopeful to meet the couple's children in the near future.
-->