Is Game Of Thrones' Melisandre Actress Carice Van Houten In A Relationship? Who is Her Boyfriend? Does She Share A Baby?
Published Fri May 10 2019 By Jessica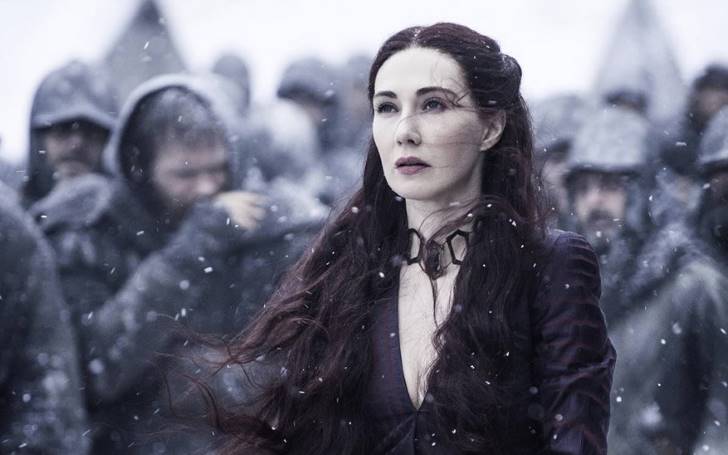 Find out all the personal detail information about Carice Van Houten who is mostly recognized for portraying Melisandra in Game of Thrones.
Netherland-based, Dutch actress, Carice Van Houten, born on 5th September 1976, is famous among Game of Thrones fans for her magnificent performance as Melisandre.
Since her early days, Houten always knew she was going to become an actress. She even went to acting school and graduated from St. Bonifatiuscollege where she played a lead character in Tijl Eulenspiegel.
With her mother, Margje Stasse, who works as one of the officials for Dutch educational TV and her late father Theodore van Houten who professionally was a broadcaster and writer, Houten had easy access to her acting career trail. But that doesn't mean she didn't have to struggle at all.
Recommended: Who Is Game Of Thrones' Ser Davos Actor Liam Cunningham's Wife? Details Of His Married Life And Children!
After giving her exquisite performance in multiple tv series, Carice Van Houten, who is also a singer received her first big-screen role in 1999 for a Dutch film called Suzy Q, where she portrayed the lead character of Suzy.
Suzy Q, which made Carice earn several Awards including Golden Calf definitely played a major part in her career breakthrough. She then later appeared in multiple other huge productions like Undercover Kitty, Black Boots, Valkyrie, The Happy Housewife, and Black Butterflies.
Unquestionably, Carice Van Houten's professional life can be acknowledged as a success, but what about her personal life? Is Carice successful in her personal life too? Is she married? Does she share any children?
Is Carice Van Houten Married?
Carice Van Houten spotted with boyfriend Guy Pearce and their child Monte Pearce.

SOURCE: Daily Mail
After enduring multiple long term failed relationships, Carice is currently in a committed relationship with her boyfriend, Guy Pearce, an Australian actor. Carice Van Houten and Guy Pearce are not married, not yet.
Carice and Guy started dating since 2015 and has been together for more than three years. Pearce met Carice on the set of the Brimstone where her GOT's co-star Kit Harrington (Jon Snow) played a part too.
At the meantime, Pearce had just divorced his former wife, Kate Mestitz, and was bottled with suicidal thoughts, something Carice helped him overcome. And shortly after dating for a year, Kate and Pearce welcomed their first child, Monte Pearce, in 2016.
Don't miss: Is Game Of Thrones' Grey Worm Actor Jacob Anderson Married? Who is His Wife? Does He Share Any Children?
Carice Van Houten Past Relationship and Affairs
Carice Van Houten pictured with her ex-boyfriend Sebastian Koch at an event.
SOURCE: Zimbio
Before this beautiful woman met Guy Pearce, she was in a relationship with several other men. But, alas her previous relationships were not meant to last.
Carice dated Sebastian Koch who she co-starred in Black Book and eventually fell in love on the film set in 2005. The two dated for approximately five years until their romance ended in March 2010.
Carice Van Houten with film director ex-boyfriend, Kees Van Nieukerk.

SOURCE: Parool
Following the brutal break up with Koch whom she was with for five solid years, Houten stayed off the dating life for the next three years. But that changed in 2013 when she encountered Kees Van Nieukerk, a film director.
Also see: Who Is Game Of Thrones' Missandei Actress Nathalie Emmanuel's Boyfriend? Learn The Details Of Her Relationship And Dating History!
Unfortunately, Carice relationship with Kees couldn't last either. Carice and Kees split in 2015 before she found her way to Pearce.
Carice Van Houten is next up for Domino which releases later this month on 31st May.
-->