Geri Horner Admits She Wants To Have Sex With Mel B
Published Wed Mar 27 2019 By Chester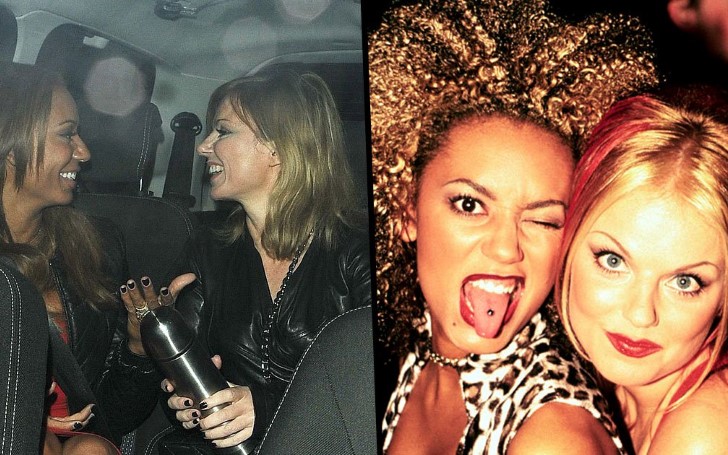 Spice Girls' Mel B and Geri Horner admit their decade long LGBT relationship and intercourse during Spice Girls era.
Going back to the era where Spice girls slew everyone with their astonishing music and undeniable glamour, the girls joined a show called 'everything you ever wanted to know' about spice girls by MTV back in 1997 where they were asked some playful question by fans and admirers.
Interestingly, a fan pulled out a fascinating question for all the girls - MelB, MelC, Geri Halliwell, Victoria Beckham, and Emma Bunton.
Geri was the first to be asked for the question and her question was:
'If you were one of the millions of fans pawning over the Spice Girls, who would be your favorite and why?'
The pop star, however, replied with an intellectual answer by choosing each spice girls with their highlighting feature saying:
'Oh, I don't know. Different bits would be my favorite, I suppose I would like Victoria's legs, I'd like Mel C's physicality. She continued: 'I'd probably want to marry Emma and sh*g Mel B.'
The controversies started soon as Halliwell furthermore added:
'Mel B is good… because she's a top – are you allowed to say sh*g on MTV?'
Check out the exclusive video back from MTV's spice weekend (1997) down below:
Soon as the episode aired, the Spice Girl fans started prophesying that there was something going on between the two and their secret affairs.
Find out:Mel B Reveals Fellow Spice Girl Geri Halliwell was Both Real-Life Friend and Lover
Taking a brave stand Melanie Janine Brown, better known as Mel B cleared all their 25-years-long intimacy rumors with Spice Girls bandmate Geri Horner (Ginger Spice) on a television show.
The 43-years-old star shared about her longtime rumors with Geri Hornor regarding their offscreen LGBT relation during Piers Morgan's new ITV show "Life Stories".
During the interview Piers seriously asks Mel,
"Did you or didn't you sleep with Geri Halliwell... Did you sleep with her?"
Firstly the 43-years-old singer twists the question stating "Yeah. We all slept in a bed together, but not like that, all of us."
But Piers doesn't stop there, he continues to insist, then finally Mel replies nodding her head and smiling 'She's going to hate me for this because she's all posh in her country house with her husband.'
Also, Read:Megan Barton-Hanson Didn't Hold Back as She Provides Savage Response When Asked About Wes Nelson
However, during a podcast by Australian radio, amid the recent interview, the X-Factor judge said: 'I didn't actually really admit anything, I just admitted, you know, we had a bit of a thing back then and that's it.
"Scary Spice" added that 'I don't mind boobs but the other bit is not my cup of tea, I didn't like the lesbian thing. It is part of experimenting. I was drunk at the time. I could never ever say who it was, I don't think she was a lesbian either, I'm going to leave the rest to your imagination.'
Brown opens up about the situation saying it as a thing that happened once stating:
'It wasn't like a big deal, we've known each other 20 plus years, it was just one thing that happened one night. I didn't go into detail about it, at all.
So, our very own spicy star Mel B cleared all her years-long accusation.
Recommended:Justin Bieber Makes an Emotional Revelation About His Future
It has definitely made many fans dazed but it is what it is. B confidently confessed the accusation with a mesmerizing smile. So what do you think guys, was she just teasing us with her beautiful smile or is that a real thing?
-->