The Insane Feud Between 50 Cent And Lala Kent Explodes On Instagram!
Published Wed May 01 2019 By Chester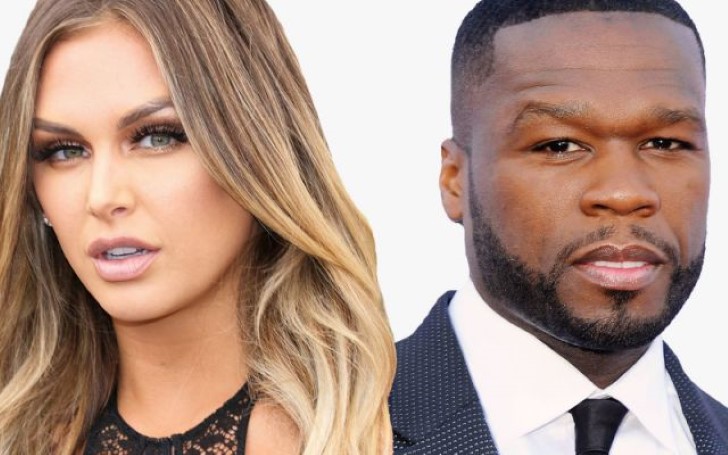 The ongoing hyped feud between 50 Cent and actress Lala Kent explodes on social media with shreds of evidence from rapper 50.
During the ongoing Hype of battles of Avengers: Endgame and Game of Thrones 'battle of the Winterfell', the media is currently trending with the battle between rapper Curtis James professionally '50 cents' and Vanderpump Rules star Lala Kent.
However, in this case, superstar '50 Cent' and Lala Kent soon to start feud was furiously awaited by the millions of Instagram followers on Saturday.
Rapper 50 cents claims Randall owns him $1 million.
Source: THG
The battle started to heat up on Friday night soon as 50 Cent trolled by posting a clip from the famous television drama Vanderpump Rules cast Lala focusing the part where she discusses her ongoing problems with her fiance Rendall Emmett started their relationship.
Check out: Riverdale's KJ Apa Talks About How The Show Will Handle The Tragic Passing Of Luke Perry
Well, Rendall is a film and television producer who seemed to find no trouble finding her love for Lala's heart.
Rendall and Lala got engaged back in September 2018.
SOURCE: THG
"Rand saw me and sent his assistant up to ask me if I was an actress. "I told him to go to my Instagram account," Lala summons to Stassi Schroeder in the scene.
"The next day — I get a phone call that says you have an audition," Kent continues.
"I let him hit it the first night, and we were inseparable. He would just send me, like, really expensive gifts. The first night we banged, I got a car the next day. He was like, 'Do you want a Range Rover?' I was like, 'Yeah.'"
Find out: Vanderpump Rules: Jax Taylor SLAMS Producers For Making Him Look Like a Jerk!
However, 50 sarcastically commented writing #MeToo theme, Cent asked in the caption,
"Hey, how is the Range Rover?"

"There's no difference between Harvey Weinstein and Randel Emmett! This is a reality, not reality TV. Bravo b*tch @bravo."
The feud heated up in a bizarre manner when 'In the Club' singer started sharing text messages with Emmett and later apologized.'
Conversation between rapper 50 Cent and producer Rendall Emmett.
SOURCE: THG
The feud started because Emmett owned 50 a lot of cents, as she loaned $1 million and when James asked it back from her fiance Rendall.
Must see: Is Lisa Vanderpump Getting Another Spin-Off Amid News She Is Leaving RHOBH?
The tragic incident shocked the 48-years-old producer as he is reported that he was hospitalized for symptoms related to cardio attacks.
So many of you might be wondering whether the two are friends or not? Well, recently on Monday, the 'Candy Shop' singer tweeted that among millions of his fans writing "I got my money, so I have no problem with Randall Emmett, in fact, I'm wishing him and his family a very blessed day. positive vibes now guys. LOL."
Recommended: Lisa Vanderpump and Kyle Richards Feud Doesn't Stop 'RHOBH' Premiere Party
Whereas now all the tweets and post from Instagram and social media has been removed. It has even left fans with conspiracies like a scripted click-bait trick. Well, who knows what's really behind those tabloids and magazines.
-->