Jenelle Evans Disabled Comments on Controversial Ensley Picture On Instagram
Published Thu Aug 01 2019 By Chester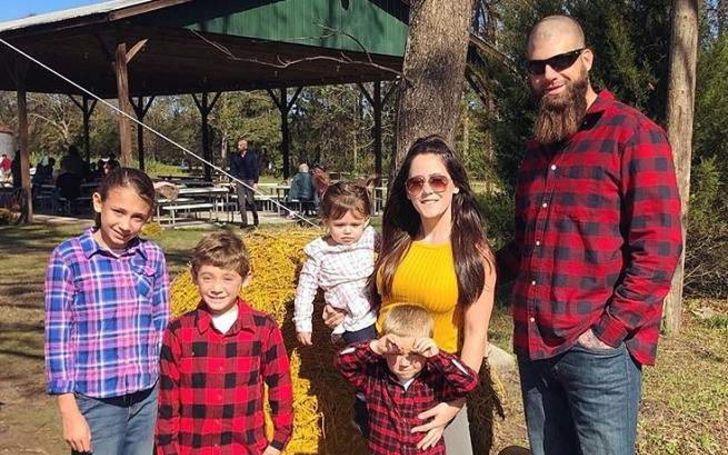 Jenelle Evans disables comments on her recent Instagram upload of daughter Ensley and husband, David Eason.
Jenelle Evans' recent Insta snap shows her husband David Eason posing with their 2-year-old daughter Ensley and son Kaiser in the background.
The picture shared on Tuesday, July 30, with a caption that reads "So proud of her chickens," adding 'a pink heart emoji, a little girl emoji, and the hashtag, #LittleMama' shortly drew lots of backlash and disturbing comments.
Some of you might be wondering, why did the mother-of-three had to face such criticisms that made her disable comments on her husband and kids photo from Instagram?
Let us give you a little throwback to clear the fog and update you with the recent family drama. To begin with, Jenelle, 27, and Eason, 31, recently gained the custody of their children back after David allegedly killed their bulldog "Nugget."
Why Is Jenelle Evans Sticking With David Eason Despite His Psychopathic Behavior? >>>
Coming back to the snap, check out some of the criticisms the picture tugged shortly after the upload,
An Instagram user commented on Tuesday, referring to Eason's shooting and killing the French Bulldog.
"Hope they don't nip her in the face"
Another viewer wrote
"My heart hurts for your kids man [heartbreak emoji]",
Another writes,
"Please god keep him away from animals".
At present, former Teen Mom 2 star's trying hard to fix all the wires that tangled over the past months.
Firstly, petting a new dog to show that Eason's all changed; now a caring daddy and finally daughter's snap.
We sure do admit the past months had been miserable to the entire family; starting with Jenelle fired from famous MTV show Teen Mom 2 due to David's psychotic behavior that even made them loose the custody of their children.
Hope David now realizes all his past mistakes and accounting that turned himself to a better person.
Jenelle Evans Is Speaking Out About Her Health Problems Again While Fans Remain Skeptic! >>>
Stay tuned and connected to find updates on the news.
-->