Jessica Canseco Responds To Accusations Made By Her Ex Jose of Sleeping with Jennifer Lopez's Fiance Alex Rodriguez
Published Thu Mar 14 2019 By Jessica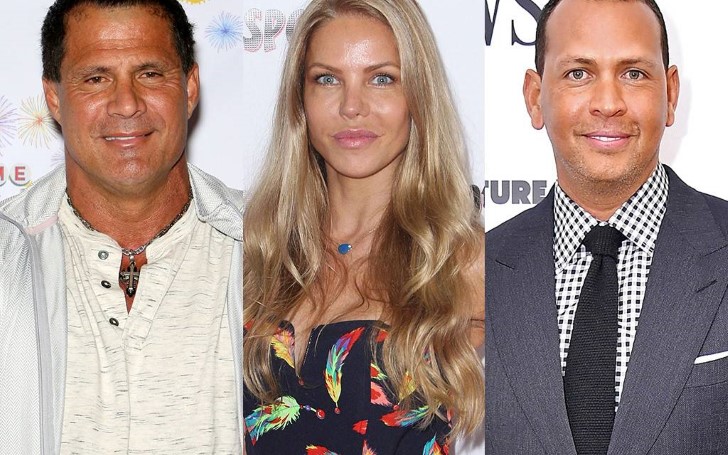 Jessica Canseco answers to her ex Jose Canseco's allegation of her affair with Jennifer Lopez's fiance Alex Rodriguez.
Earlier this week, Jose Canseco publicly made an allegation on Alex Rodriguez of cheating on his fiancee Jennifer Lopez, with her former spouse Jessica Canseco.
Canseco took to his Twitter account to accuse his former New York Yankees teammate, writing:
"Watching World of Dance watching J.Lo text Alex Rodriguez little does she know that he is cheating on her with my ex-wife Jessica poor girl she has no idea who he really is,"
His series of tweets accusing A-Rod continued reading he was there when Rodriguez called Jessica on her phone. He added:
"Alex Rodriguez stop being a piece of shit stop cheating on Jennifer Lopez, Alex Rodriguez I challenge you to a boxing match or an MMA match anytime you want."
The newly engaged couple is still silent on the allegation. Jose's former wife, however, finally replied on Tuesday afternoon to respond to the accusation made by her one-time husband.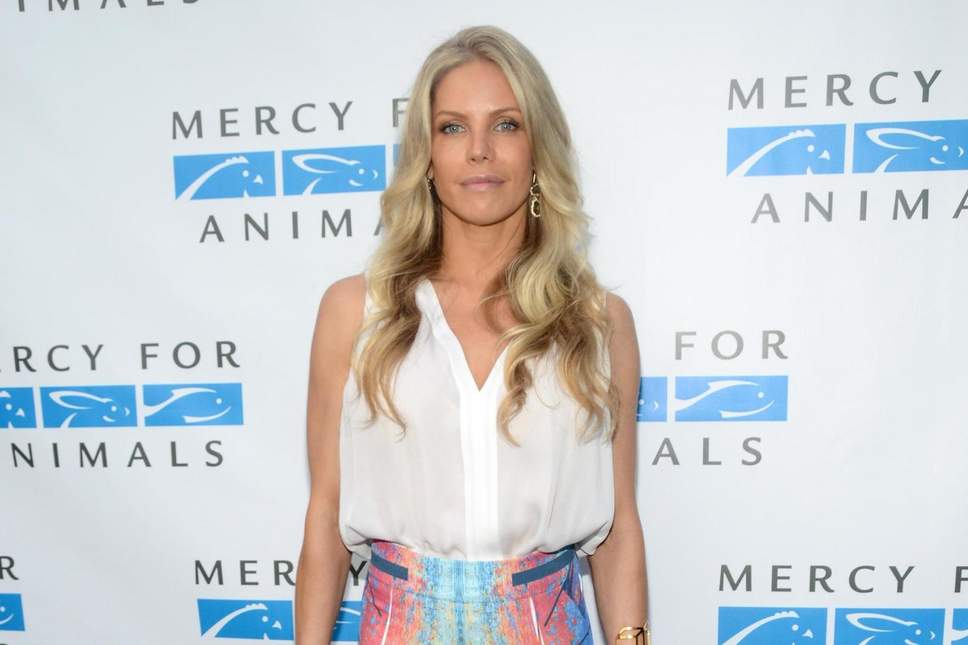 Jessica Canseco denies the cheating allegation with Alex Rodriguez.
SOURCE: Evening Standard
Denying all the allegation, Jessica ranted on her Twitter account further claiming she has not seen Alex in over five years.
See more: Hugh Jackman Set To Lead Broadway Revival of 'The Music Man'
As a matter of fact, according to her tweets, she had no clue about the whole thing going on that she had to download the Twitter app- which she rarely ever use to defend herself.
In her words, the 46 years old author said:
"Those false accusations Jose is making are not true! I have known Alex for many years and haven't even seen him for over 5. I certainly did not sleep with him."
Assuring her thirty-one thousand followers that she and the newly engaged couple are friends, her tweets continued reading:
"I am friendly with both him and Jennifer. As for Jose he can keep playing with his Alien friends"
Jessica wasn't done with her statements yet, she added again:
"In fact I don't even get on twitter had to download app again and don't watch tv and had no idea any of this was going on. Last time I saw Alex he was with Torrie and I brought my boyfriend over for dinner. We are just friends my god"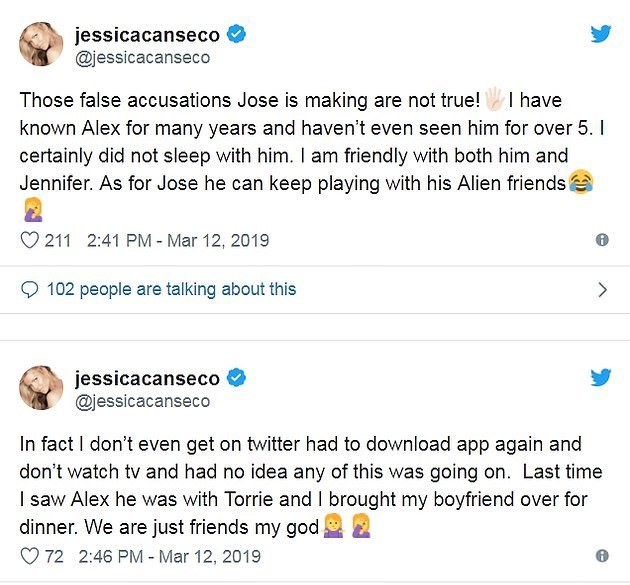 SOURCE: Jessica Canseco Twitter
Soon after Jessica dropped off her tweets, Jose came online to discuss on the matter furthermore. The 54 years old in fact insisted his ex-wife and Alex should take a polygraph test to prove they are not lying.
Jose' tweets read:
"Jessica you're calling me a liar you just forced me to defend myself and tell the truth here comes the biggest story ever about Alex Rodriguez and yourself the truth hurts do not turn away or hide from a polygraph"
The former Major League Baseball player continued his tweets suggesting Alex a physical "face to face" challenge. He added:
"Jennifer Lopez I hear you're a very good person I am sorry you are caught up in the middle of this but the truth has to be told"

"Remember when you told me you were man's man Alex show me now how much of a man you really are face the truth face a polygraph"

"Alex since you are a man's man why don't you contact me and we'll talk about it face-to-face you know how to reach me"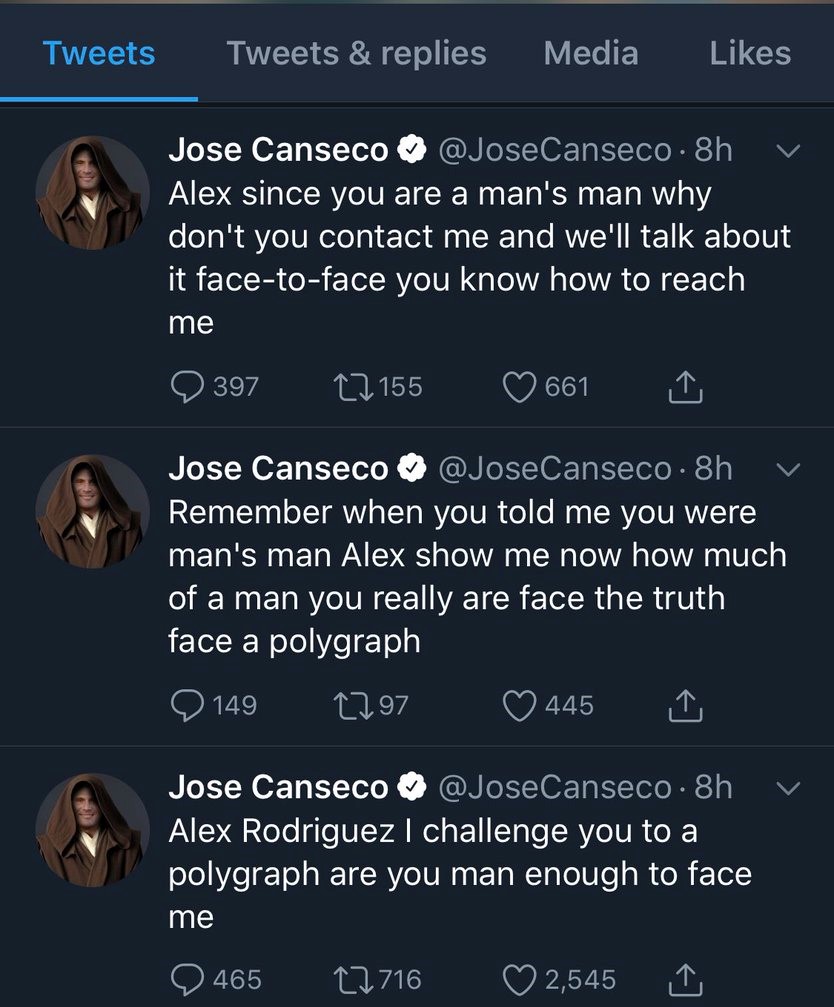 SOURCE: Jose Canseco Twitter
Meanwhile, both Alex and Jennifer seem unbothered by the whole scandal. As per reports, it's revealed J.Lo trusts her fifth fiance with all her love and heart. In fact, she previously already heard about the cheating rumors but didn't let them get through her head.
Also, just after a few hours later of Jose's allegation, the couple posted more pictures from their engagement which took place on their romantic vacation to the Bahamas. The beautiful pictures showcase the sunset proposal in different angles including the one where Lopez is seen overwhelmed and the other one where they share a sweet kiss.
Don't miss: A Surprising Cameo is Confirmed For Avengers: Endgame
So, can we like now move on from the whole cheating drama and focus on the love birds wedding planning?
-->